Like it or not, the kitchen cabinets are usually the first thing to indicate that the room needs renovation. Fortunately, you don't have to invest a fortune to redecorate your cabinets. In fact, you can easily give your bland kitchen cabinets a complete makeover by painting them. And although painting seems like an easy and straightforward task, the devil lies in the details. In this read, we provide the coolest kitchen cabinet color ideas for you, such as gray color, white color, blue color, green color, yellow color, red color and other color. Get inspired.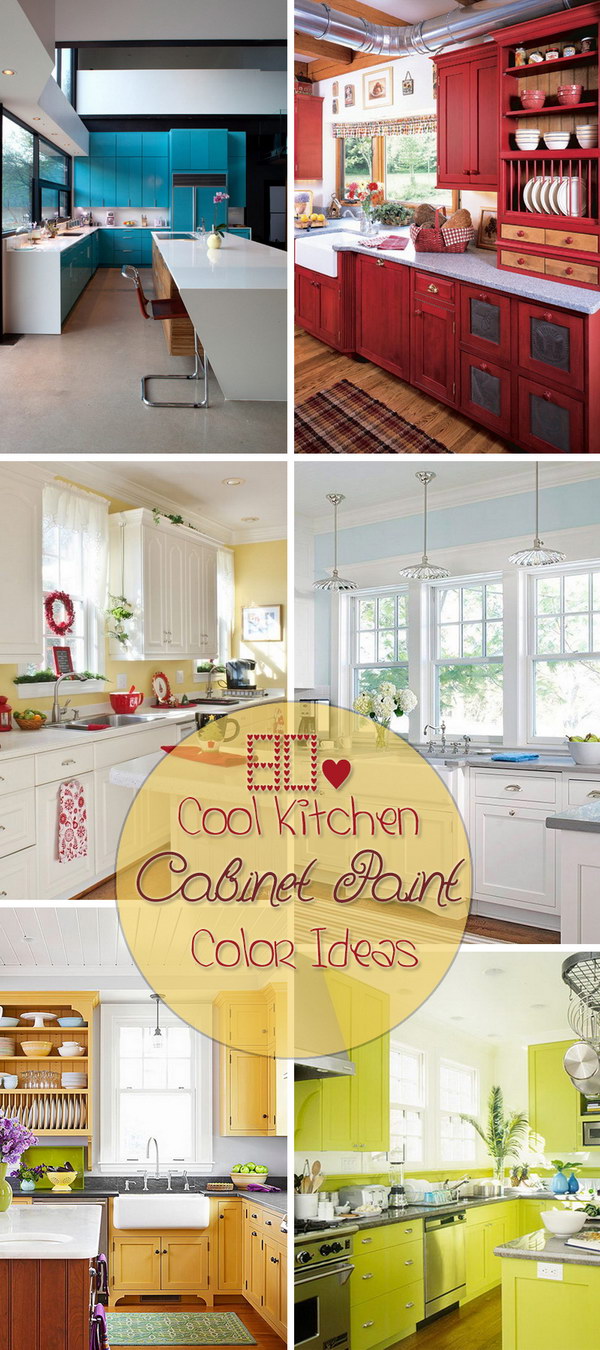 1. Gray Color
To add a clean, understated, modern look in your kitchen, repainting your kitchen cabinets in grey will do the trick. Needless to say, the hue you settle for will depend on the space you are working on and your personal preferences. Here are some tips on how to work with Grey cabinets in your kitchen.
Light Gray Built-in Custom Cabinets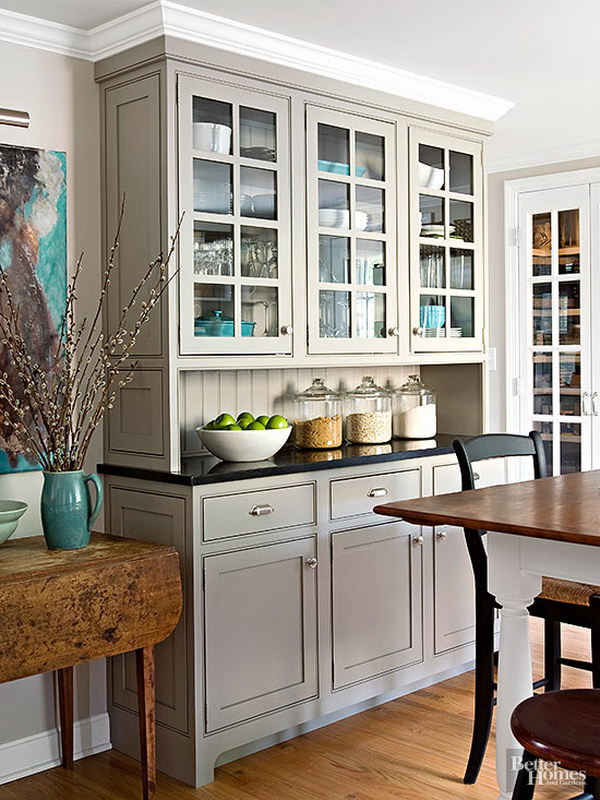 Paint Color: Benjamin Moore. Rockport Gray, HC-105. If you have a lot of natural light in your kitchen, consider going for Benjamin Moore's Rockport Grey. This tone of grey is versatile and adds interesting depth to your kitchen.
Slate Gray Cabinets with Crisp White Walls and Sleek Silver Finishes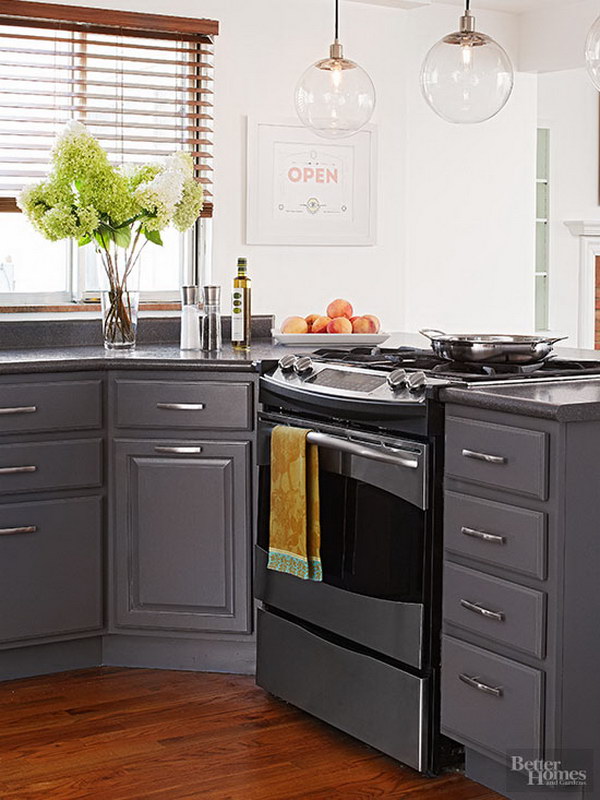 Paint Color: Benjamin Moore, Deep Space, 2125-20. Keep your grey cool by adding a navy undertone. It's dark but not dreary. It works perfectly next to the crisp white walls and chrome kitchenware.
An Inviting Blend of Brown and Gray Kitchen Cabinet Paint Color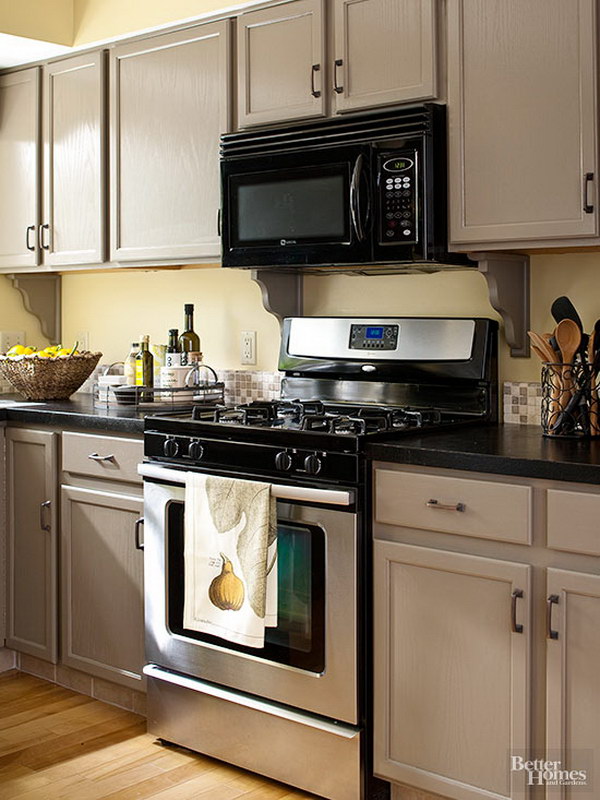 Paint Color: Benjamin Moore, Berkshire Beige, AC-2. This soothing hue grey, paired with the natural wood flooring gives the kitchen an earthy vibe.
Dusty Gray Inspired Kitchen Cabinets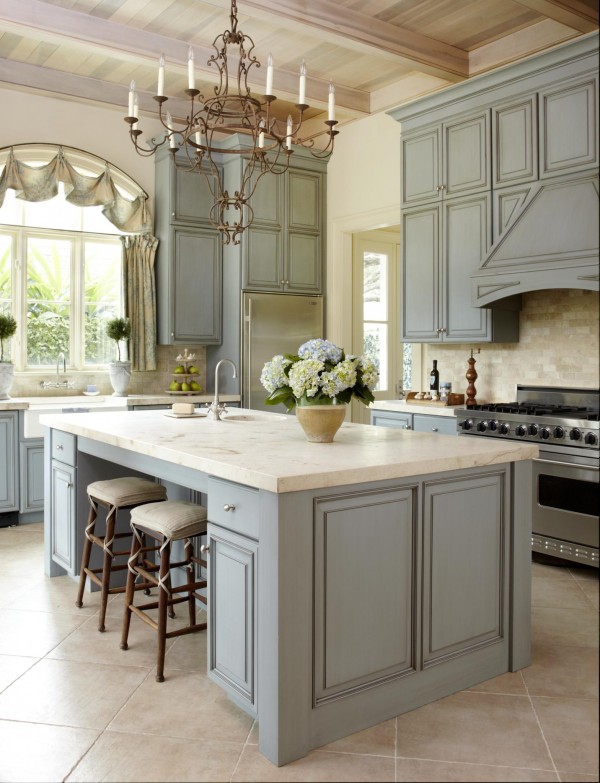 Beautiful paint color on the cabinetry! I love the light fixture and the design of the cabinetry. This tone of grey will match anything from brown and gold speckled granite to black quartz countertops.
Gray Kitchen Cabinets with White Subway Tile Backsplash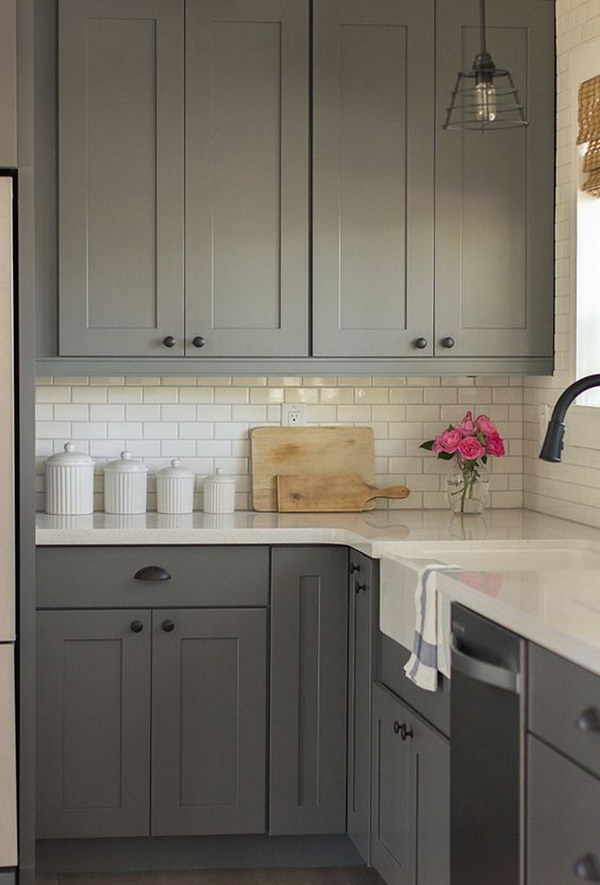 Light Gray Painted Kitchen Cabinets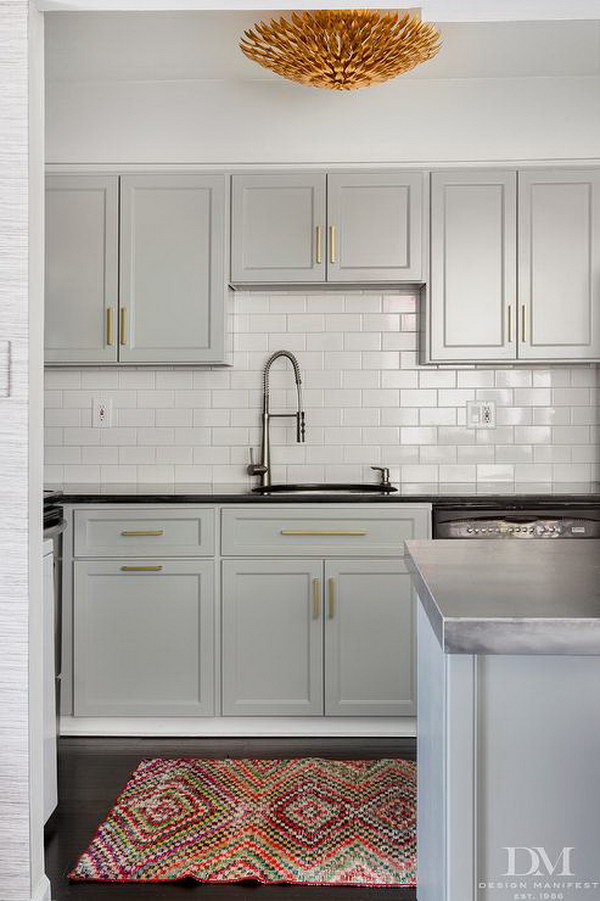 Gorgeous Gray and Blue Inspired Kitchen Cabinets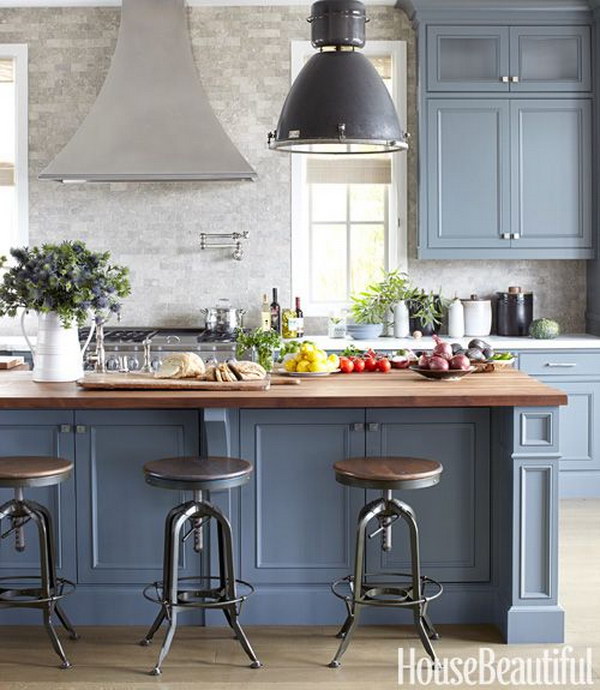 Gorgeous Pastel Gray Kitchen Cabinets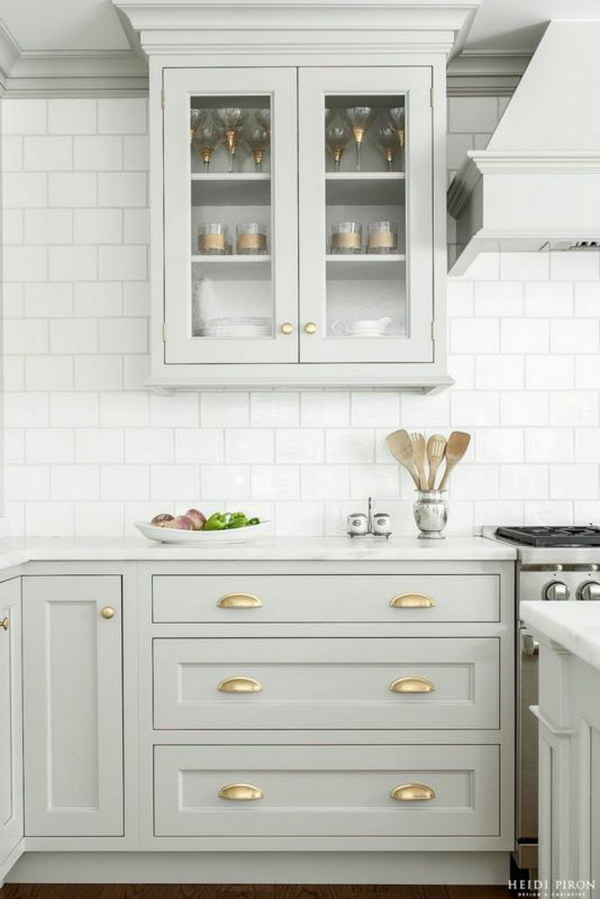 These grey cabinets showcase a simple design and clean lines. The grey pastel color also blends well with the brass handles.
Darker Gray Kitchen Cabinets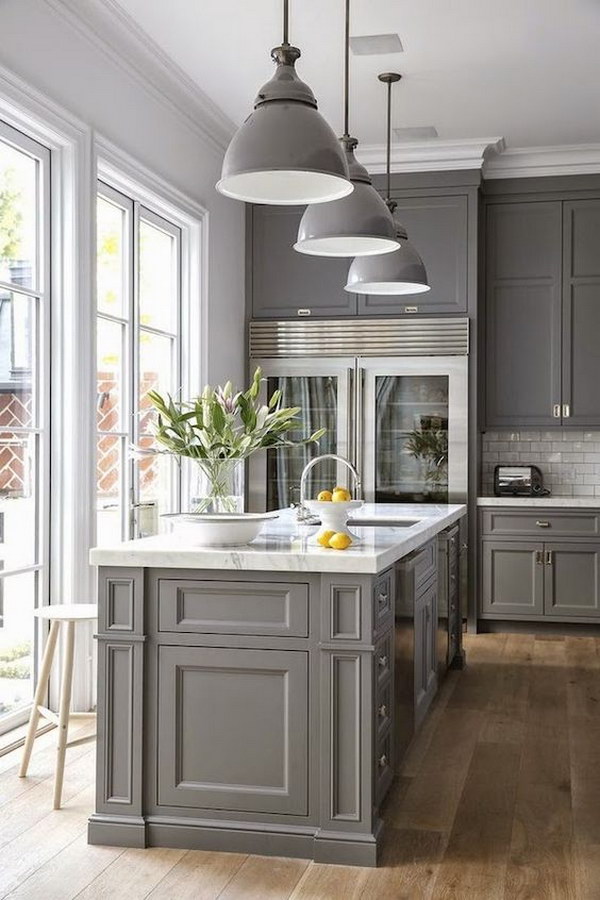 Traditional Dusty Grey Kitchen Cabinets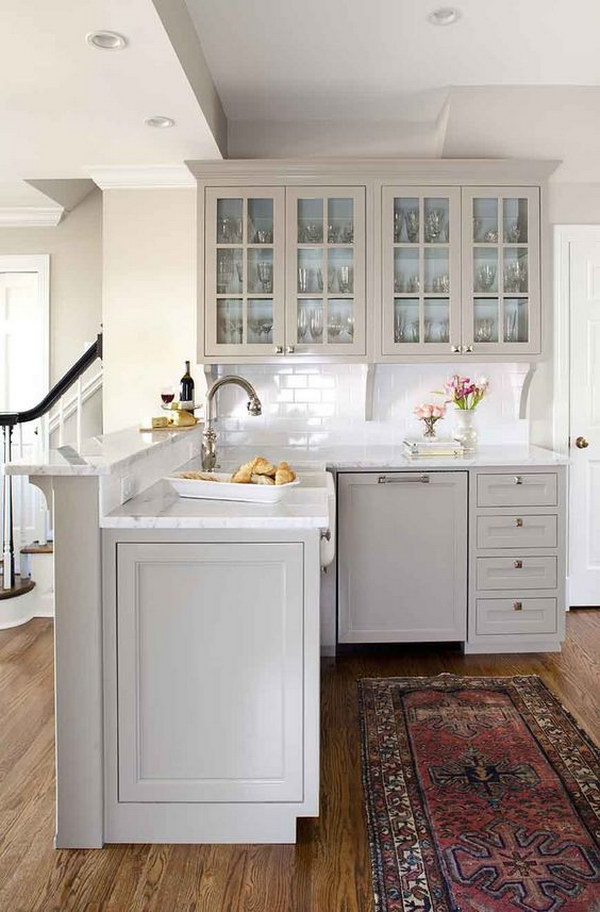 2. White Color
Whether sparked with color or warmed with wood, white kitchens cabinets blend into any home. After all, not only do white cabinets invoke a light, airy feeling, but they also make your kitchen look more spacious compared to other colors.
White Kitchen Cabinets Paired with Sage Green Backsplash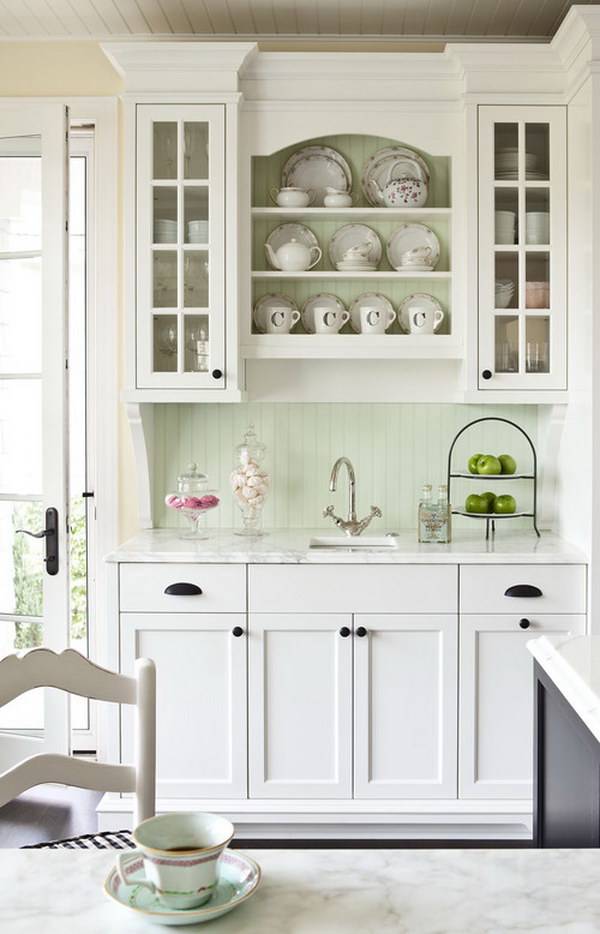 Bright White Kitchen Cabinets Paired with Soft Yellow Walls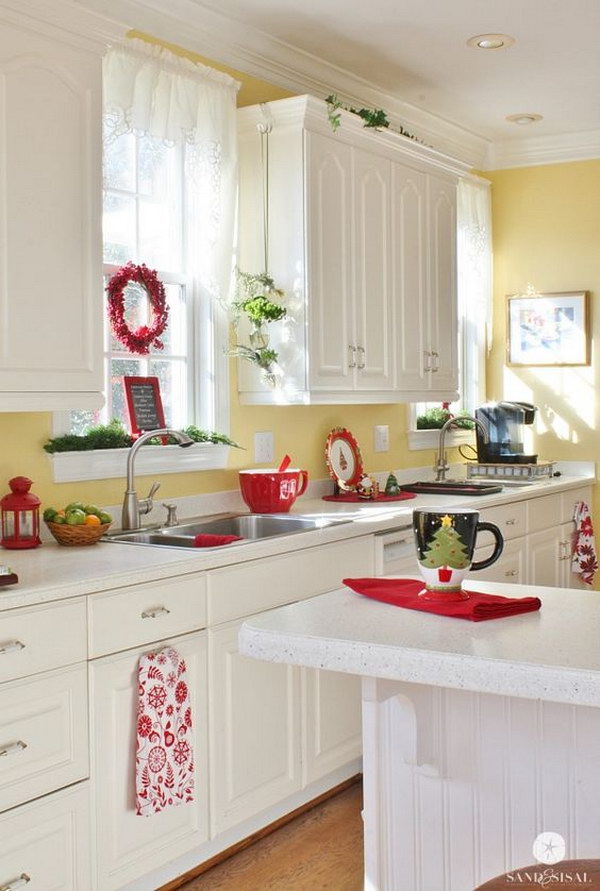 I love the light and fresh look of white kitchen cabinets and countertops complimented by canary-colored walls and red accessories. So bright and cheery you almost expect birds to fly in and sing a tune.
Cream White Kitchen Cabinets with Warm Wood Countertops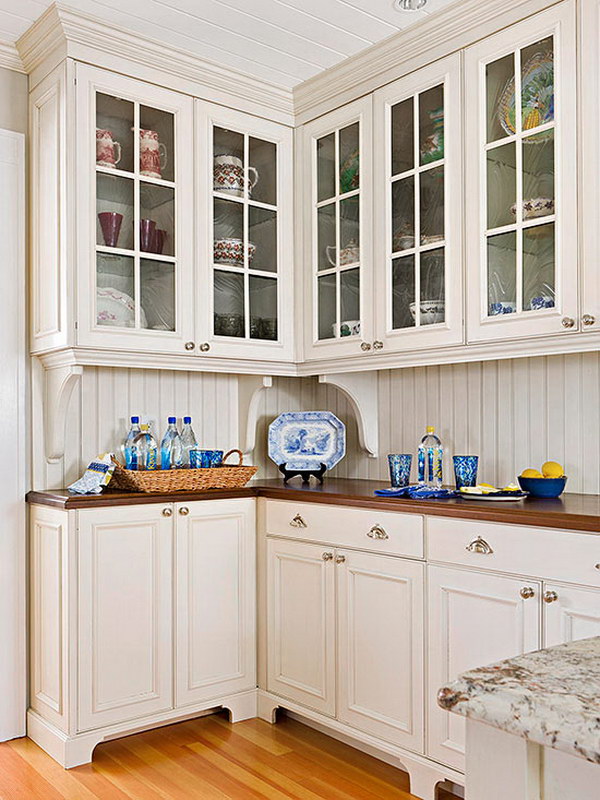 The cream color of the kitchen cabinets provides a neutral color palette in this kitchen with the warm wood countertops offsetting an earthy vibe.
Cream-colored Kitchen Cabinets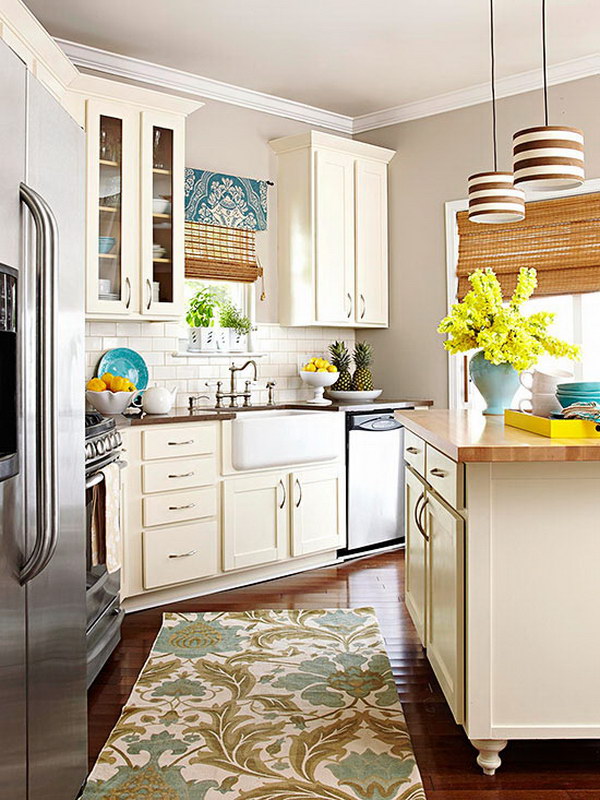 Crisp White Cabinets Paired with Dark stone countertops and Warm Yellow Wall Color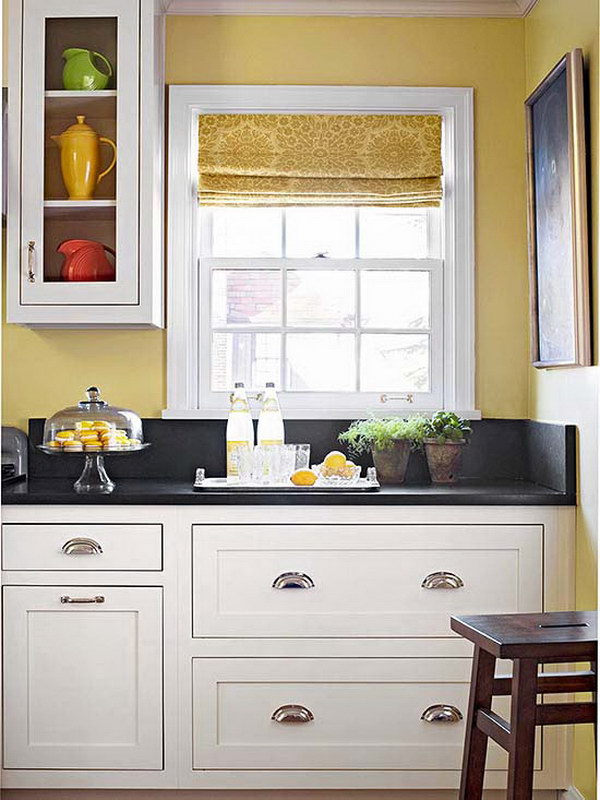 Paint Color: Sherwin-Williams, Navajo White #SW6126. For a unique look consider crisp white cabinets paired with dark stone countertops and warm yellow wall color for an unexpected twist.
Amazing Kitchen with White Kitchen Cabinets, Granite Countertops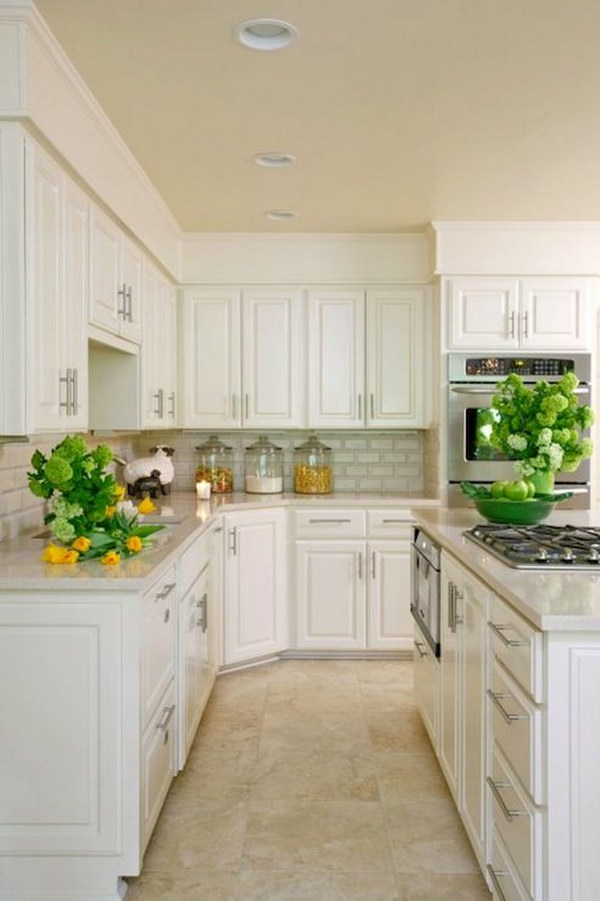 For a regal look, go all white with your kitchen cabinets and accessorize with interesting colors like in this kitchen.
Snow White Cabinets Paired with Turquoise Backsplash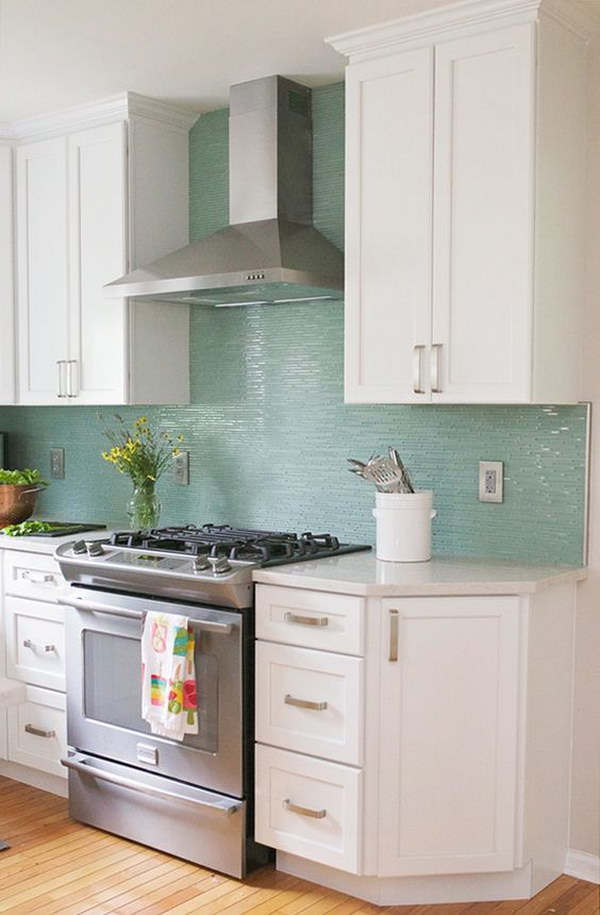 Bright White Kitchen With Large Windows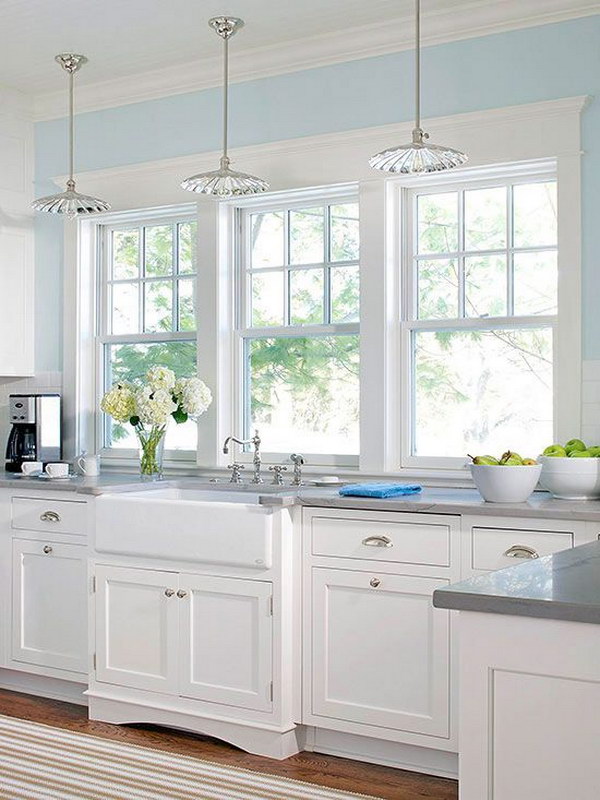 Off-White Kitchen Cabinets with Brick Backsplash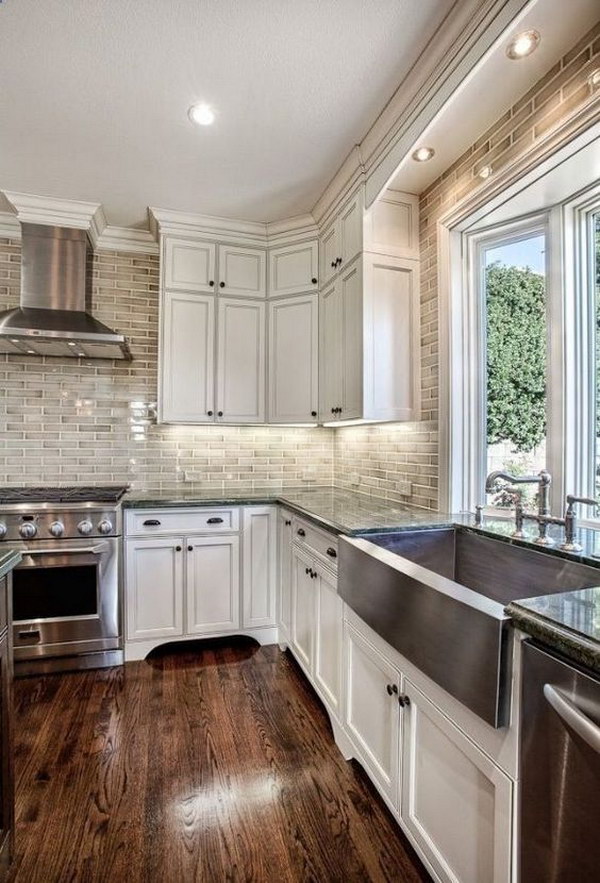 A delicious mix of white and grey feels at home in any kitchen. This cozy kitchen matches rich brown flooring with off-white cabinetry and brick backsplash for a rustic vibe.
Antique White Cabinets with Clipped Corners on the Bump Out Sink, Granite Countertop, Arched Valance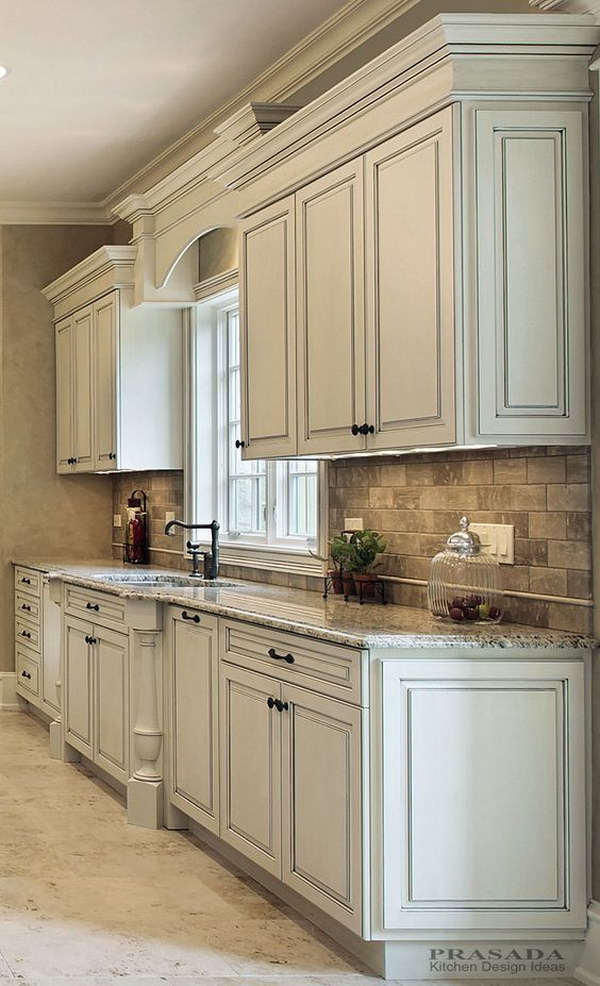 3. Blue Color
To give your dedicated spaces a unique facelift, consider introducing blue hues to your kitchen. From bold navy blues to sweeps of baby blue, the blue family does indeed offer a wealth of options when it come to choosing colors for your kitchen cabinets. Here are a few for showcasing kitchen cabinets in varying shades of blue.
Navy Blue Kitchen Cabinet with Silver Hardware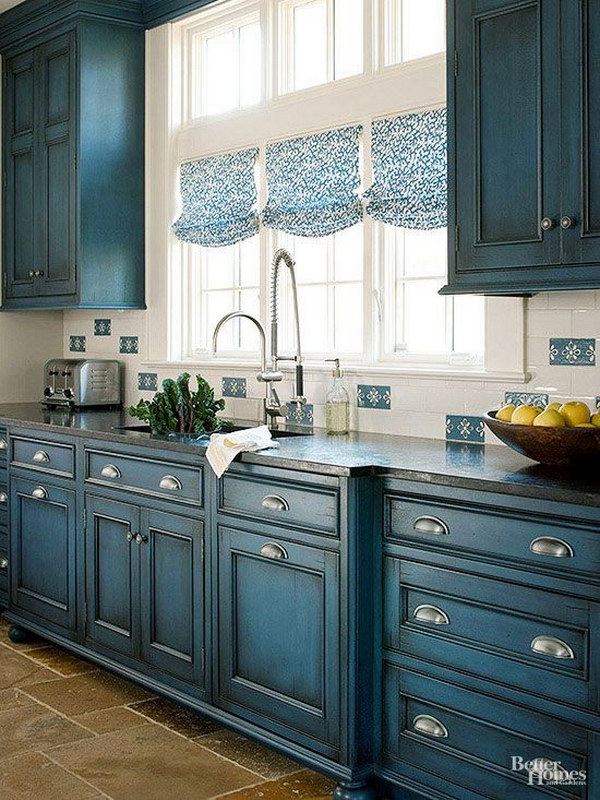 All Pastel Blue Kitchen Design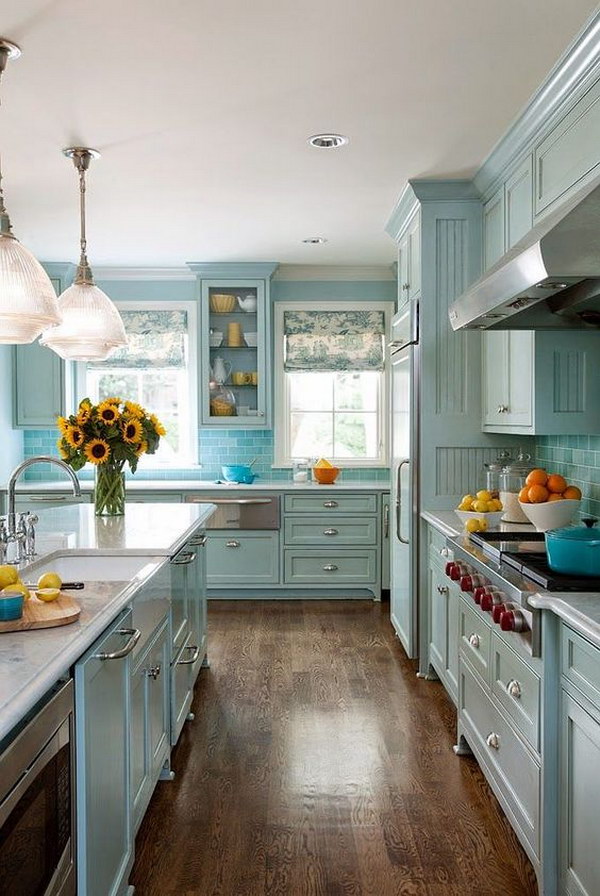 Powder Blue for Kitchen Cabinets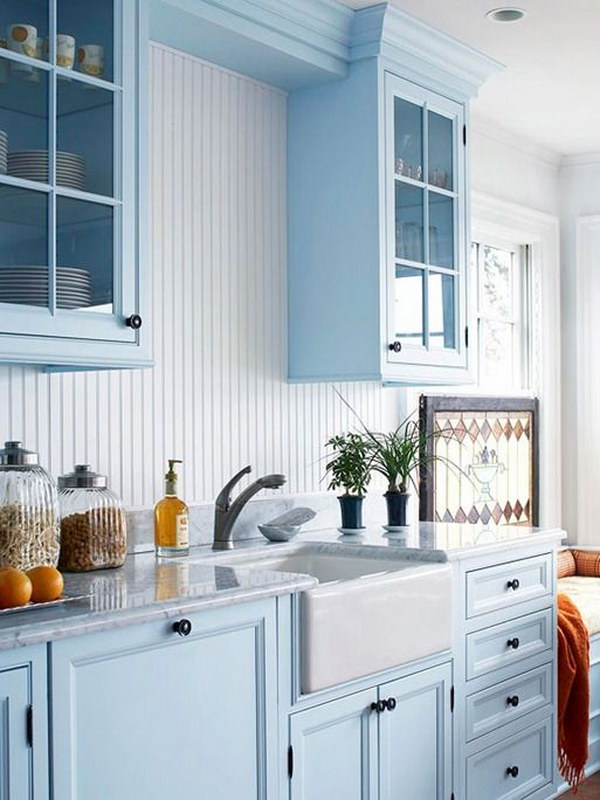 Warm up your kitchen with pastel blue and white color scheme. The bold black hardware on the powder blue kitchen cabinets adds a sophisticated edge to this kitchen's decor.
Bule Gray Inspired Kitchen Cabinet Paint Color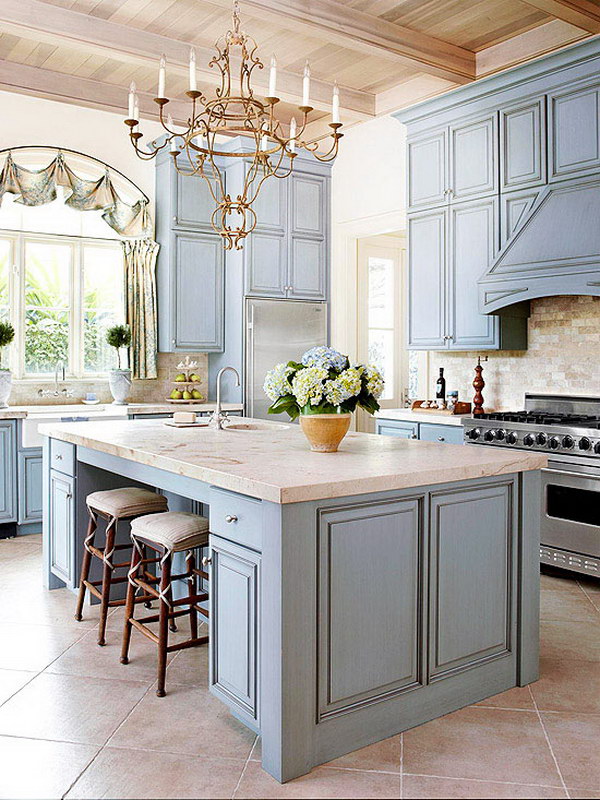 Neat and elegant, these blue-grey kitchen cabinets complement the beige color scheme providing a comfortable and relaxed place to prepare and enjoy meals.
Pale Blue Kitchen Cabinets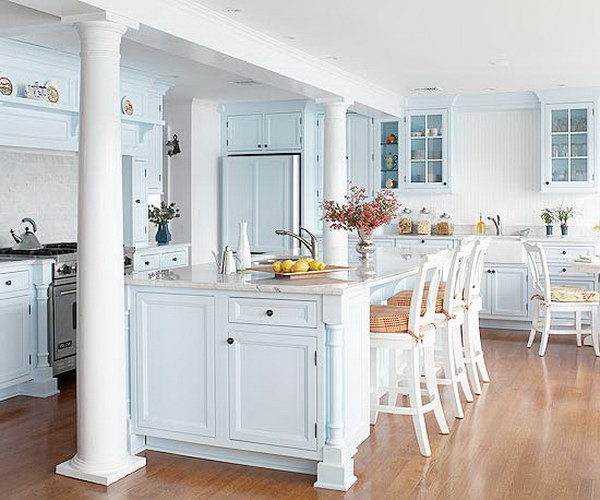 The color scheme in this kitchen draws inspiration from the sky with pale blue cabinetry against crisp white walls and warm wood flooring.
Baby Blue Kitchen Cabinets with Brass Hardware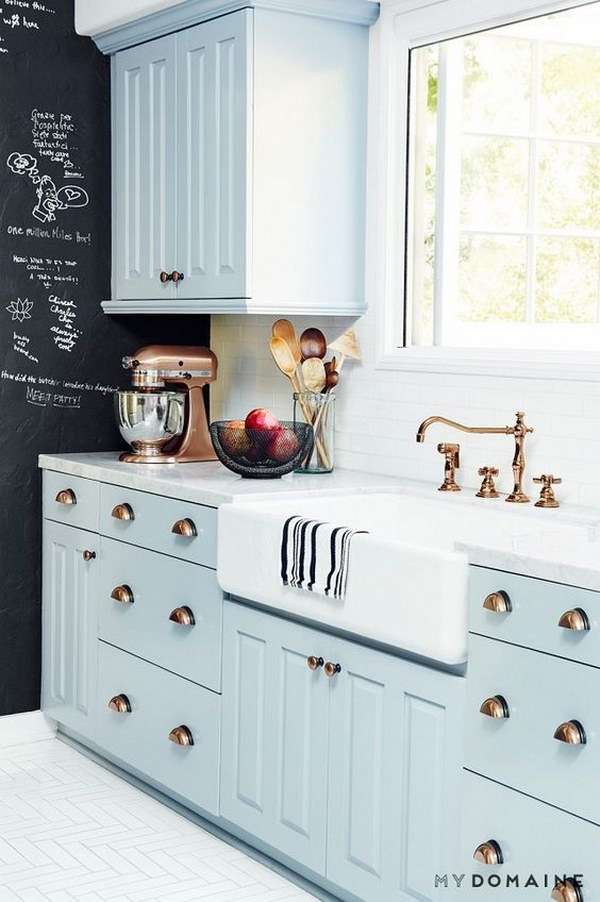 Royal Blue With Gold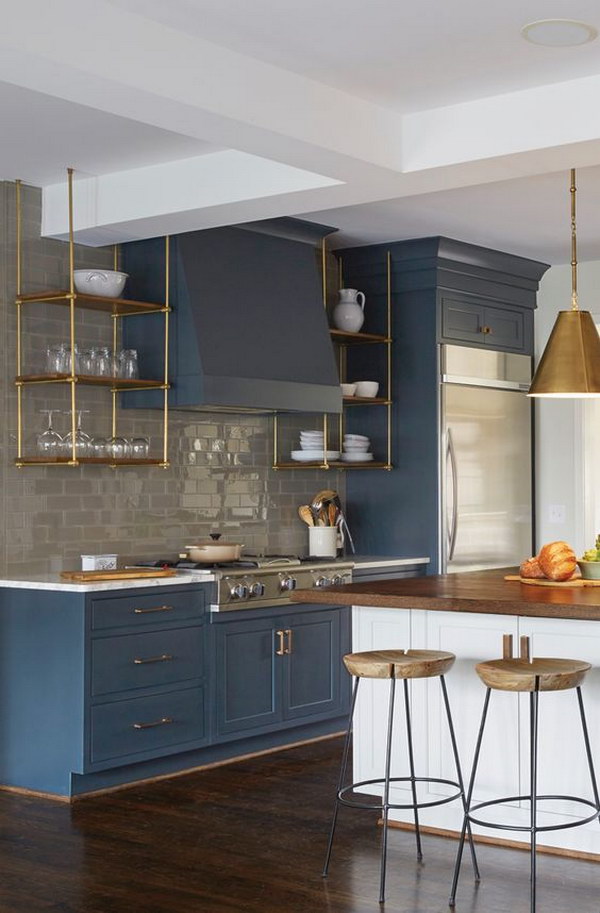 Turquoise Painted Kitchen Cabinets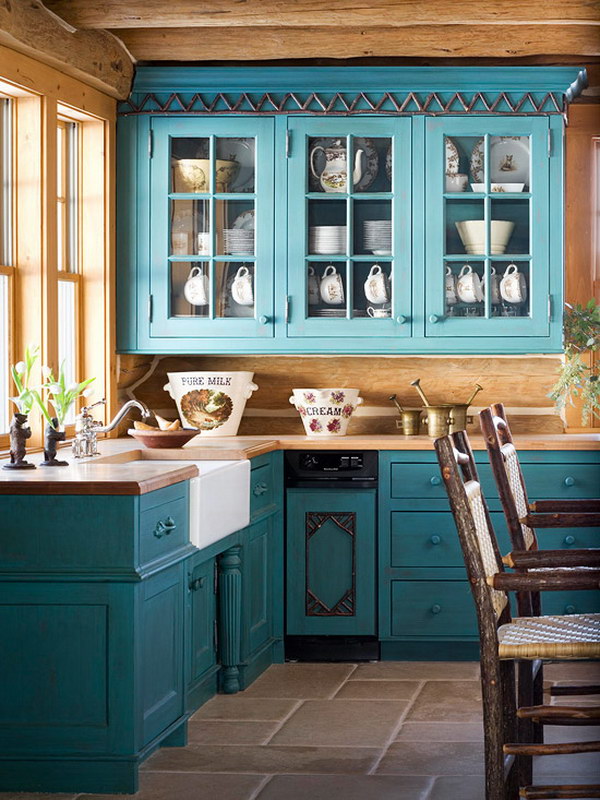 A powerful combination of turquoise and warm wood sets off the rustic charm in this farmhouse style kitchen.
Ice Blue Kitchen Cabinets With Farm Sink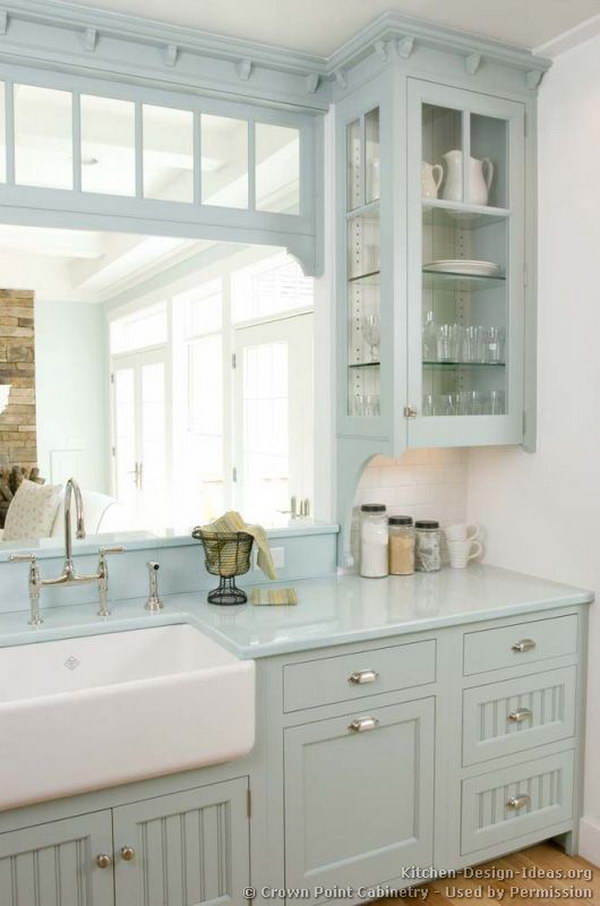 Dusty Blue Shaker Style Kitchen Cabinets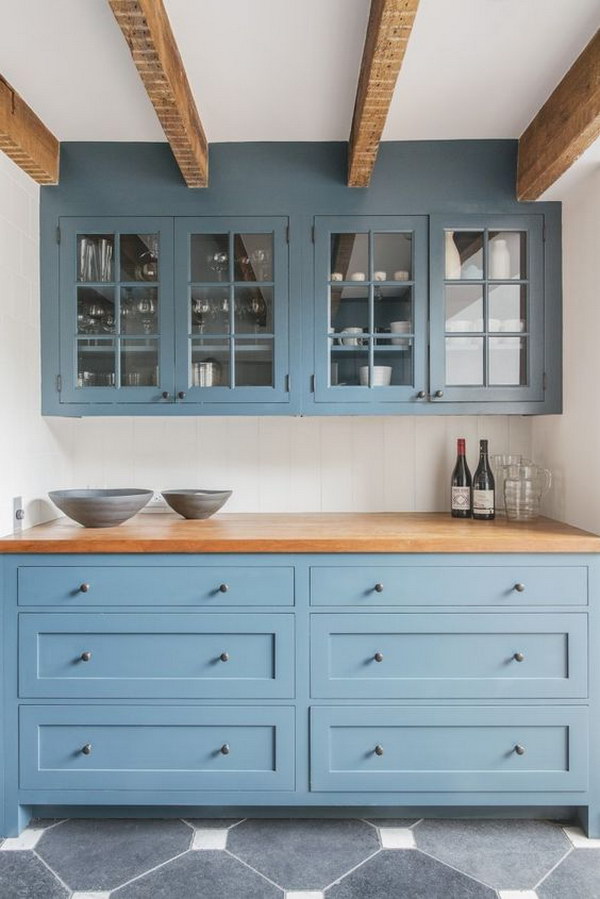 Stratton Blue Kitchen Cabinets with Marble Countertops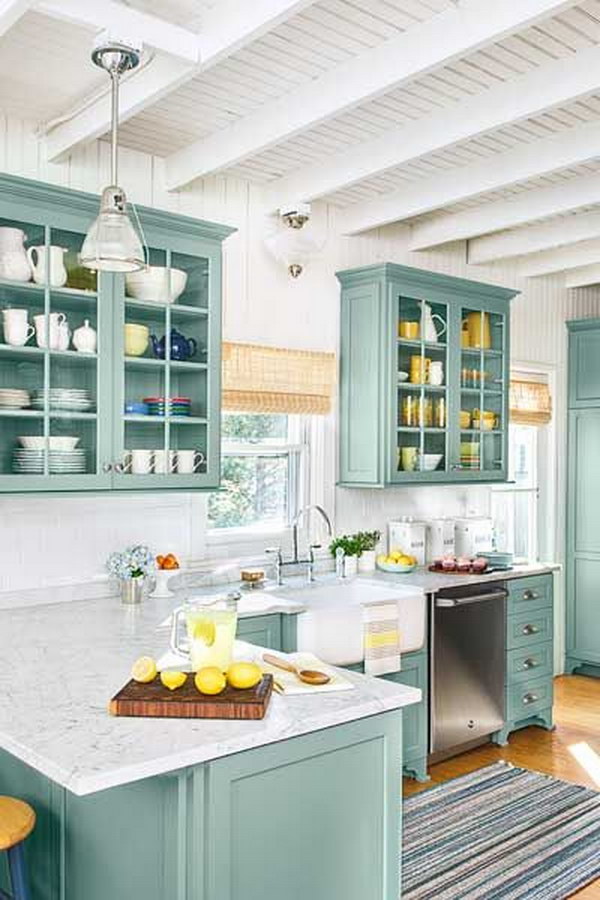 Custom Painted Turquoise Cabinets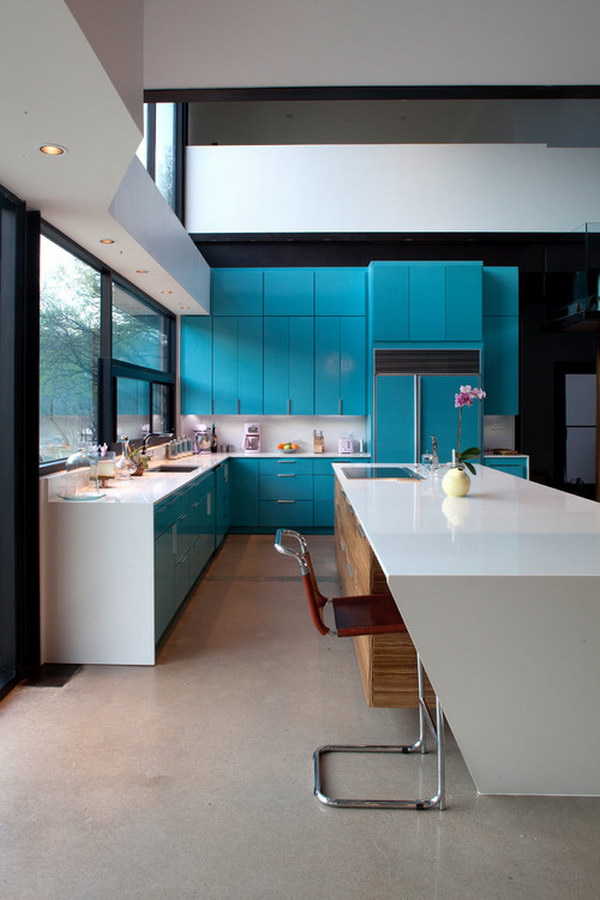 Contemporary Kitchen with Blue Cabinets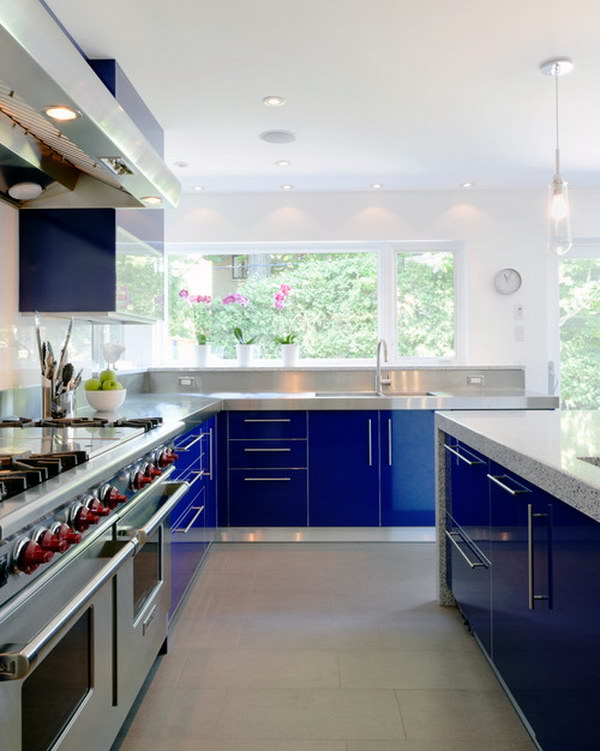 Blue-green Kitchen Cabinets with Glass Cupboards for Display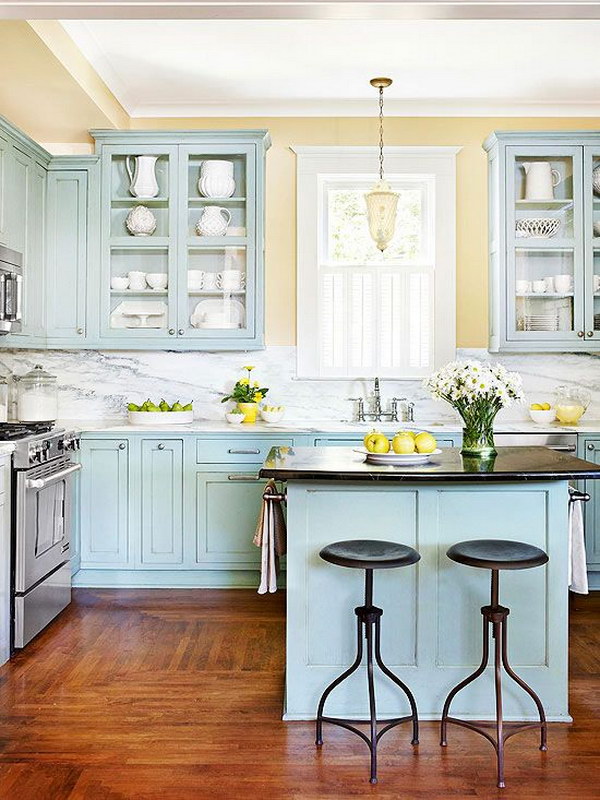 Electric Blue Kitchen Cabinets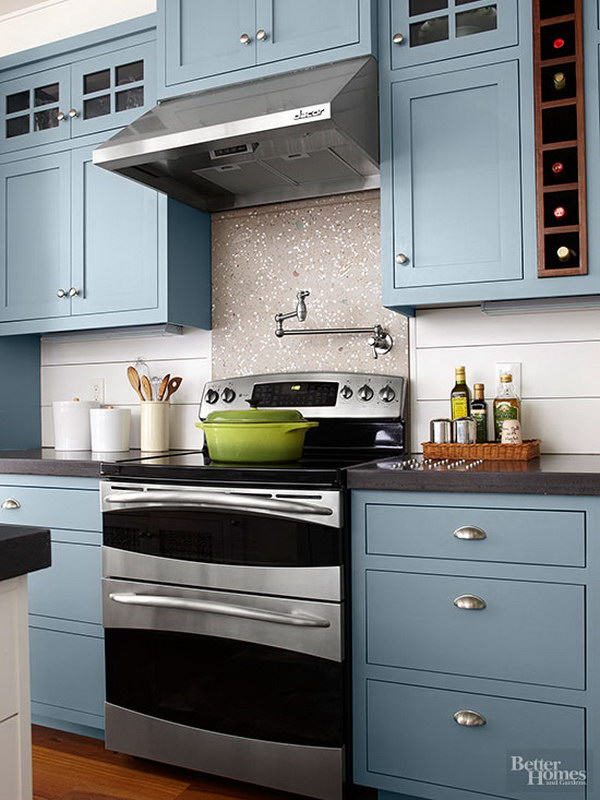 Retro Ocean Blue Kitchen Cabinets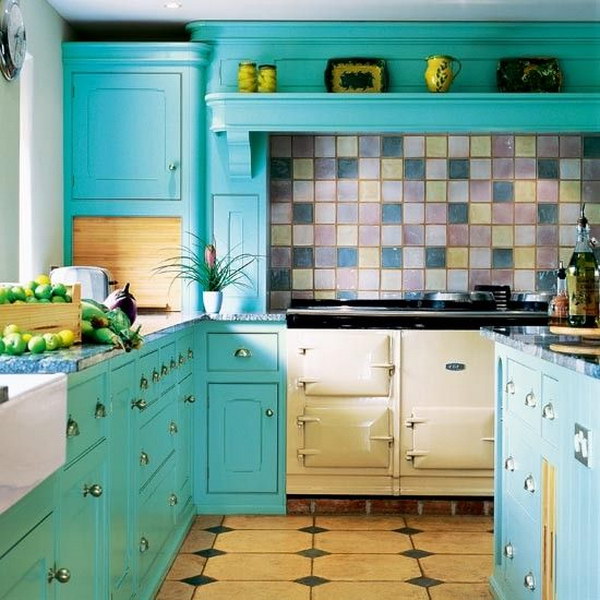 Inspired by vibrant skies and the ocean, this stunning kitchen features ocean blue kitchen cabinets with hints of yellow and beige. The checkered pattern on the backsplash effortlessly adds character to this kitchen.
Light Blue Painted Kitchen Cabinets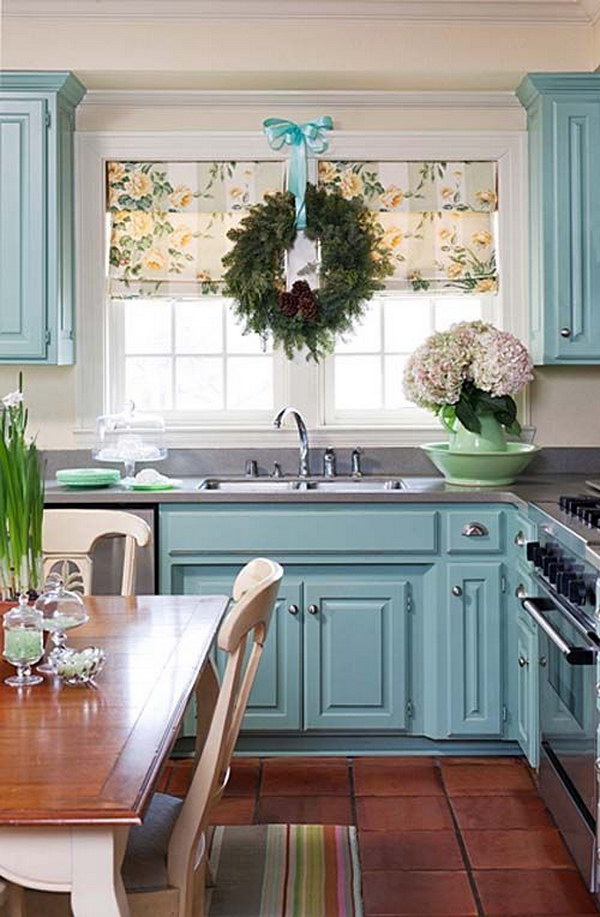 Paint color is Sherwin Williams Spearmint – SW 6465. This homeowner combines light blue cabinetry with dark chocolate wood flooring for a stunning decor.
Turquoise Kitchen Cabinats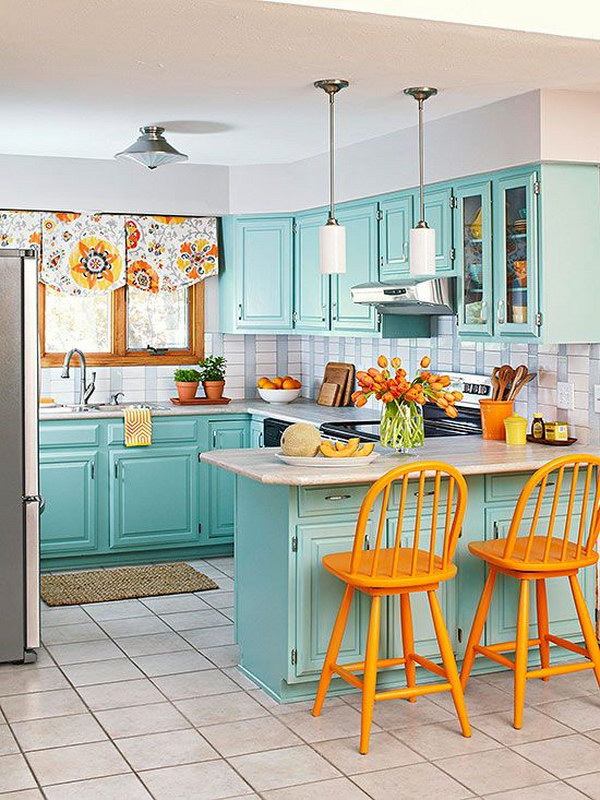 To create a cheery and airy kitchen, consider adding turquoise kitchen cabinets and throwing in some warm wood pieces too.
Navy Painted Cabinets with Wood Countertop and Brass Hardware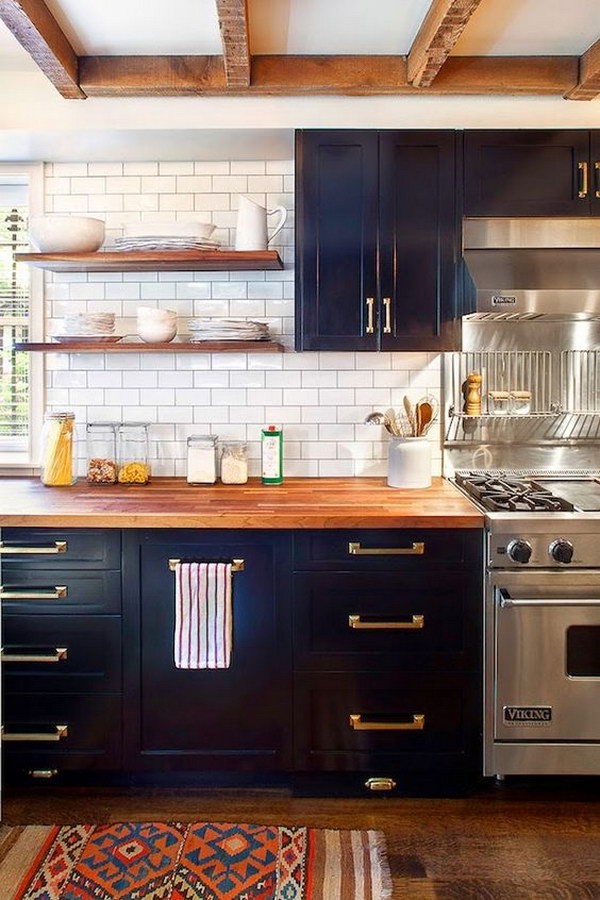 Dramatic Navy Blue Open Cabinetry with a Graphite Black Splash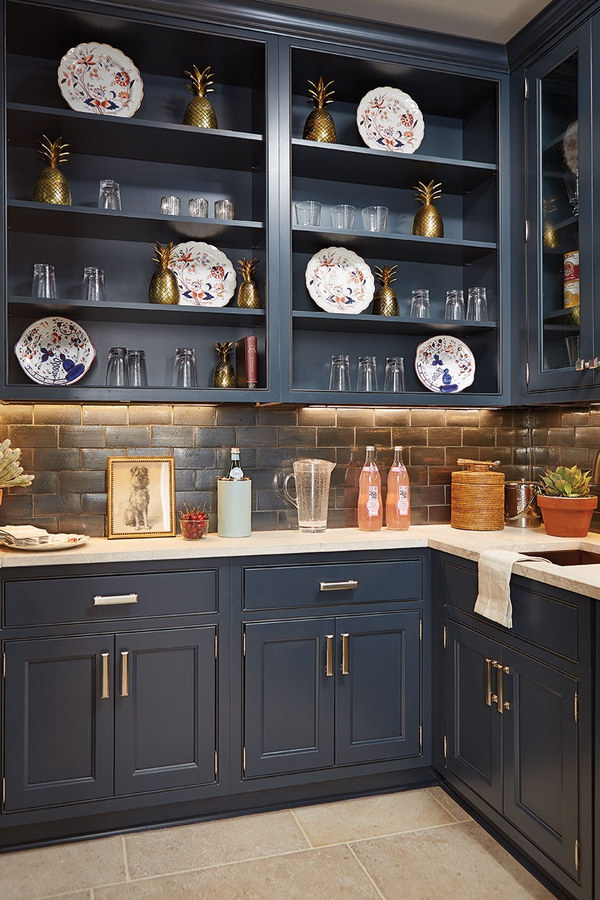 4. Green Color
Decorating your kitchen with green painted cabinets offers endless possibilities. Not only does this color's infinite variation blend smoothly with almost every other hue, but green also adds rejuvenating welcome note to your kitchen's decor.
Cool Mint or Light Green Kitchen Cabinets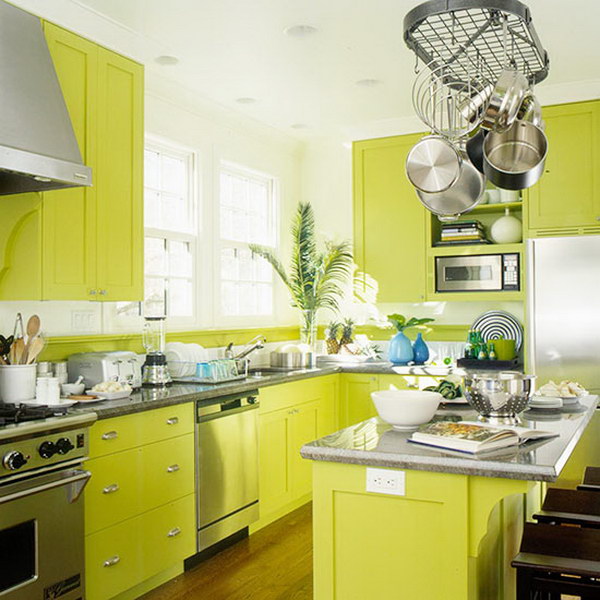 If you have neutral elements in your kitchen and want to create a clean yet inviting look, consider painting your cabinetry in light green.
Pale Yellow-Green Celadon Cabinetry in a Casual Cottage Kitchen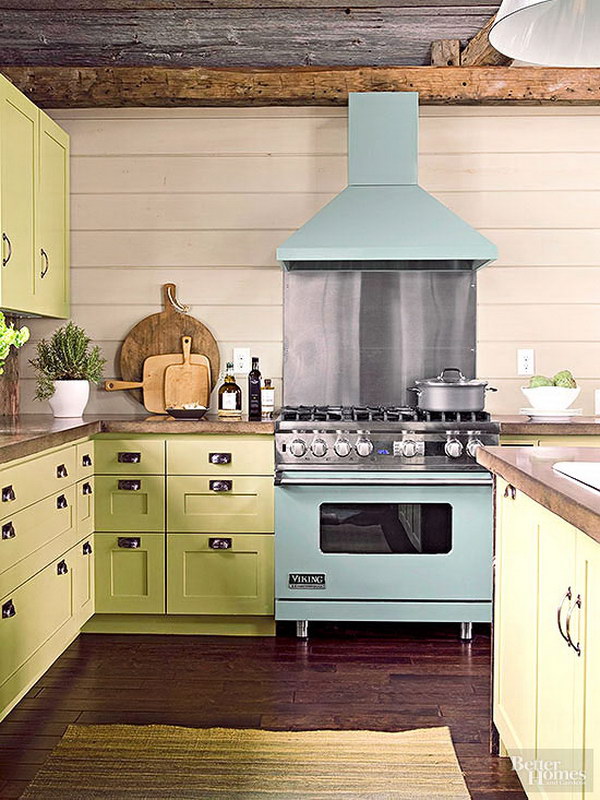 Sage Green Painted Cabinets with Rustic Elements for a Kitchen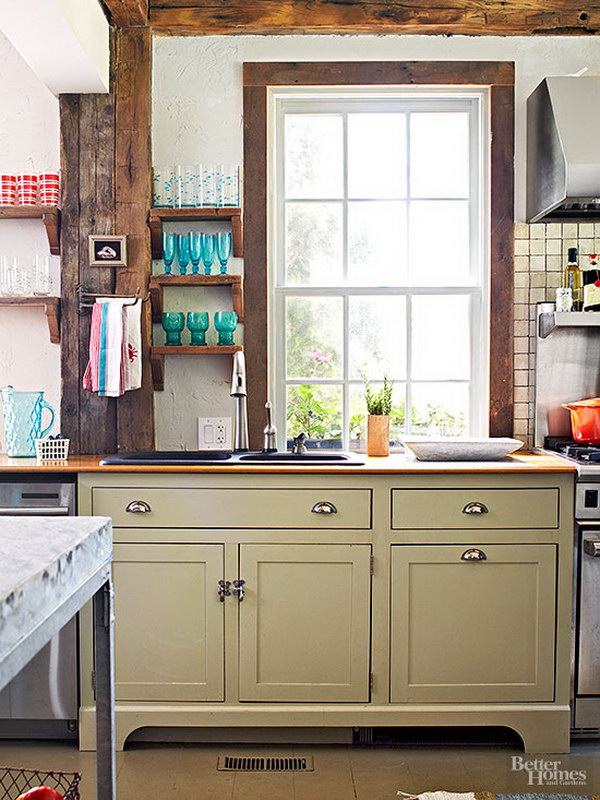 Paint Color: Farrow & Ball, Fawn 10. Sage green walls in this kitchen add to the overly rustic and chic feel of the room.
Olive Green Painted Kitchen Cabinets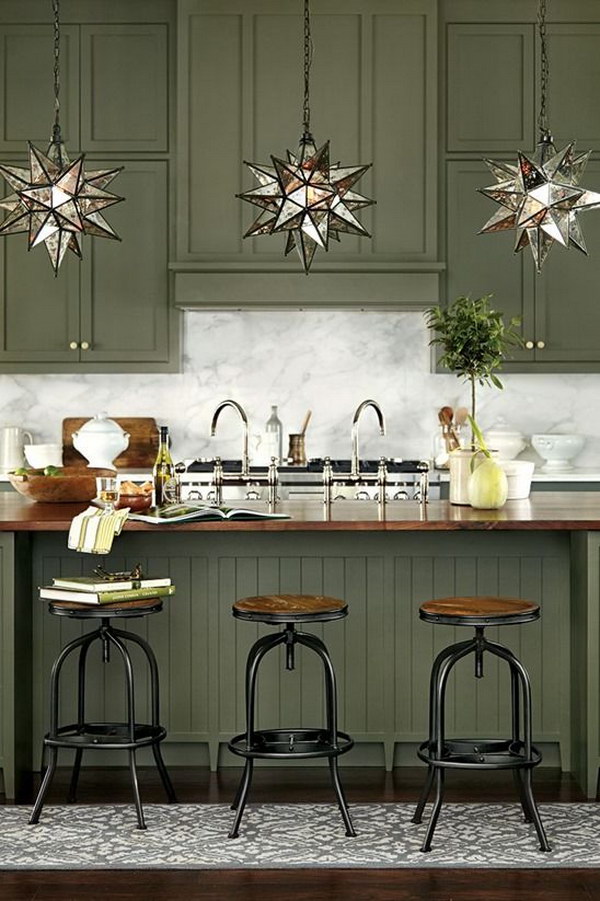 Classic Victorian Green Painted Kitchen Cabinets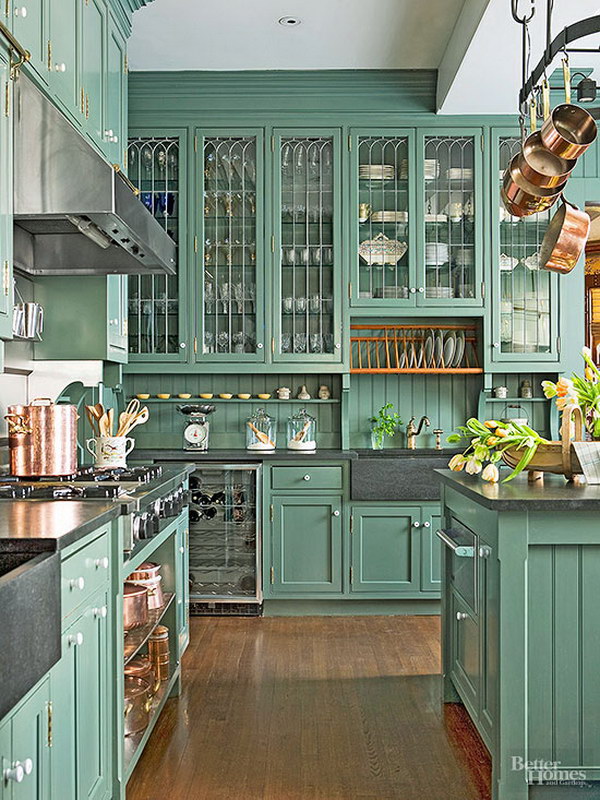 These charming kitchen cabinets feature a handsome green finish with elegant white porcelain knobs and boarded-board accents.
Crisp Green Kitchen Cabinets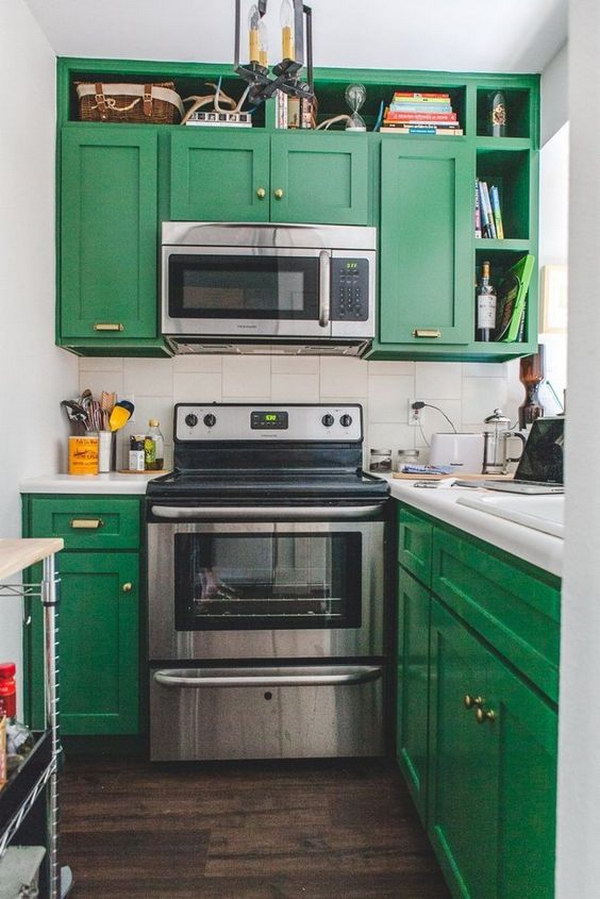 Make your kitchen vibrant with cabinets sporting crisp green paint. The subway tile backlash and bright wall color help tone things down.
Dark Green Tall Kitchen Cabinets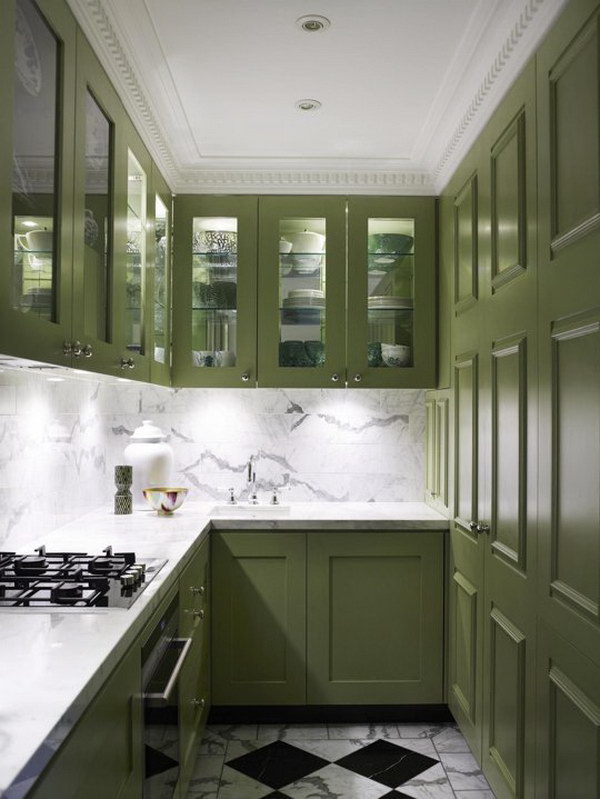 For a unique and sophisticated look in your kitchen, consider painting your cabinets in a dark green color. Not only will it introduce an element of tranquility into your kitchen space but it can also exude an appealing charm when paired with the right accessories.
Kelly Green Kitchen Cabinets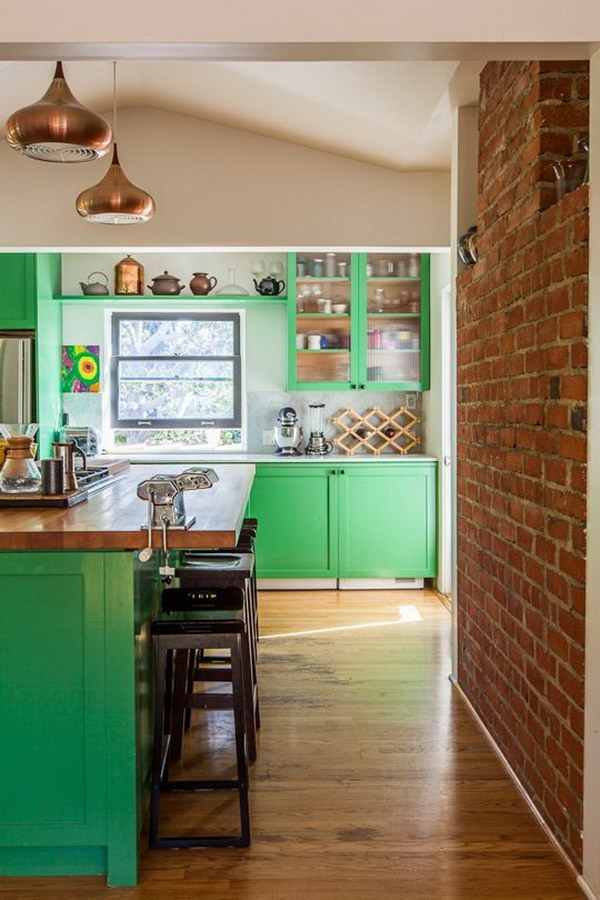 Grey-green Cabinets Paired with Apron Sink and Double Hung Windows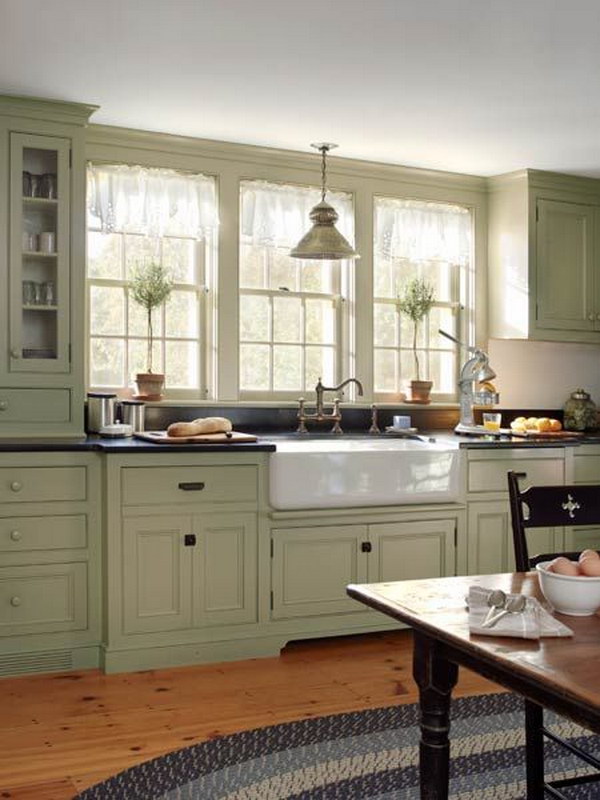 Light Green Painted Kitchen Cabinets with Shiny White Subway Tile Backsplash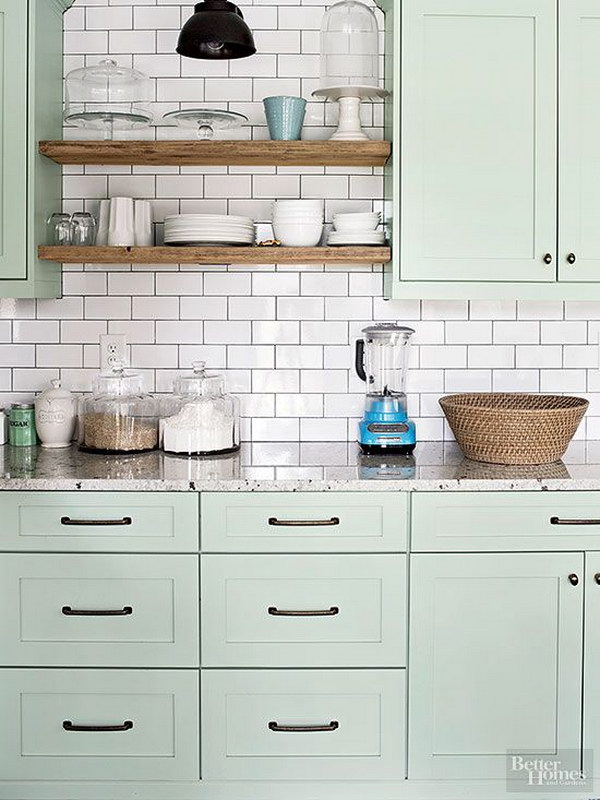 Paint Color: Benjamin Moore, Tea Light 471. The light green color of these cabinets combined with the brightness of the white subway tile backsplash work to create a bright and spacious kitchen.
Mint Green Kitchen Cabinets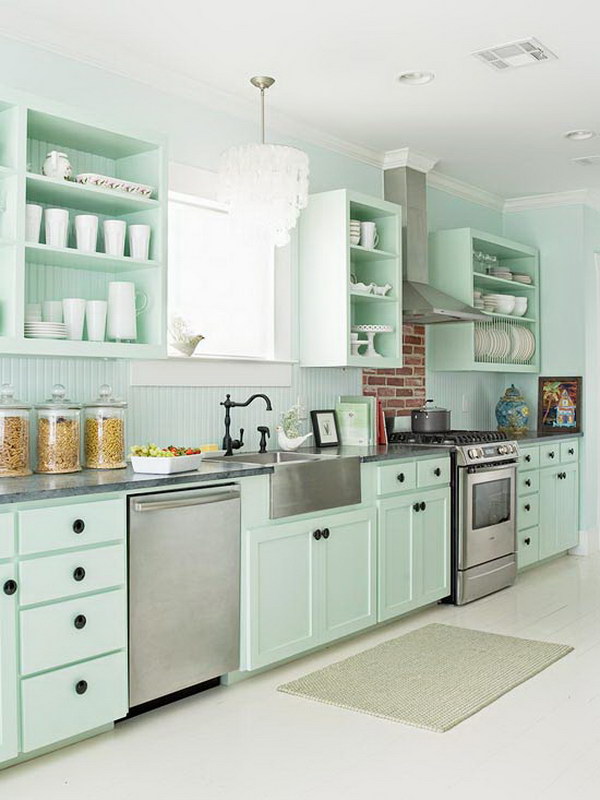 For a refreshing look, treat your cabinets to a coat of fresh mint green paint. Notice how this kitchen looks bright and clean.
Light Green Painted Cabinets for Small Kitchens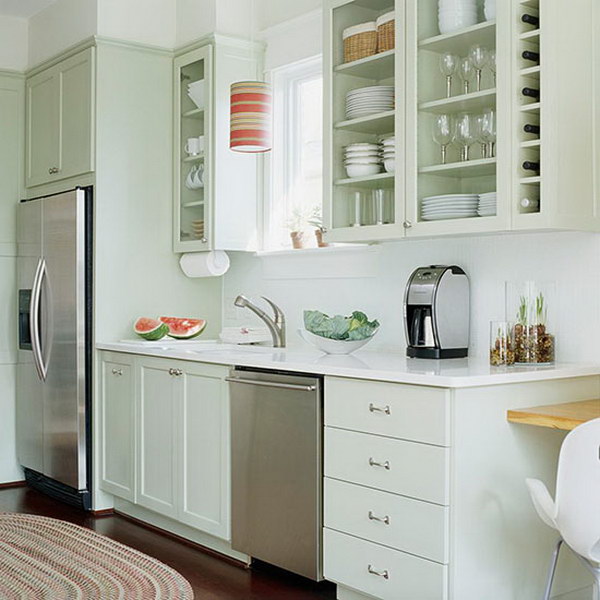 To energize your kitchen, consider painting your cabinets in light colors. These light green cabinets not only brighten up the room but they also contrast beautifully with the dark wood flooring.
Mint Green Paint for Kitchen Cabinets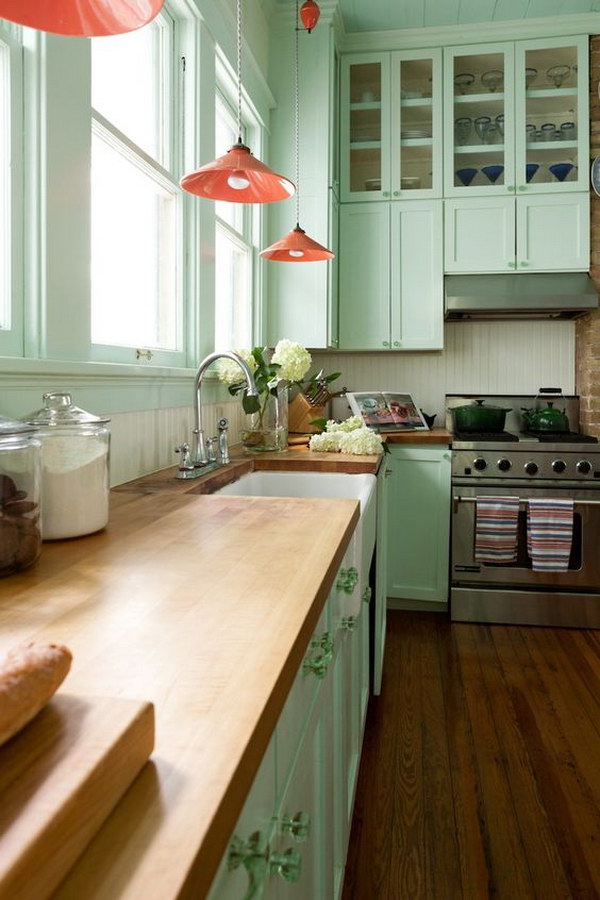 The palest mint color gives this room an instant facelift. It also gives the homeowner an opportunity to experiment with other colors and textures as the light green paint provides a suitable backdrop.
Yellow Green Painted Kitchen Cabinets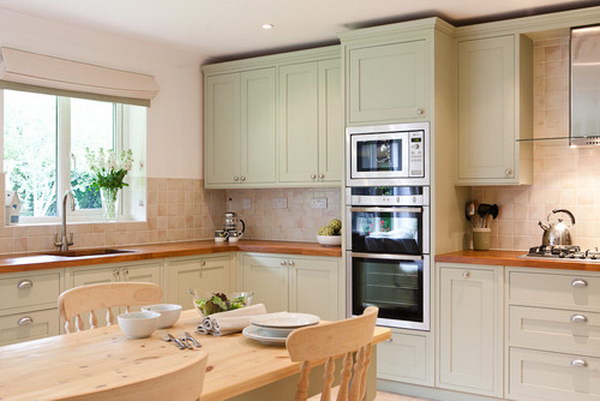 To infuse warmth and energy to your cooking area, consider a yellow-green paint on your cabinets. Notice how these beautiful cabinets blend well with the wooden coffee table and the silver hardware.
Gray Green Inspired Kitchen Cabines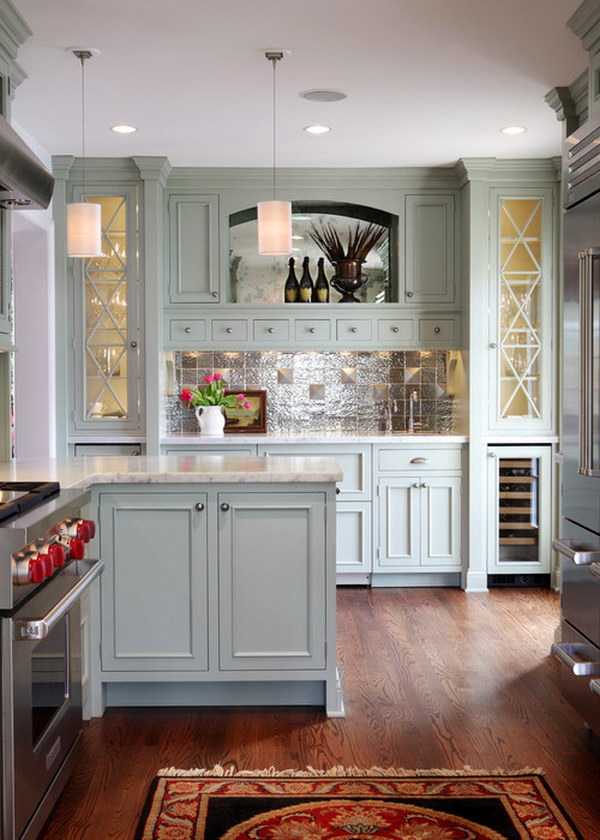 5. Yellow Color
From butter to lemon, yellow is one of the happy colors that infuse warmth and stimulates intellectual energy. Give your kitchen space a touch of sunny decor with these fun ideas.
Cherry Yellow Kitchen Cabinets with Open Shelving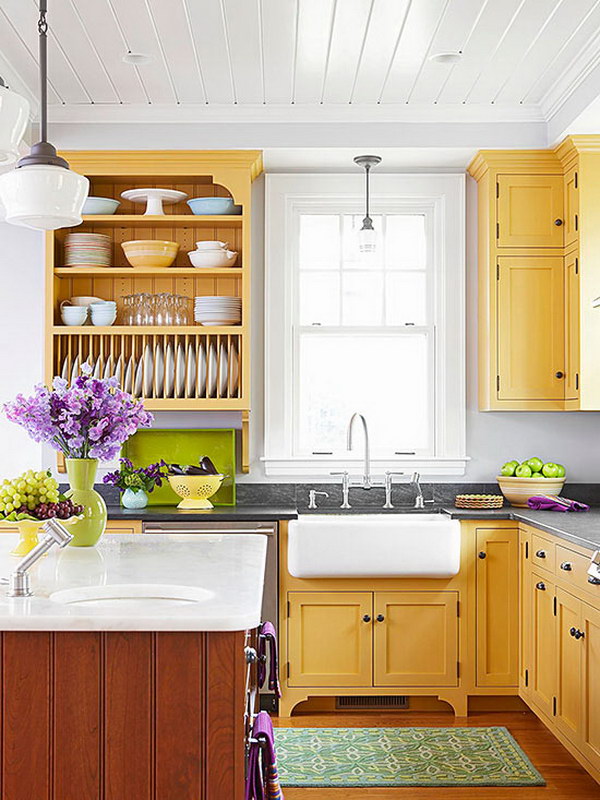 White Kitchen With Yellow Cabinets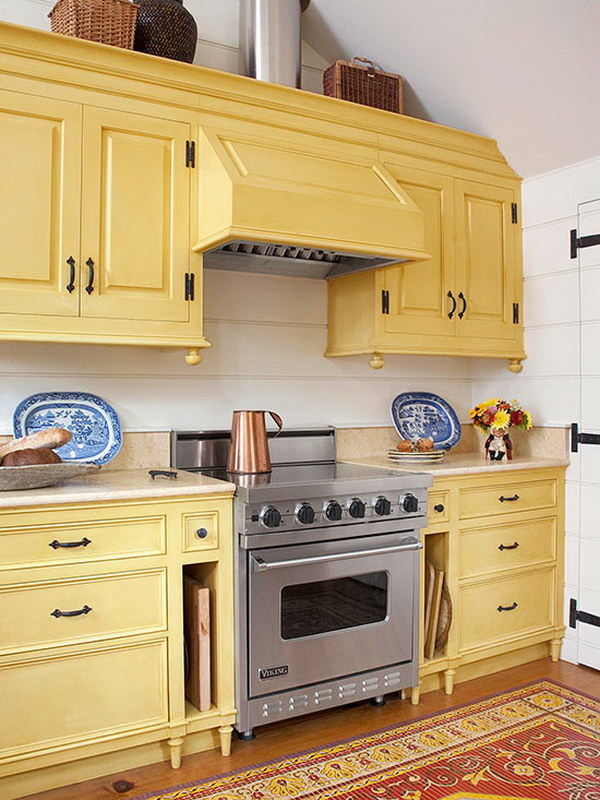 Mustard Yellow Kitchen Cabinets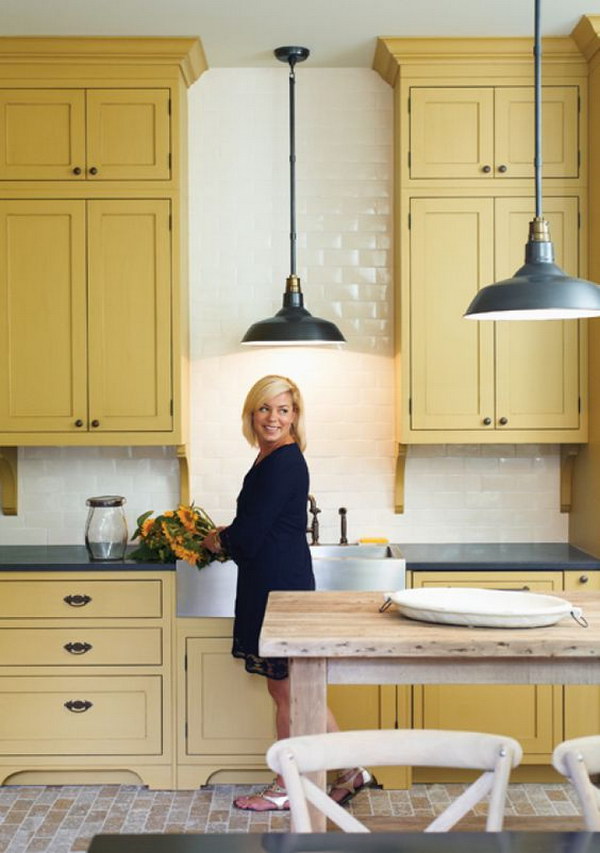 Pale Lemon Yellow Kitchen Cabinets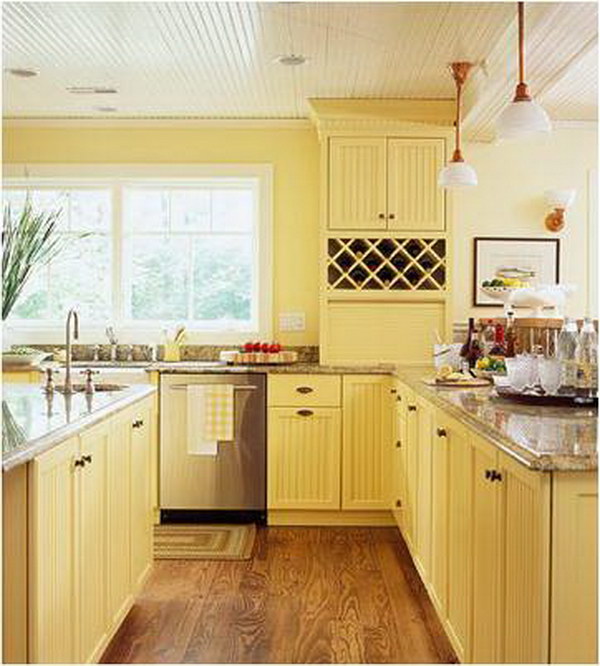 Traditional Yellow Kitchen Cabinets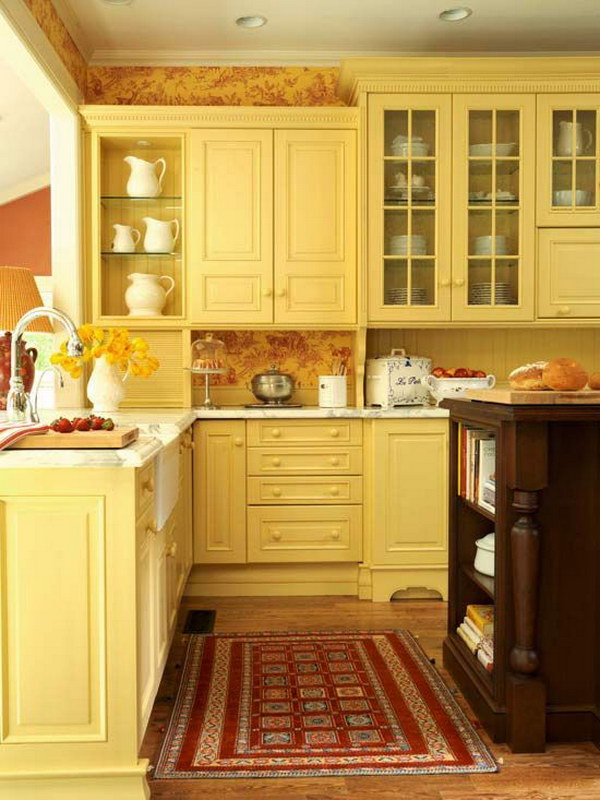 Buttery Yellow Kitchen Cabinets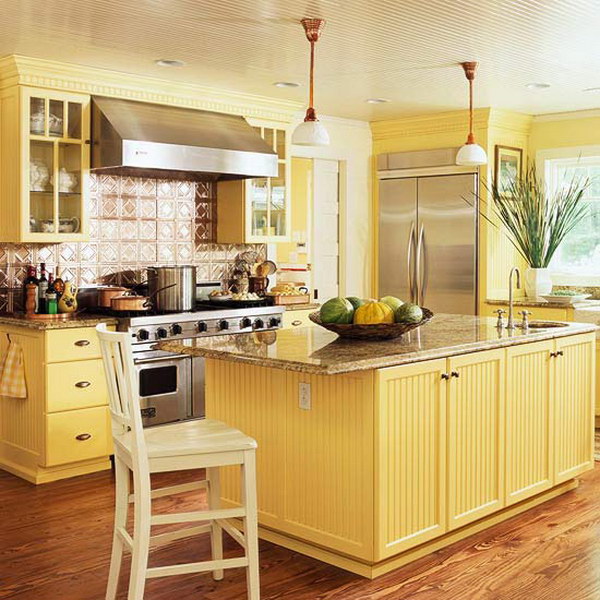 Warm and casual, these buttery yellow kitchen cabinets make this old-fashioned kitchen a standout.
Butter Yellow Kitchen Cabinets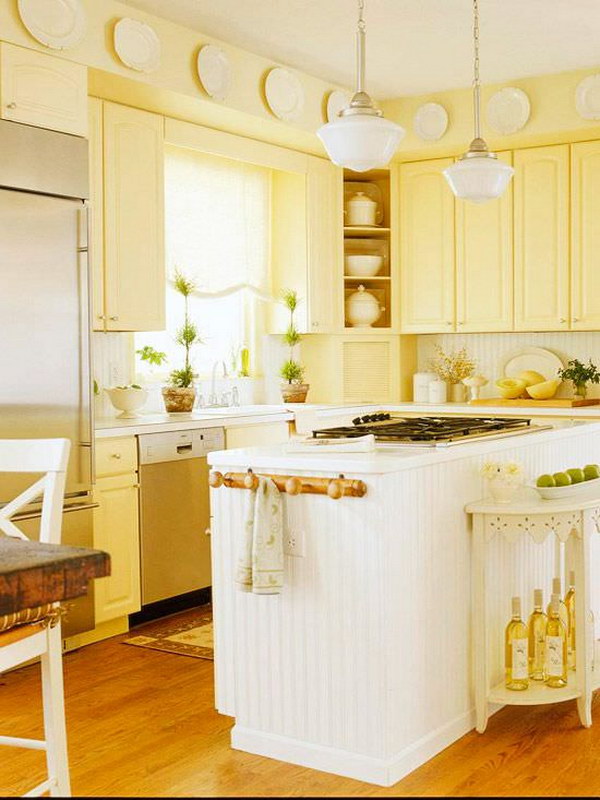 Soft Yellow Kitchen Cabinets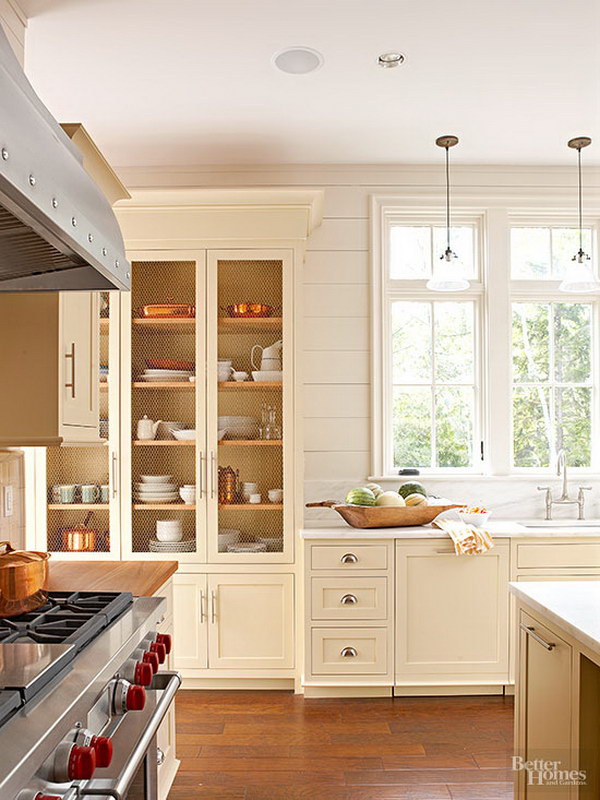 Paint Color: Benjamin Moore, Twisted Oak Path, 228. Notice how the soft-yellow paint picks up natural light in this kitchen evoking an old-world feel. This soft yellow or off-white cabinetry provides a quiet glow in the morning light.
6. Red Color
If playing safe isn't your style, then perhaps you should go for red. After all, it is a very stimulating color that infuses warmth and energy to any room. Needless to say, you've got to know the rules and how to break them, so here are creative ideas to start you off.
Traditional Country Kitchen with Red stained Cabinetry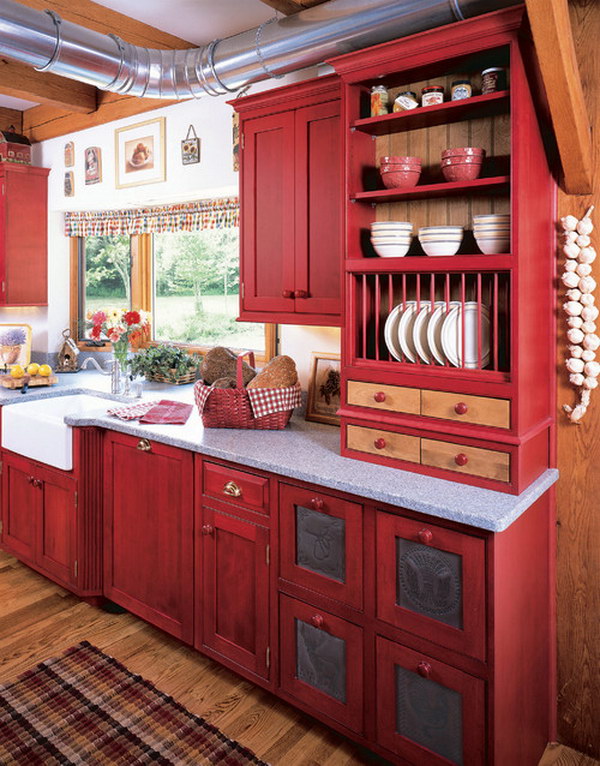 Vintage Red Painted Stock Cabinets for a Custom Country Kitchen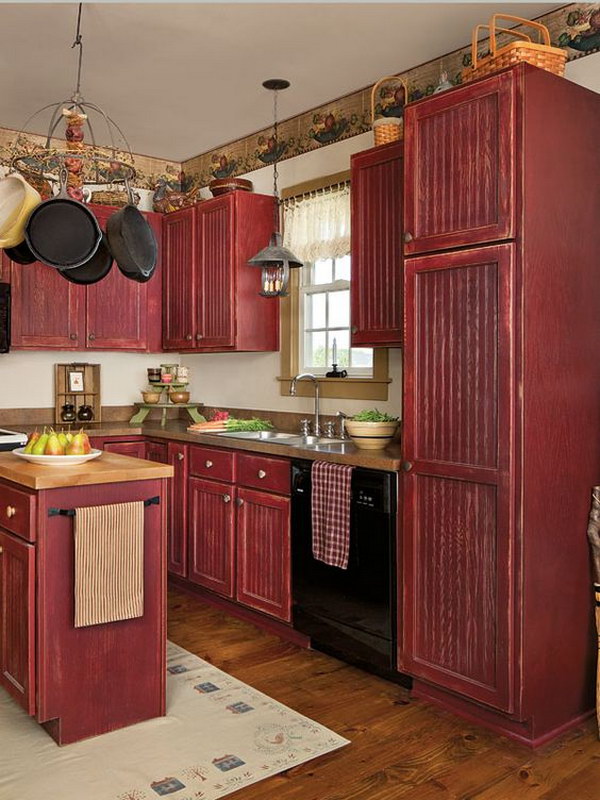 Red Country Kitchens with Rustic Wood Beams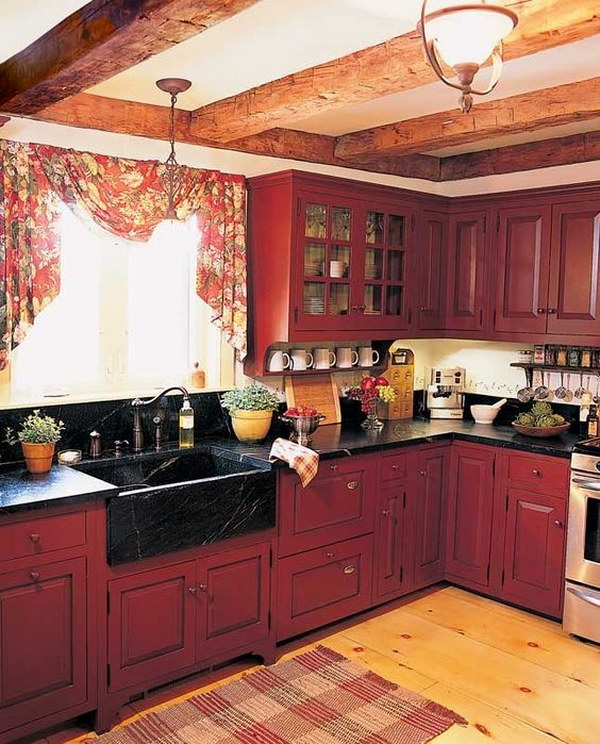 Traditional Kitchen with Red Cabinets, Raised-Panel Cabinets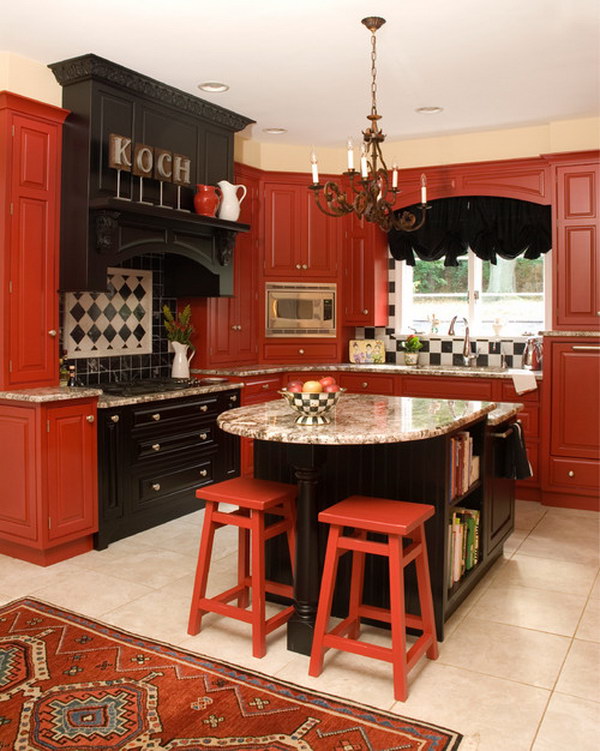 The bright red paint and glossy finish on these cabinets highlight their detailed trim work and golden knobs. To break the monotony, the homeowner added a black island and a checkered backsplash.
Contemporary U-shaped Enclosed Kitchen with Flat-panel Red Cabinets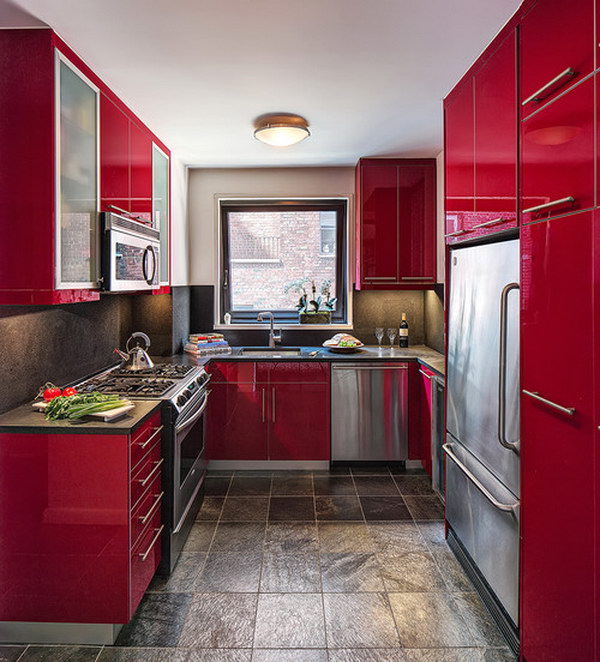 It goes without saying that the bright-red glossy flat-panel cabinets inject a stimulating atmosphere into this contemporary kitchen.
Original Tiny Farmhouse Kitchen with Red Painted Cabinets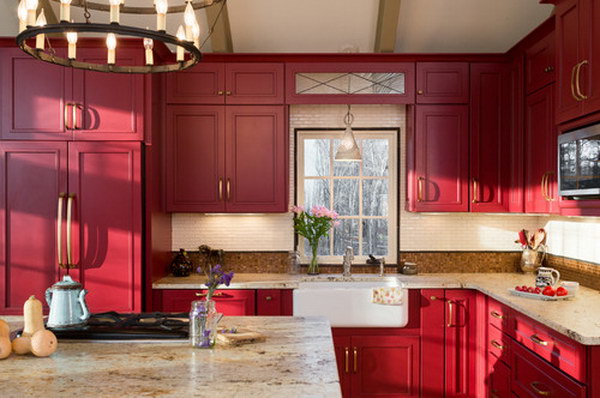 Medallion Cabinets, color: Cayenne with a Sable glaze. If you are lacking in space but don't want to go all white and bright, pairing red cabinets with white subway tiles might produce the desired effects. This homeowner added stylish brass hardware to add a touch of character.
Red Cabinets paired with Pale Yellow Walls and White Subway Tile Backspalsh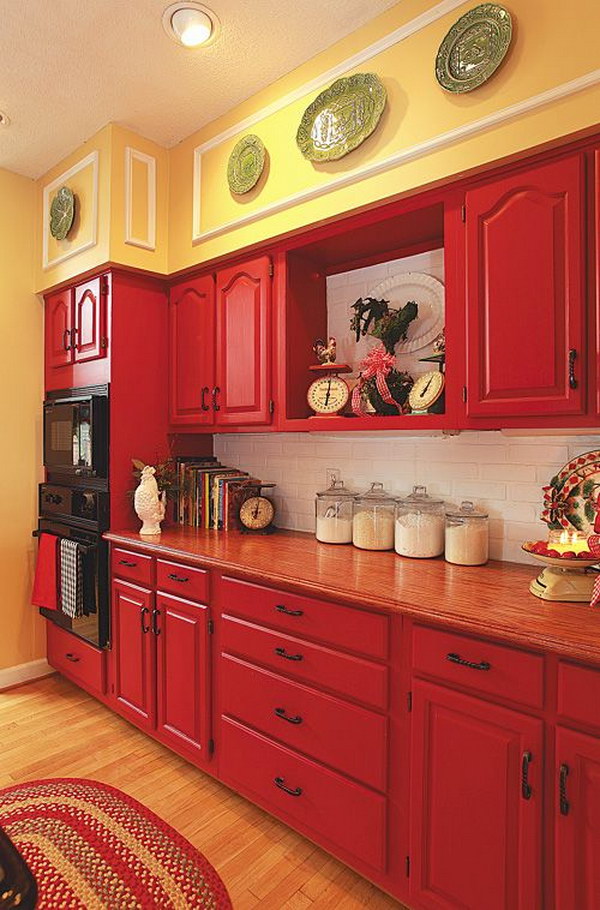 The ornate red cabinets paired with black hardware blend well with the yellow wall paint and the white subway tile backsplash.
Red Cabinets Paired with White Countertops and Gray Walls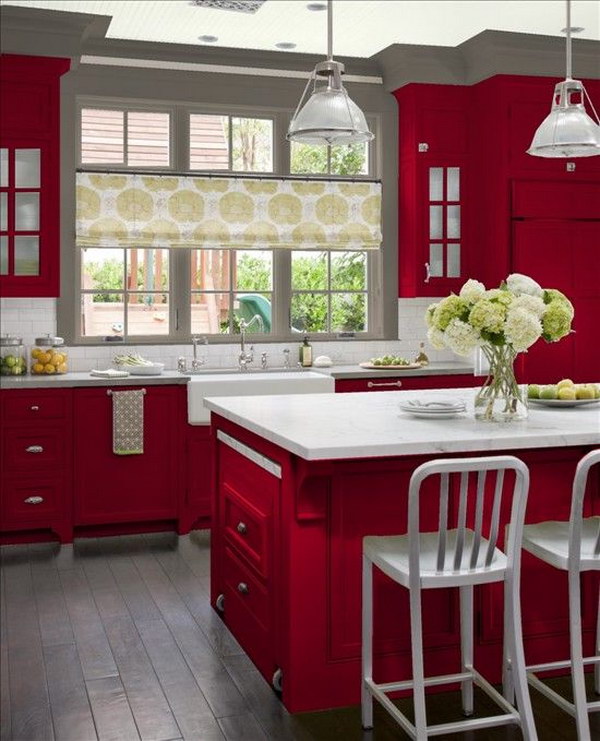 Red Cottage or Farmhouse Style Kitchen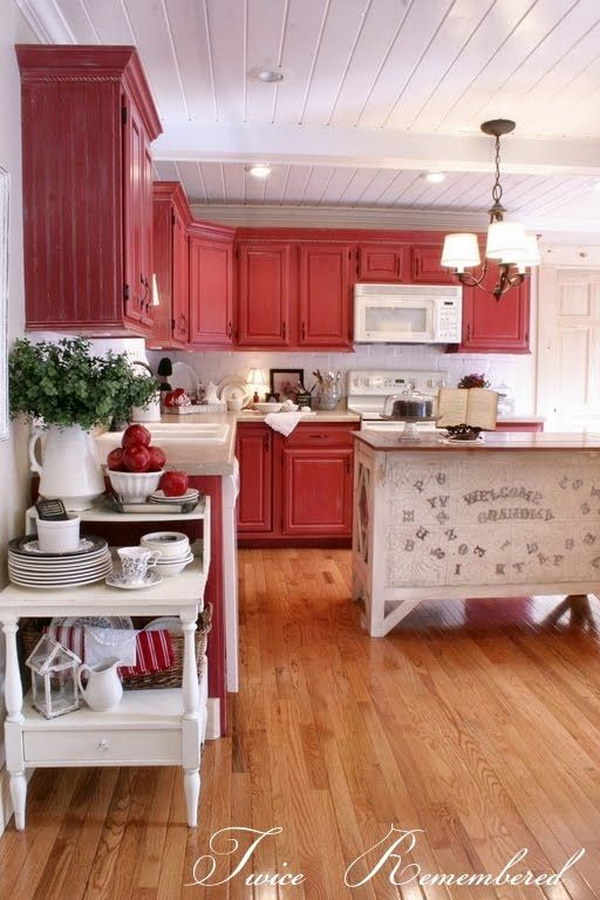 Cottage Kitchen with Bright Red Painted Cabinets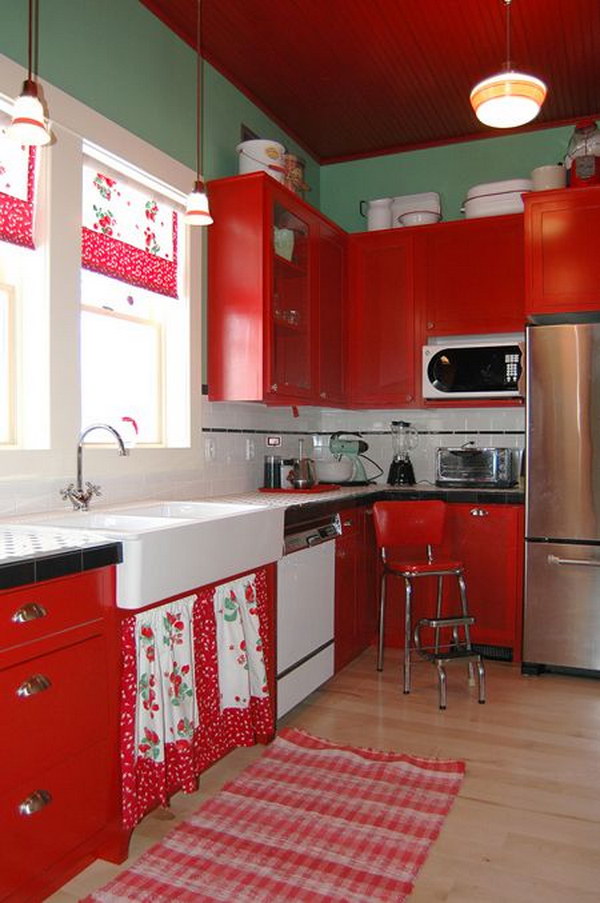 7. Other Colors
Perhaps you are looking for a color that will make your kitchen pop? Don't worry. There are still other interesting and exciting color options for youR cabinetry. Check them out.
Orange Kitchen Cabinets with Crisp Black Countertops and Shiny White Backsplash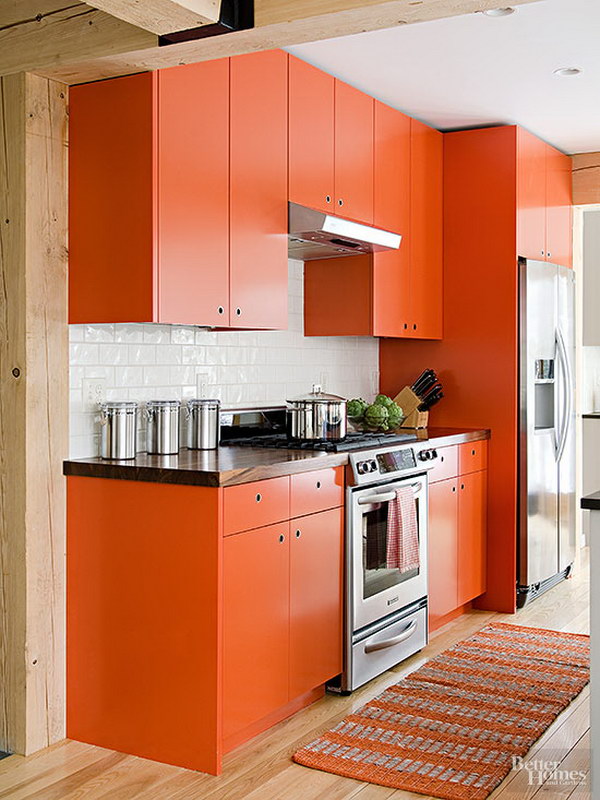 Paint Color: Sherwin-Williams, Raucous Orange, SW-6883. More social and less intense than red, the orange cabinetry in this kitchen evoke feelings of excitement and enthusiasm.
Burnt Orange Kitchen Cabinets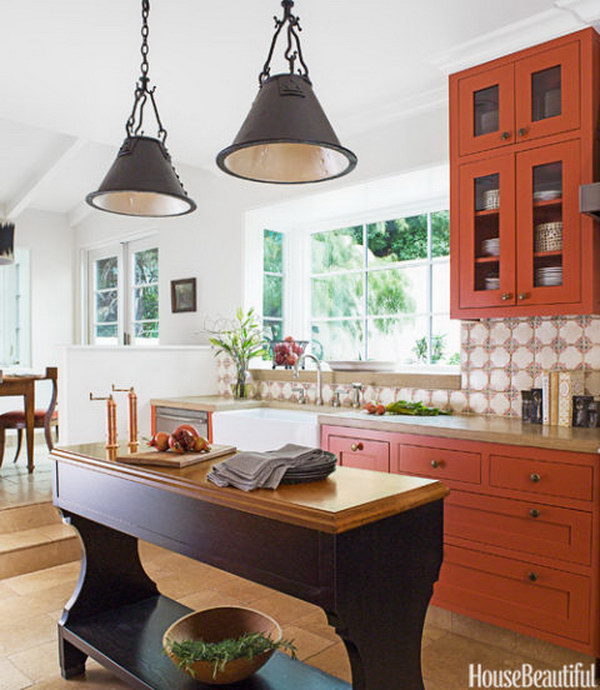 For a sophisticated yet cheery kitchen, burnt orange cabinetry offer an attractive option.
Rich Red-Orange Open Cabinets With Multicolored Backsplash And Paneled Appliances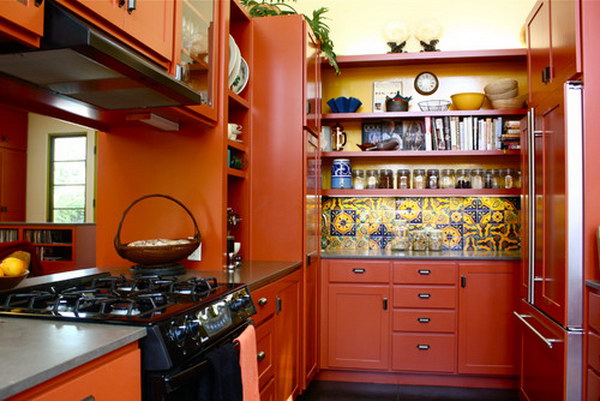 Oak Kitchen Cabinets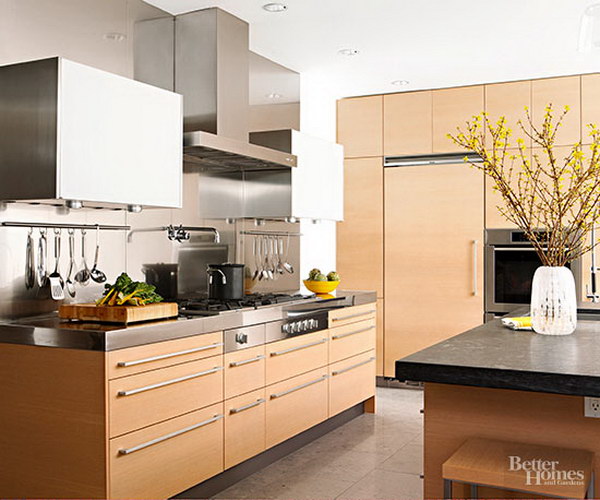 The natural wood color lends warmth and elegance to this kitchen!
Soft Pink Painted Kitchen Cabinets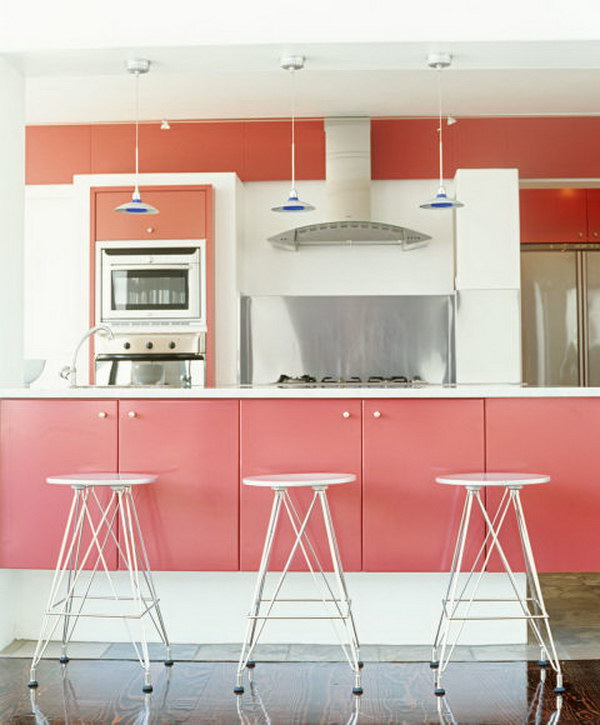 For a pastel look in your kitchen, why not go with soft pink paired with white details? The two colors play well together and create the illusion of space.
Off-purple or Gray Kichen Cabinet Paint Color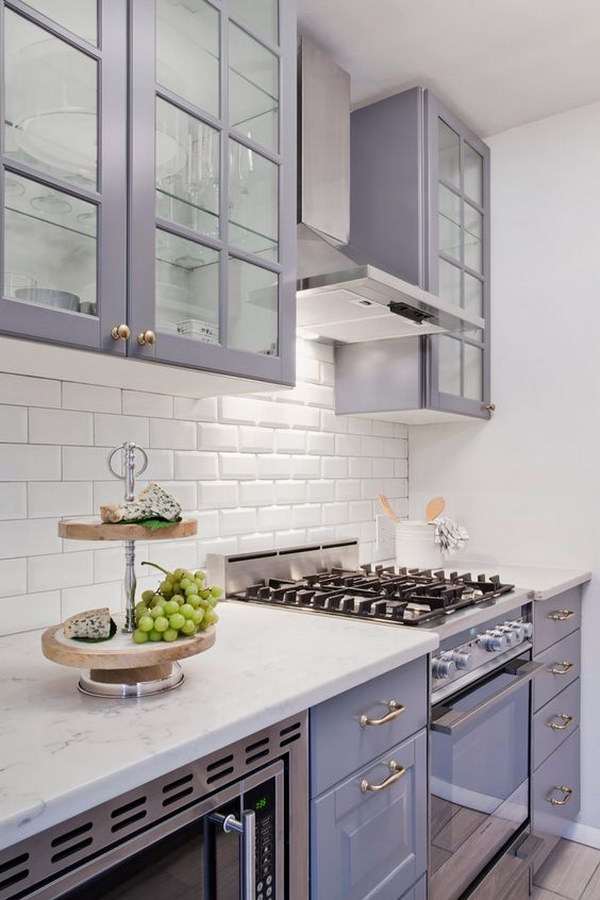 Dark Brown Painted Kitchen Cabinets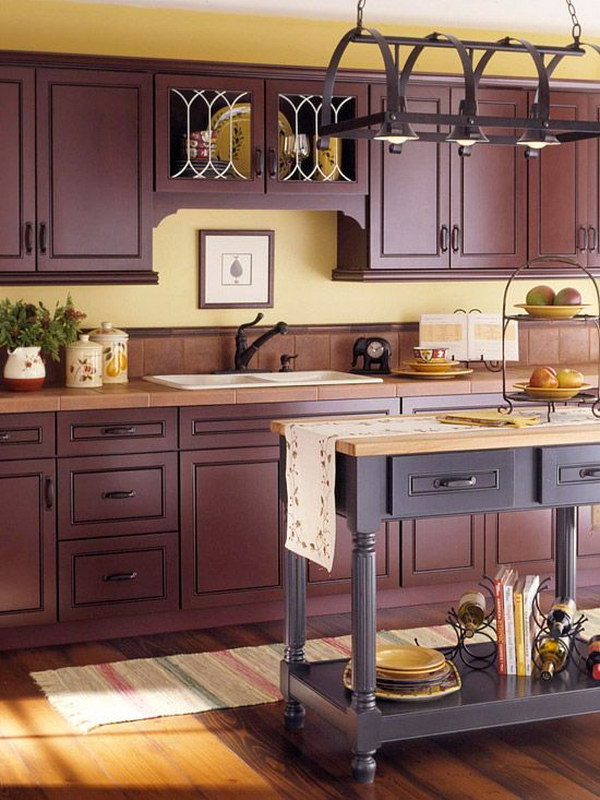 Enthralling Purple Kitchen with Purple Kitchen Cabinet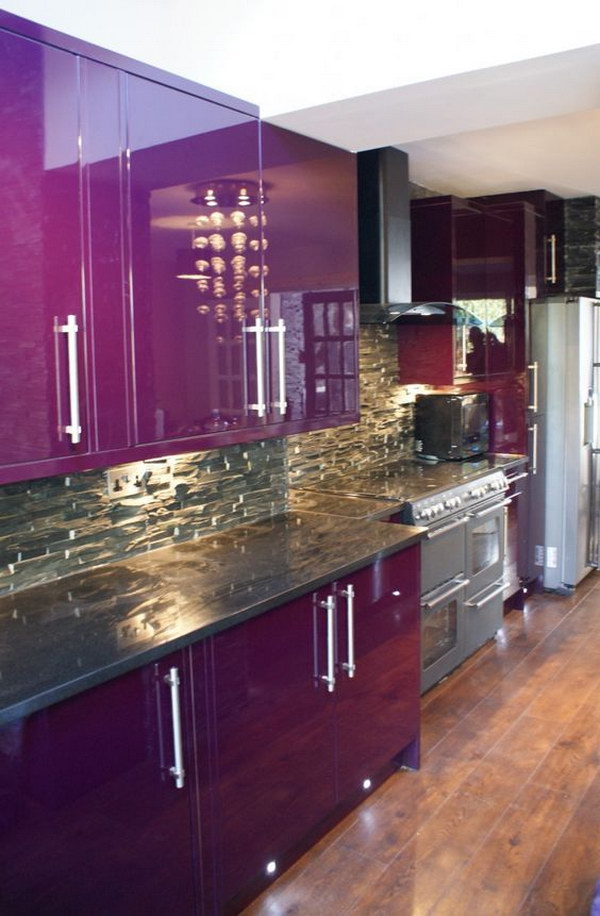 Modern Kitchen with Royal Purple Cabinets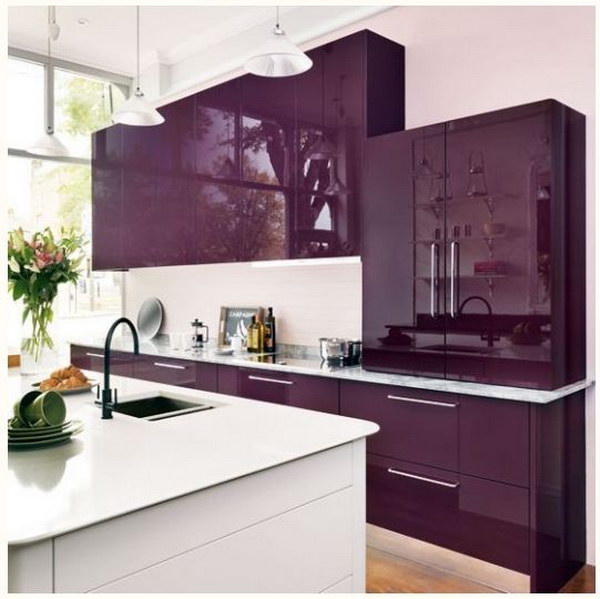 Clean, modern and sophisticated, these purple cabinets are a must-have for the minimalistist-style enthusiast.Notice how the white island makes the purple cabinetry pop.
Paint Color for Greige Kitchen Cabinet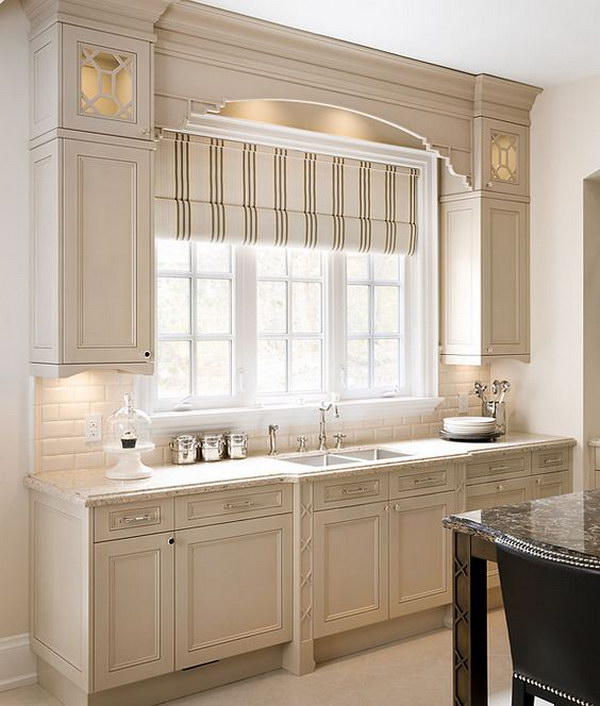 Paint Color: Benjamin Moore Paint Colors. Benjamin Moore "Winds Breath 981". These gorgeous grey-beige (greige) kitchen cabinets embody simplicity and sophistication.