Shabby chic decoration is the epitome of everything vintage, elegant and, dare we say, feminine.
This style of decoration, which mixes vintage-looking, often distressed pieces with adorned, frilly elements is a lot of girls' and women's dream, and it is definitely something that is right on trend at the moment.
There is more than one interpretation of shabby chic, obviously, but for the most part, the style is defined by a countryside chic aesthetic, with pastel or neutral tones in the background and accents of exposed brick or wood in the structural pieces. Ornate and detailed fabrics and pieces – both functional and decorative – top it all off and give it the finishing touch that makes the style recognizable.
There is a balance to be achieved when decorating a shabby chic dining room, as the room still needs to remain functional and enjoyable for when you have any guests over. Going for distressed or upcycled tables and chairs is a good idea, as it will instantly set the atmosphere of the room, as will a vintage chandelier over the table.
These are just some suggestions though; the following gallery will give you a better idea of how to turn your dining room into a shabby chic sanctuary.
All White Shabby Chic Dining Room with Cute Crystal Chandelier Lighting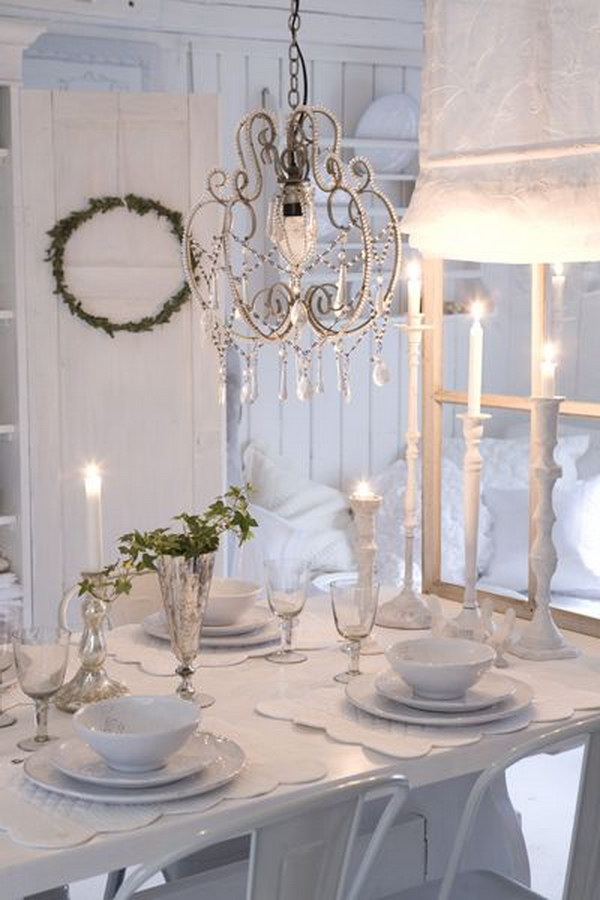 Beautiful Shabby Chic Ruffled Slipcovers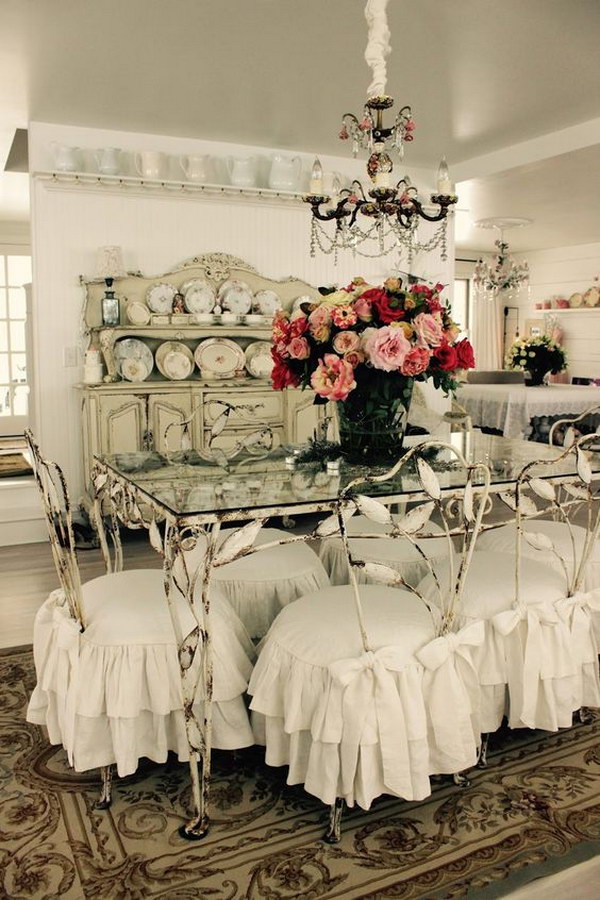 Elegant Shabby Chic Dining Room with Lace Table Cloth and Vintage Crystal Chandelier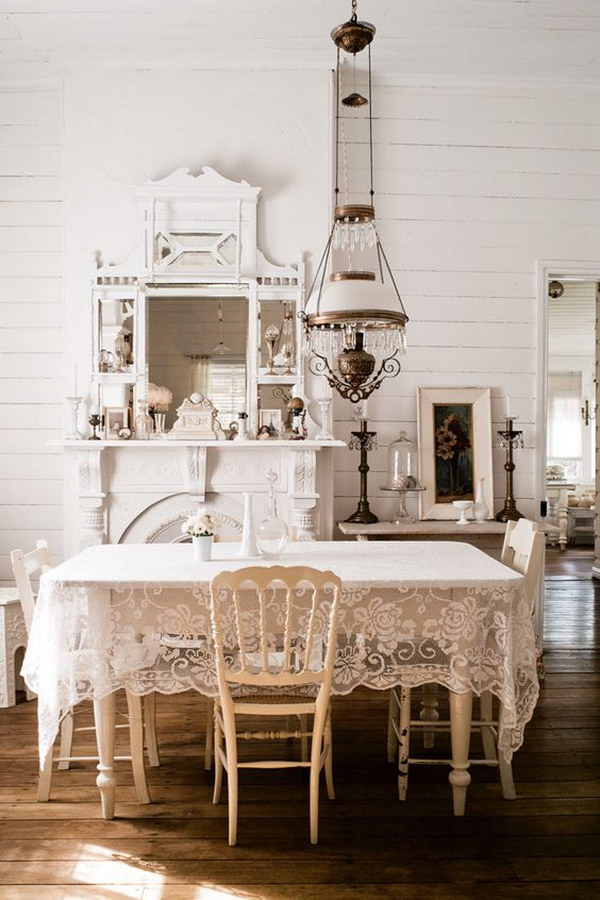 It's undeniable that the long hanging vintage crystal chandelier is the main and centerpiece of this decoration, as it is very difficult to ignore. However, the cream furniture is also very much in line with the guidelines of the decorative style, as is the white lace towel covering the table.
Shabby Chic Fabric Covered Table And Cozy Chandelier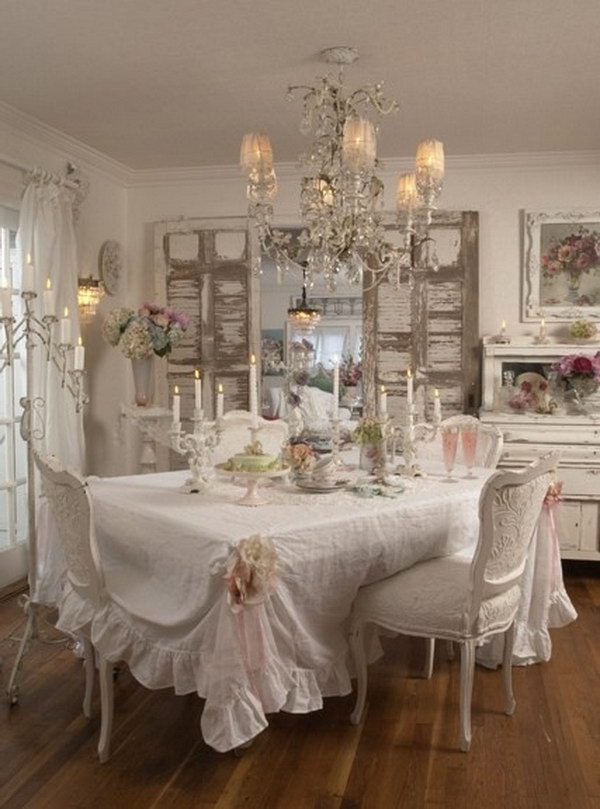 Romantic Shabby Chic Dining Room With Awesome Details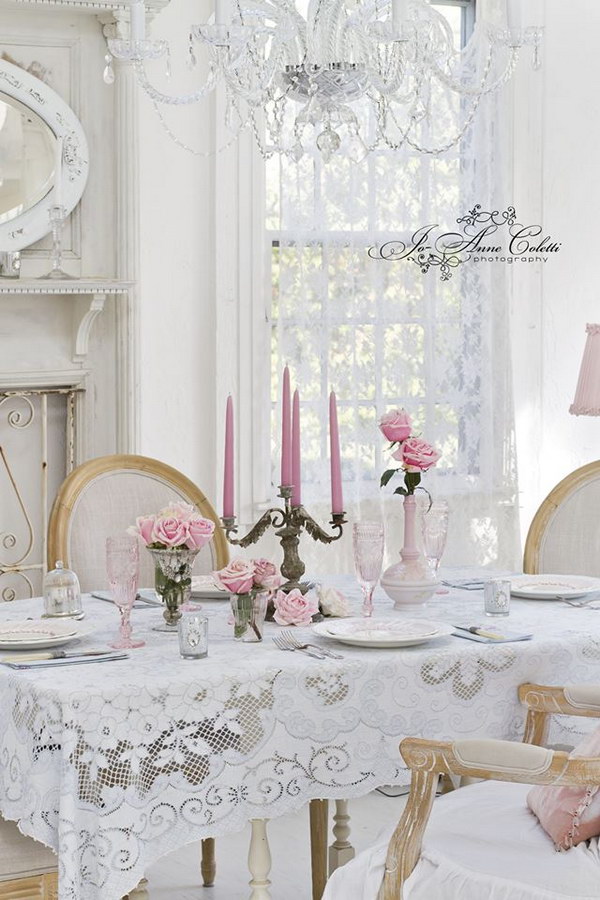 White Shabby Chic Dining Room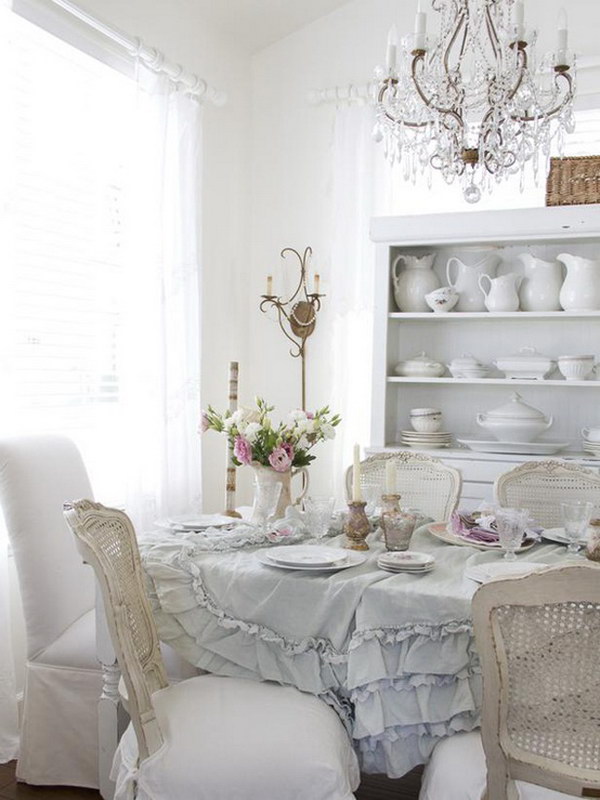 Pastel Color Shabby Chic Dining Room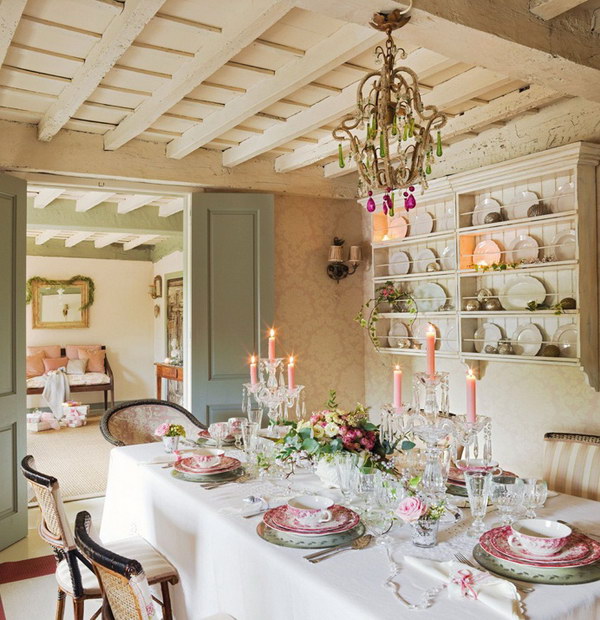 Blue And White Shabby Chic Dining Room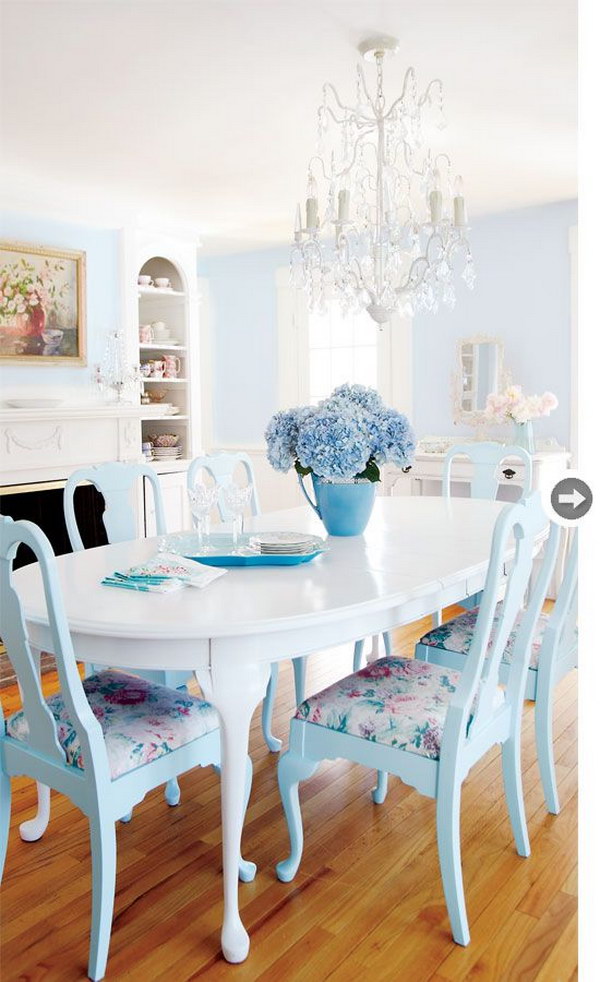 Romantic Shabby Chic Dining Area with Gorgeous Chandeliers
Blue and White Rustic Chic Dining Room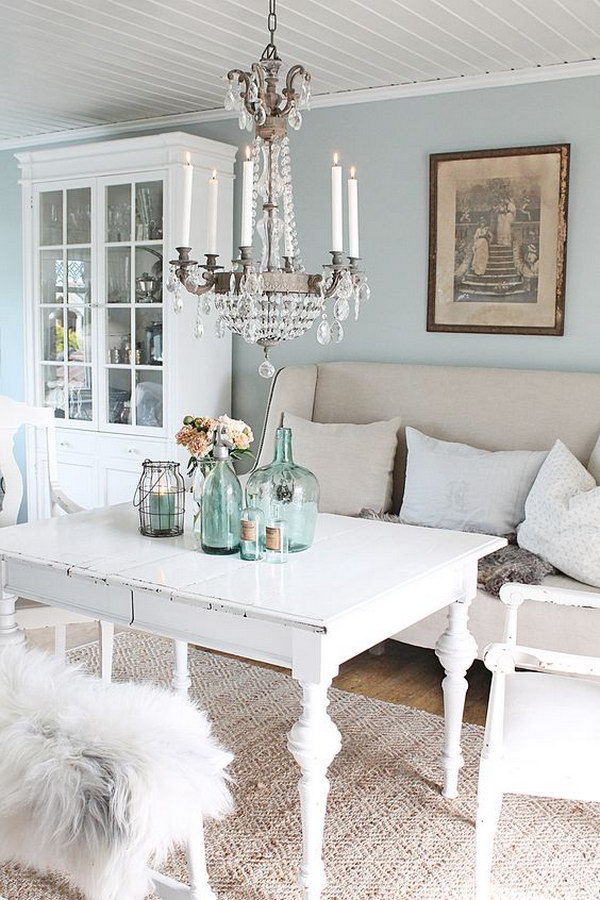 Shabby Chic Dining Room With Beautiful Chandelier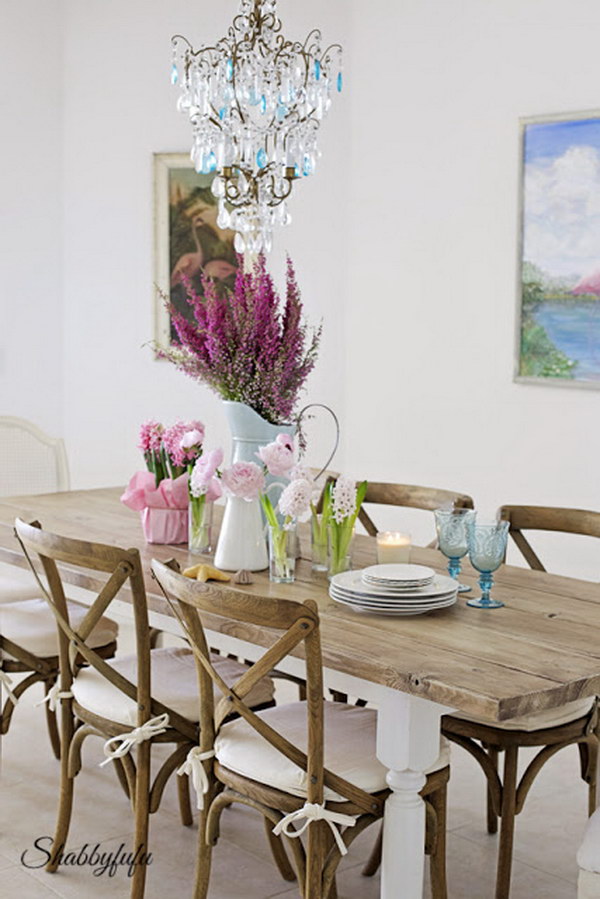 Shabby Chic Dining Room with Romantic Details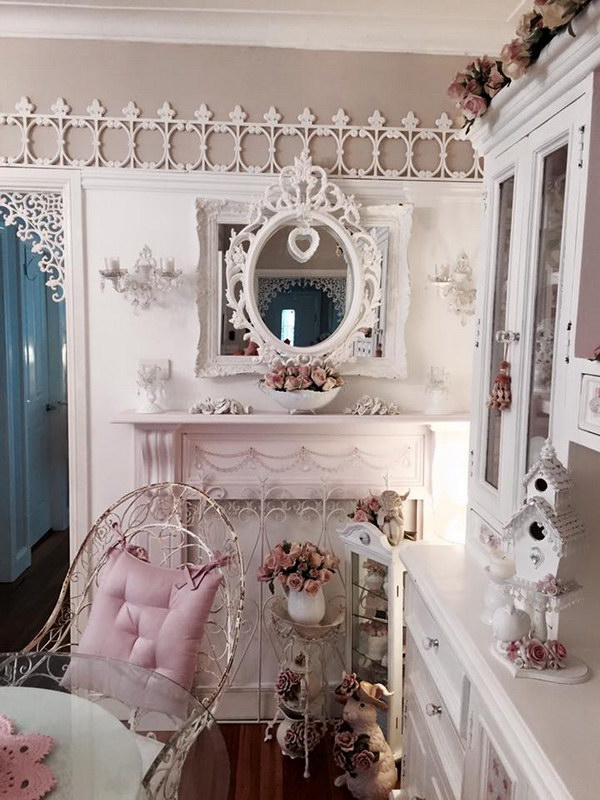 Rustic Chic Dining Room with Reclaimed Wood Table and a Vintage Crystal Chandelier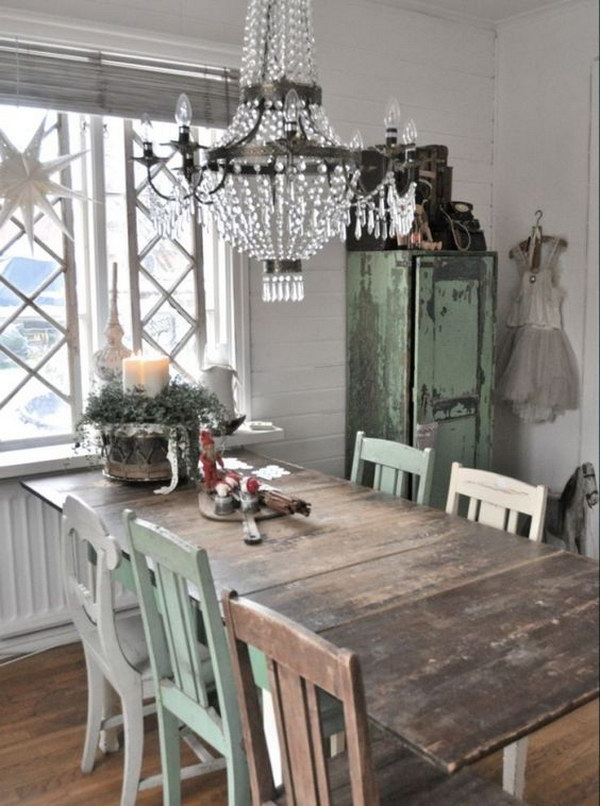 Shabby Chic Kitchen Cabinet In Dining Room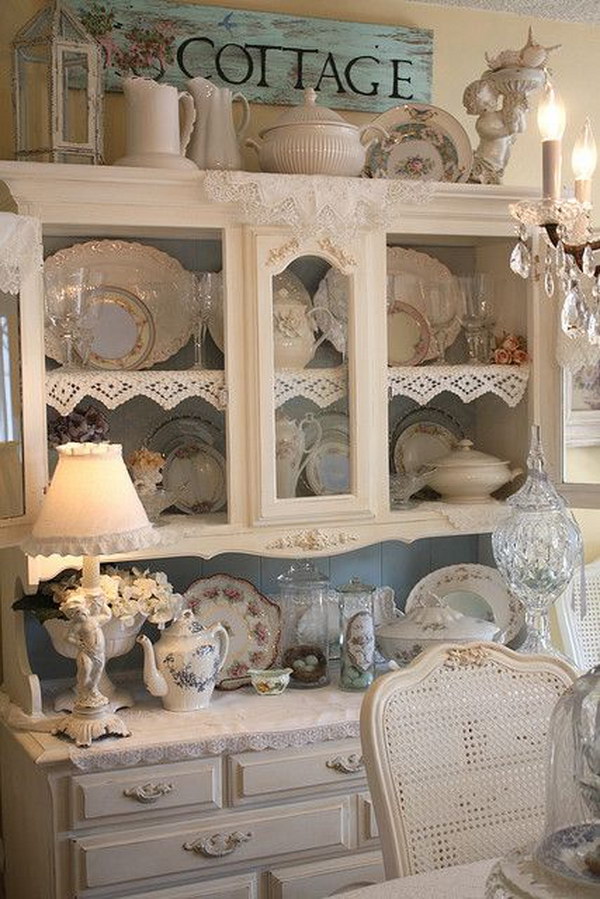 Pink, textured, ornate and trimmed with lace – this cabinet is the very definition of shabby chic. The table lamp in the corner is a nice touch, and all the tea and dining pieces in it match the style perfectly, as does the chair that you can see in the forefront.
Bright And Shabby Chic Dining Room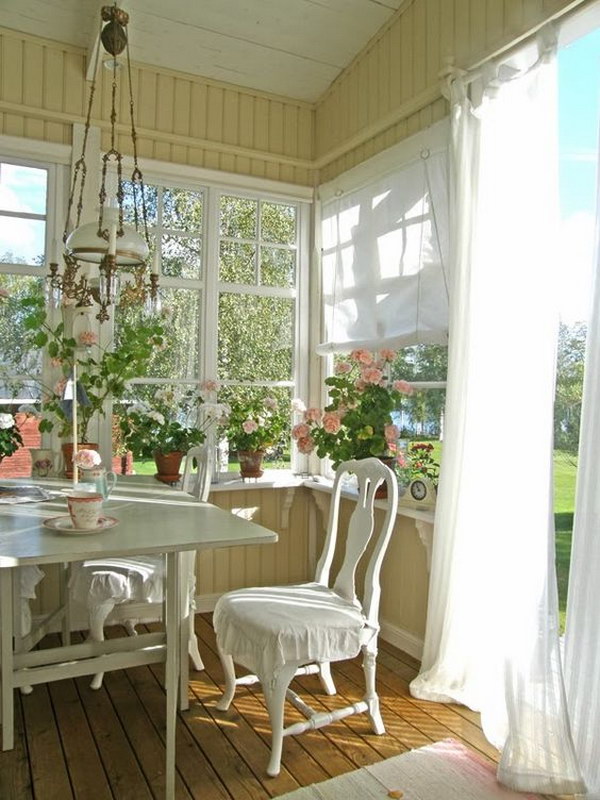 Shabby Chic Dining Room Corner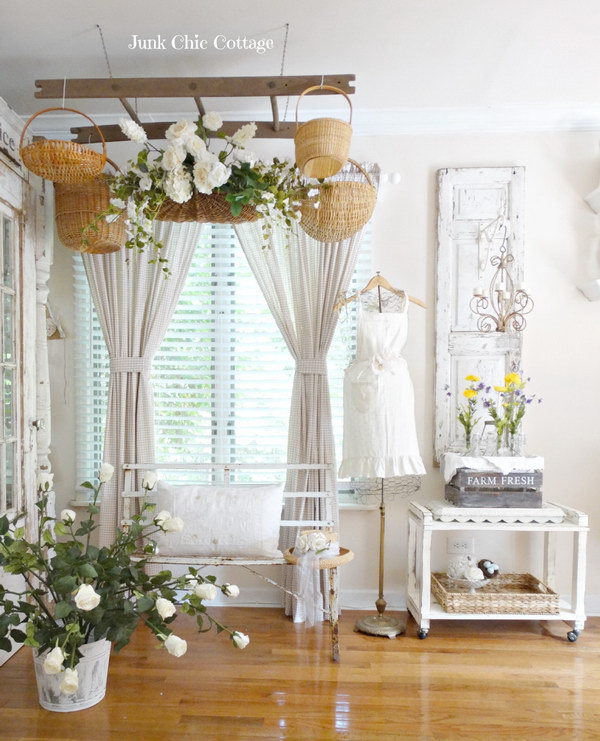 Cozy And Shabby Chic Dining Room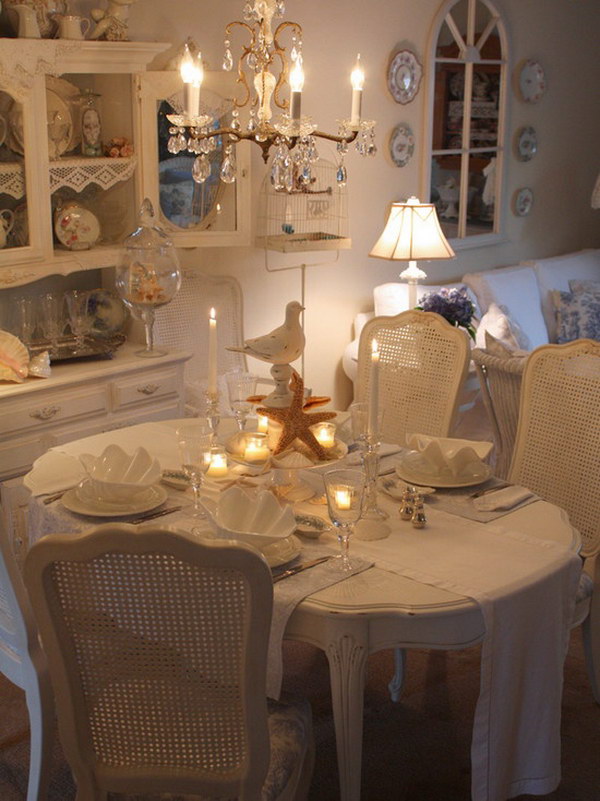 Shabby Chic Dining Room With Stylish Chandelier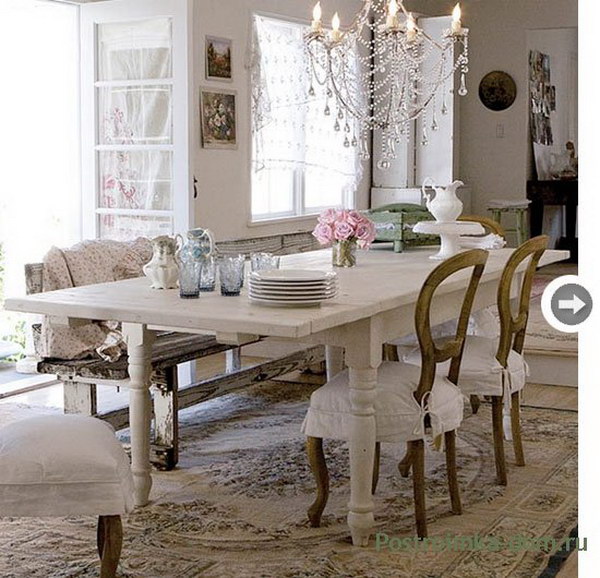 Shabby Chic Paris Blue And White Dining Room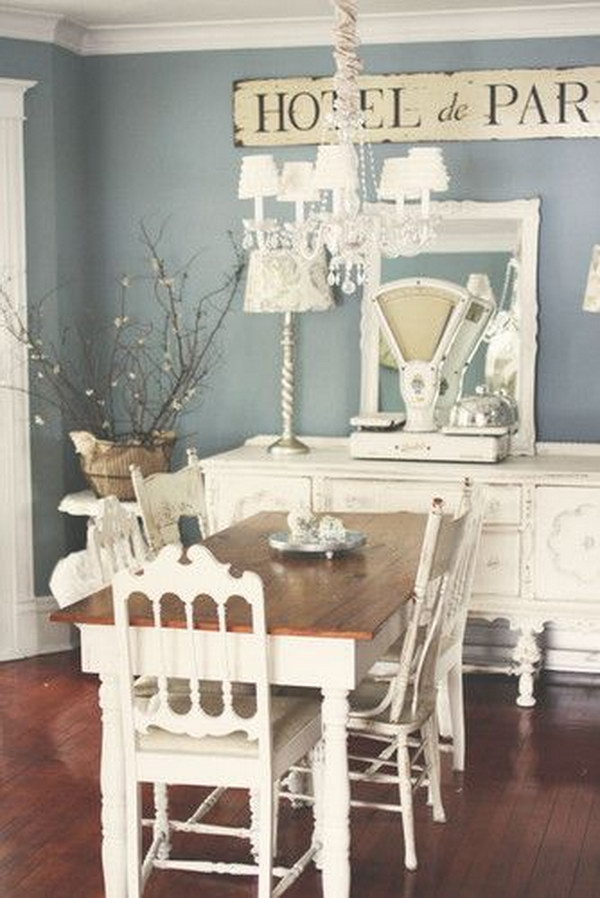 Parisian style and shabby chic are basically synonyms, as some even say the décor trend was born in the French countryside. The blue color on the walls is a great choice, but it is the white furniture that shines here. The white table, topped with natural wood is a beautiful rustic piece, but it is the cabinetry with the vanity mirror and the tall lamp that really make the room. The stylish, multi-lamp chandelier is also a beautiful and unique piece that looks amazing here.
Wonderful Shabby Chic Style Dining Room With Unique Decors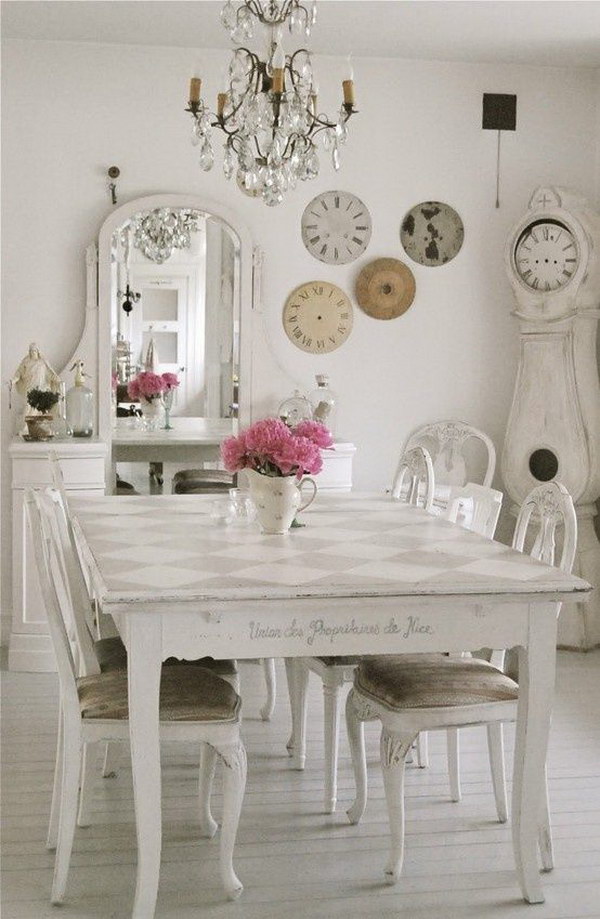 This dining room is definitely and uniquely shabby chic, with all of its apparently randomly chosen décor pieces, including the ornate mirror and the collection of vintage wall clocks. The textured table and chairs are a beautiful yet simple center piece, and the chandelier adds further detail without calling too much attention.
Elegant Chandelier and Mirror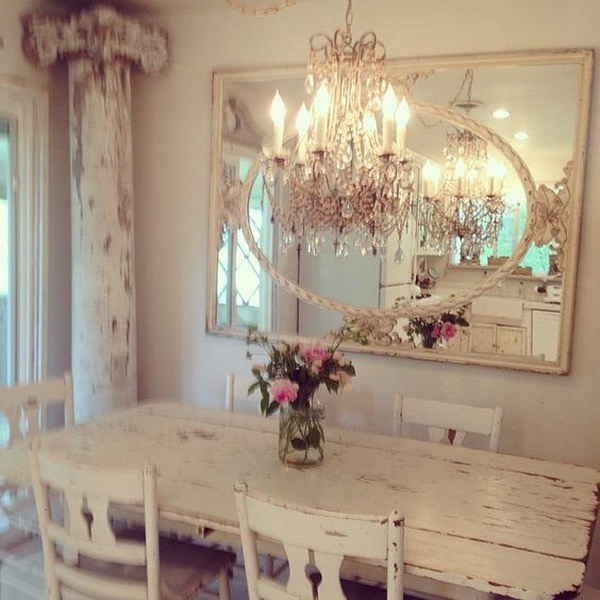 Shabby Chic Dining Room in Blue and White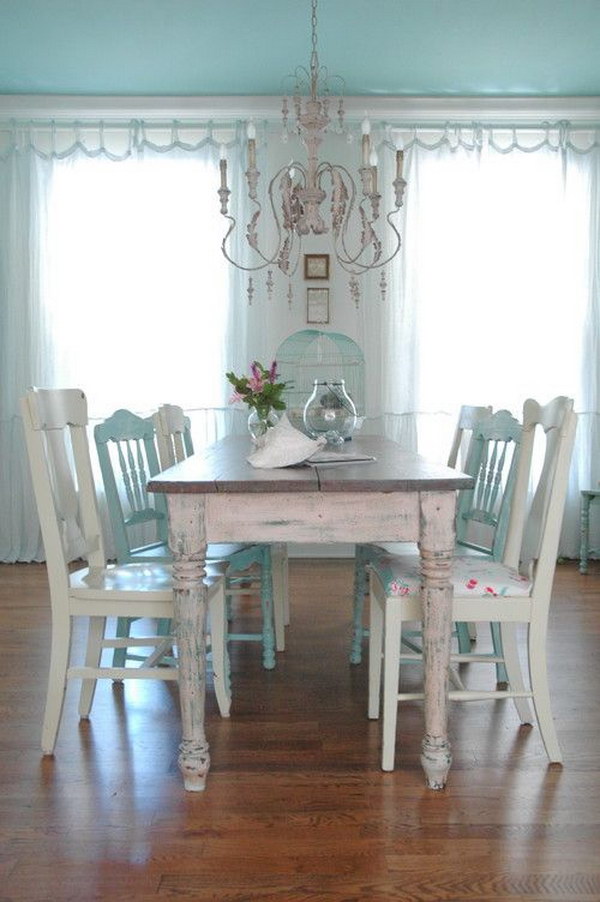 Pink and Romantic Shabby Chic Dining Area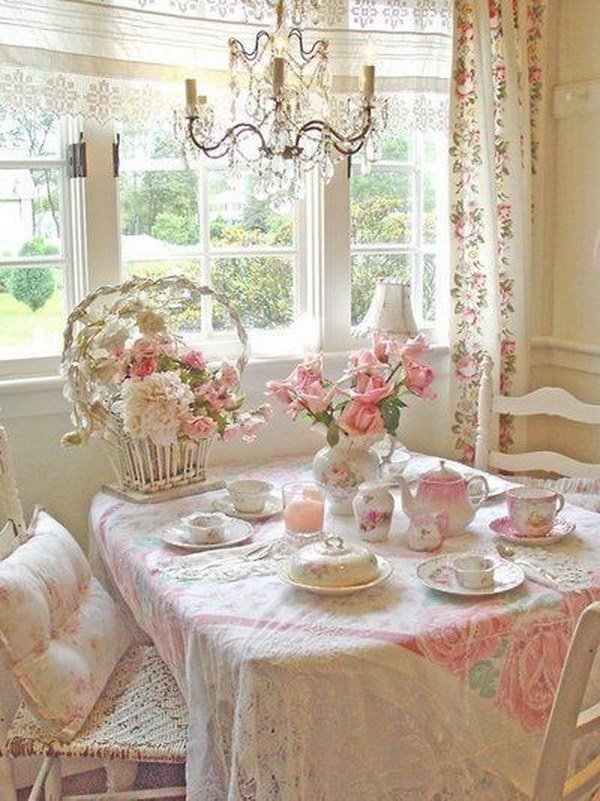 Shabby Chic Dining Room With White Chairs, Chandelier And Awesome Hutch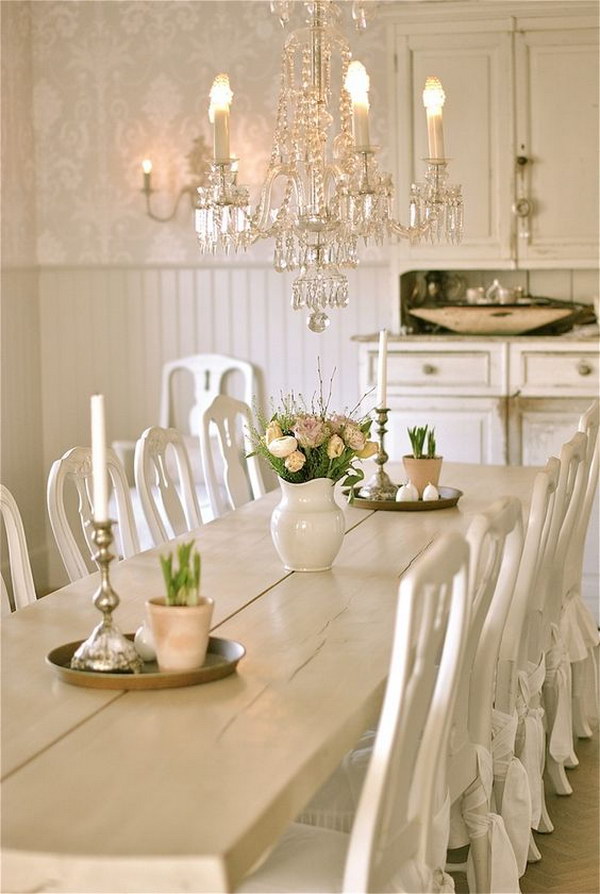 All White Dining Area With French Doors And Crystal Chandelier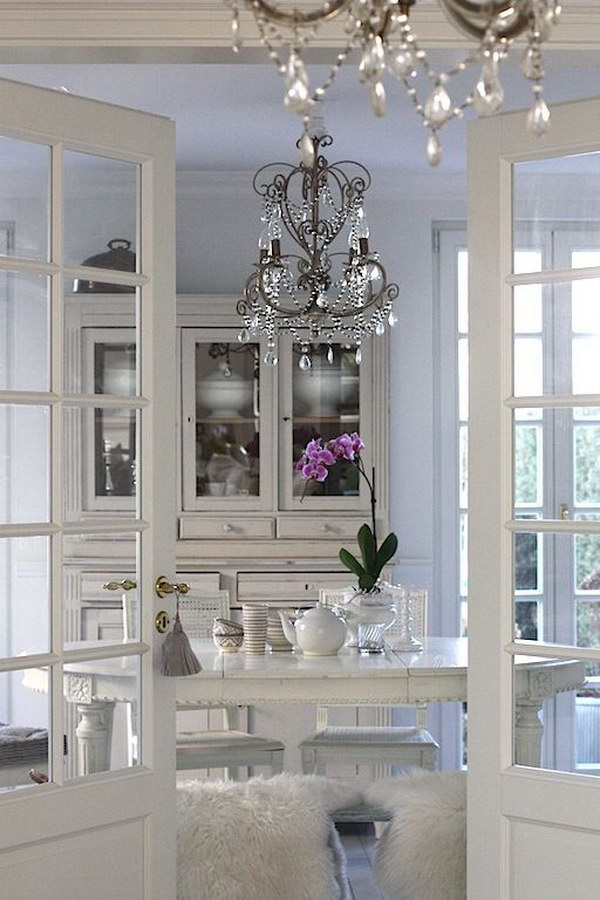 French Chic Dining Room with Gorgeous Rustic Table and Chandelier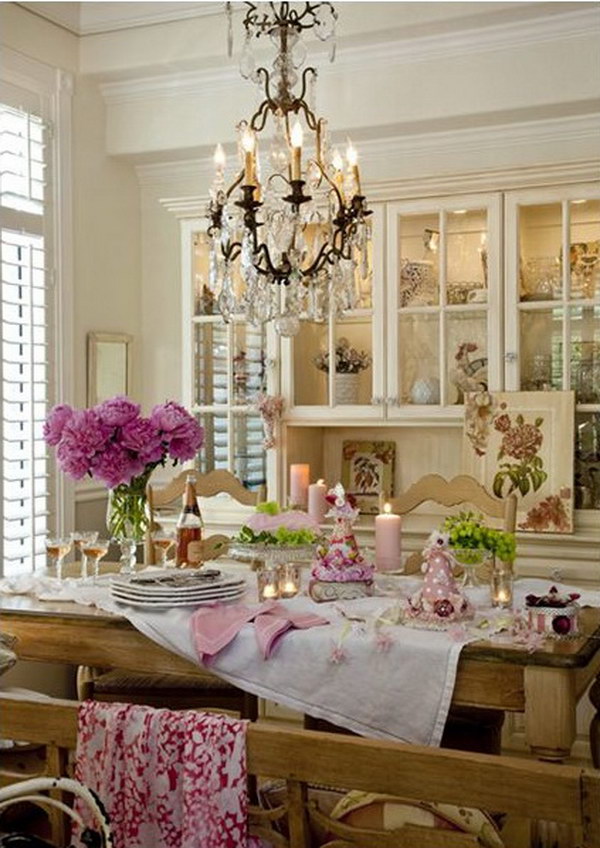 Shabby Chic White Dining Room with Wicker Chair, All White Walls And Flooring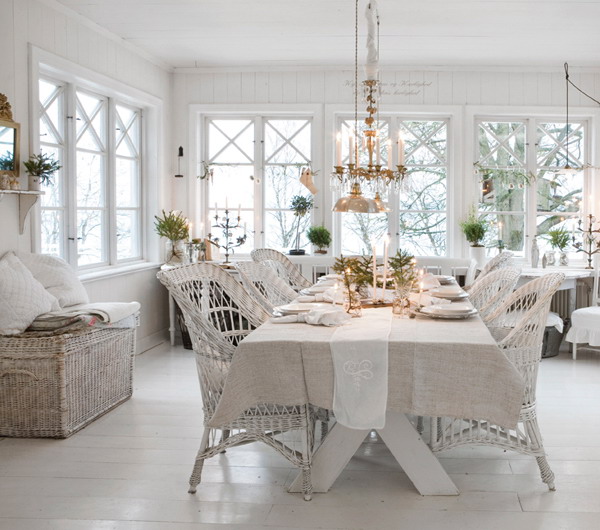 Shabby Chic Dining Room With Ruffled Tablecloth and Crystal Chandelier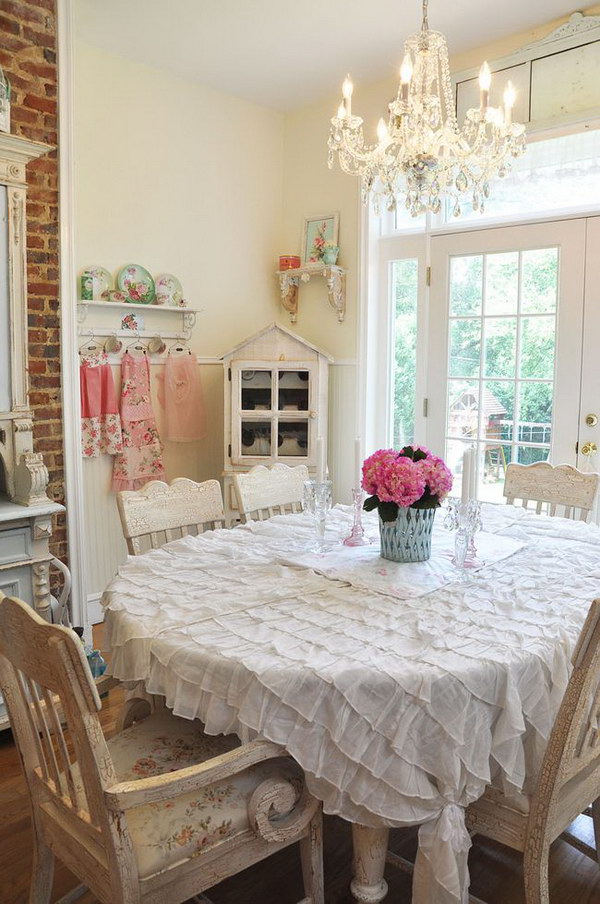 Romantic Dining Room With Chalkboard And Chandelier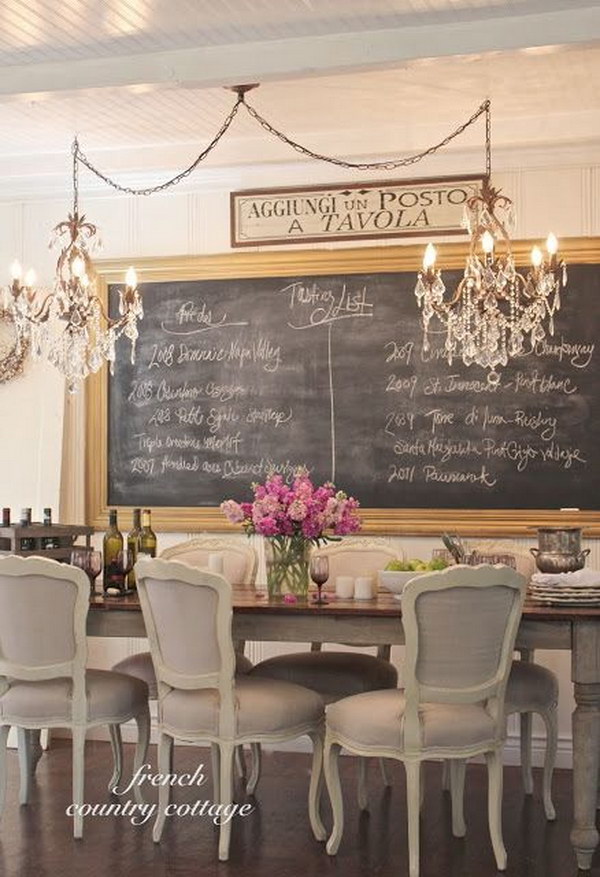 Vintage Chic Dining Room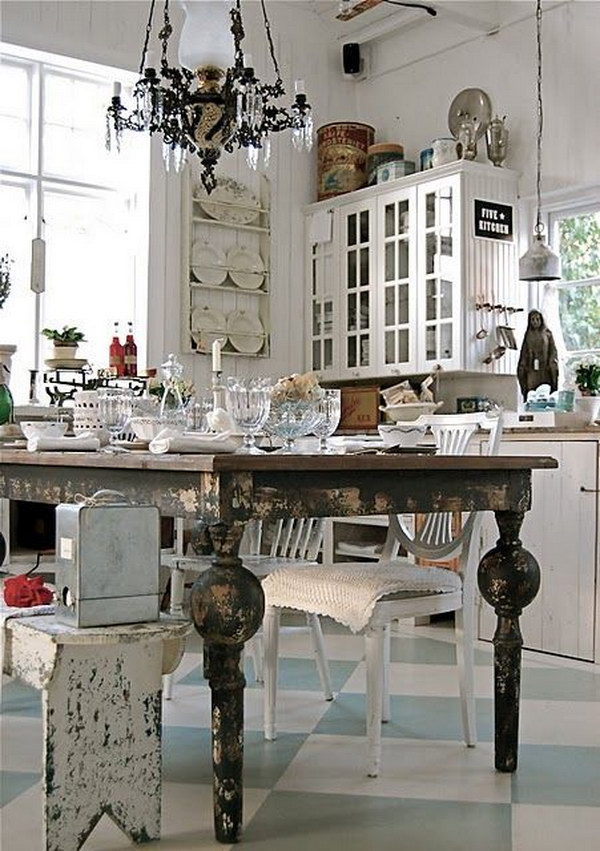 White and Shabby Chic Dining Room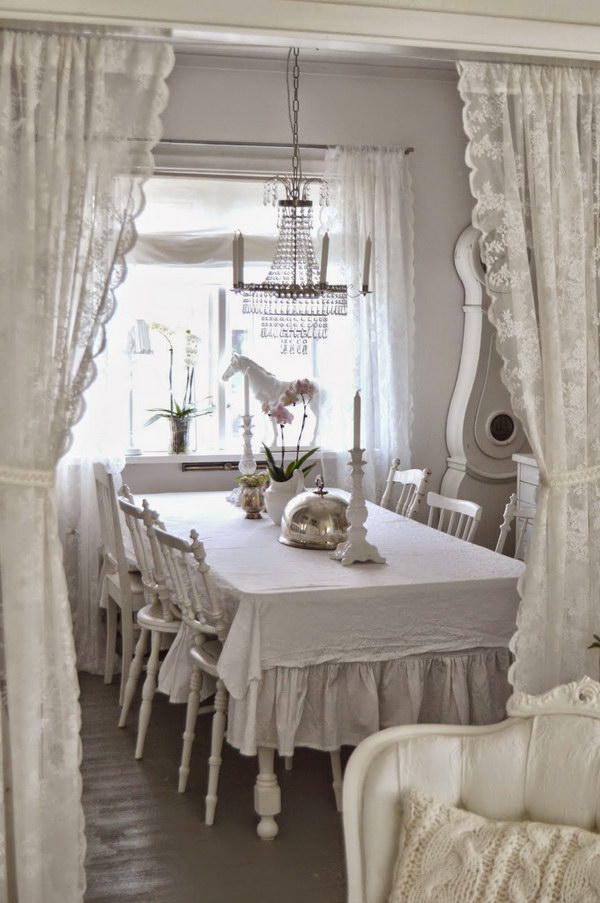 Shabby Chic Dining Room with Pretty Tablecloth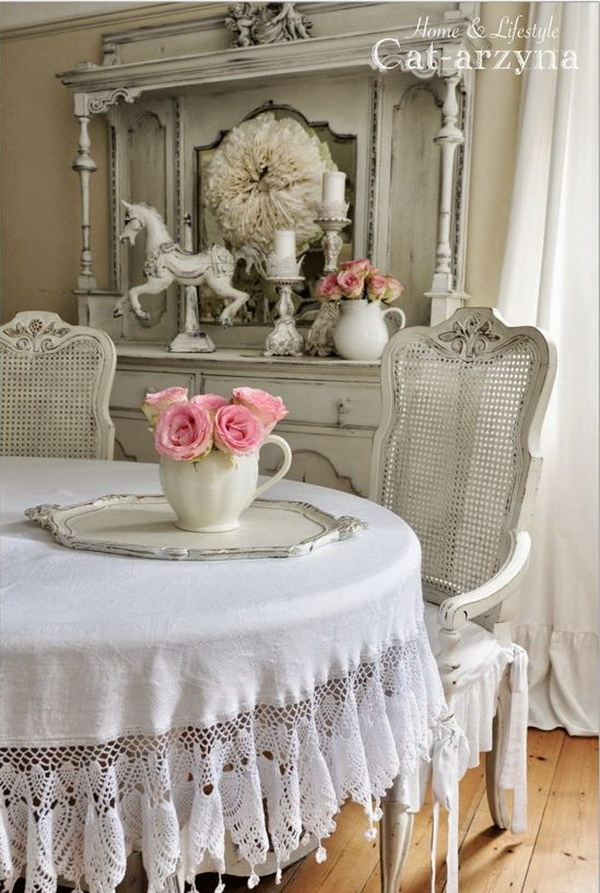 Bring The Nature In With This Awesome Chandelier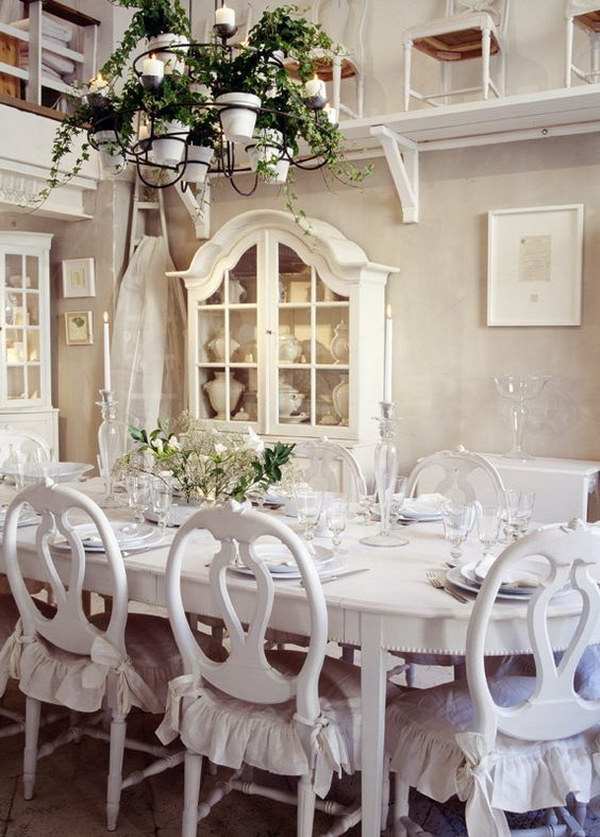 Delicate And Dainty Shabby Chic Table And Chairs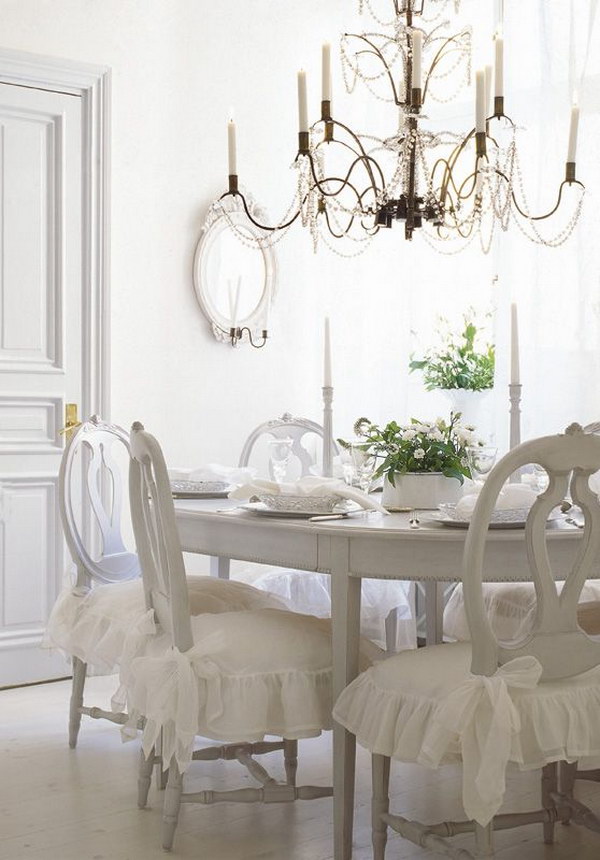 Beautiful Shabby Chic Dining Area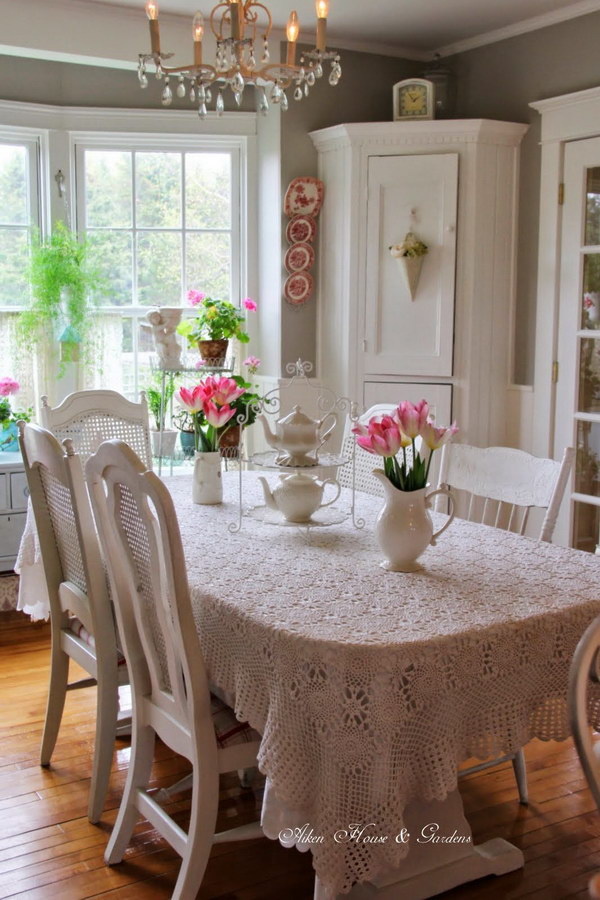 Inviting Shabby Chic Dining Room In White And Green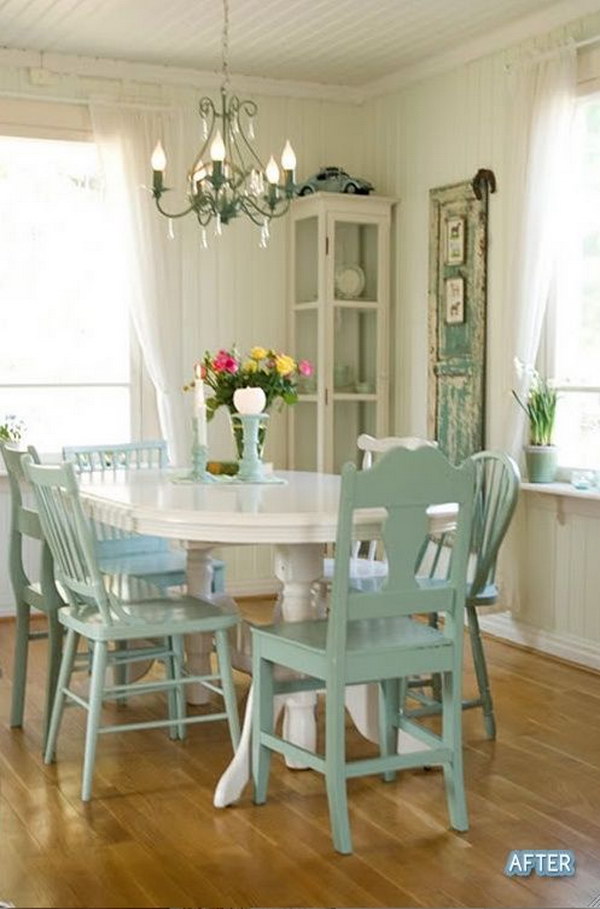 This dining room looks truly inviting with lots of natural light coming from the big, white-curtained windows and its natural wood, polished floor. All the pieces go well together, but the mint/turquoise dining chairs are an especially beautiful choice, which adds that truly shabby chic element. The dark, short chandelier is quite beautiful is its simplicity, as it complements instead of overwhelming the room's decoration.
Shabby Chic Tablescape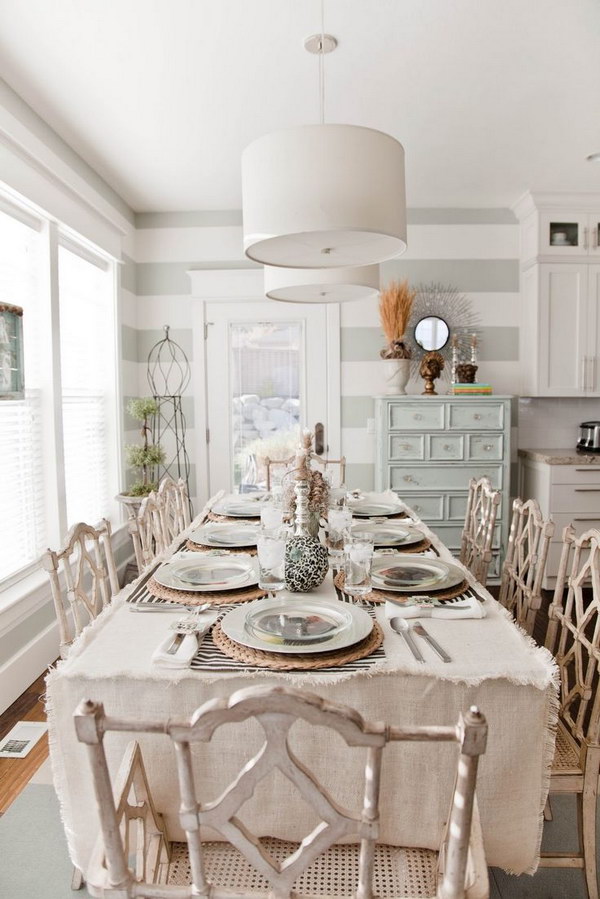 White and Feminine Shabby Chic Dining Room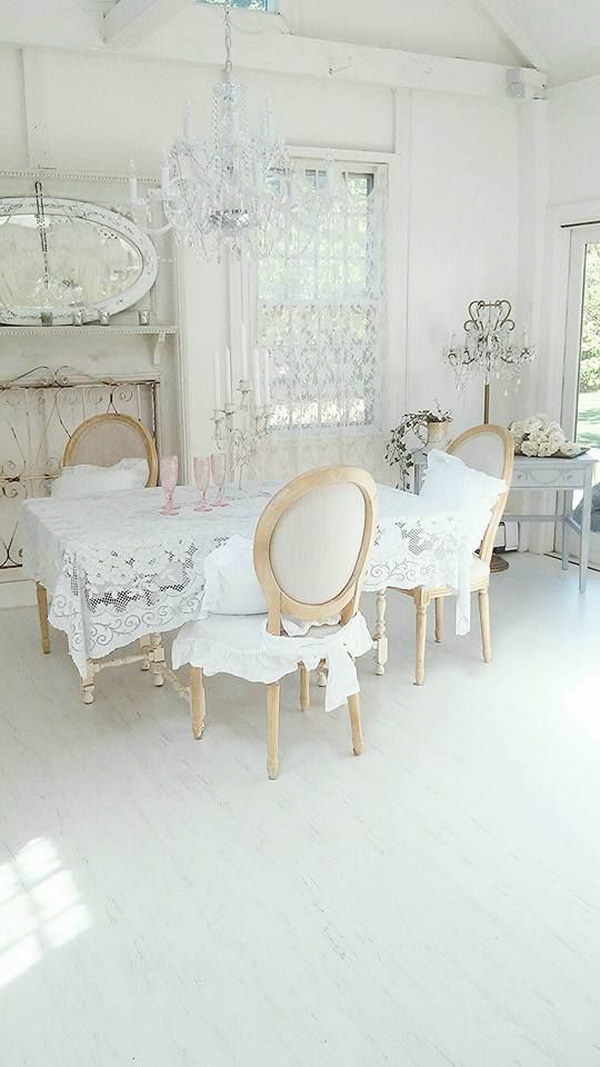 Shabby Chic Candle Stick for Dining Room Decoration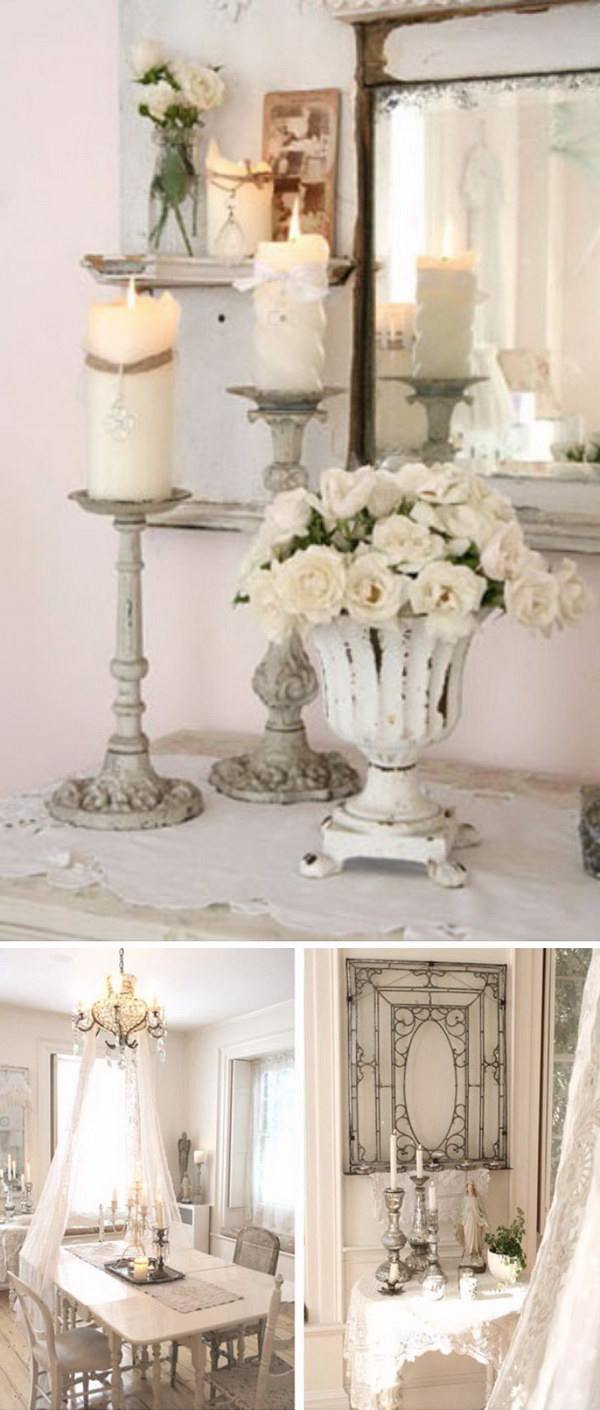 Lovely Shabby Chic Dining Room with White Hutch and a Glass Table Decorated with Cute Ruffled Tablecloth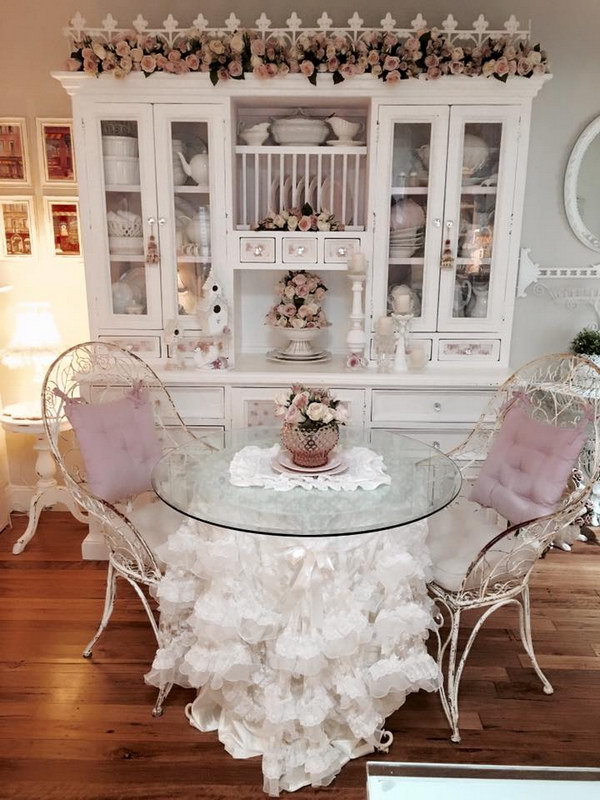 Fantastic Shabby Chic Dining Room With Pink, Yellow and Blue Colors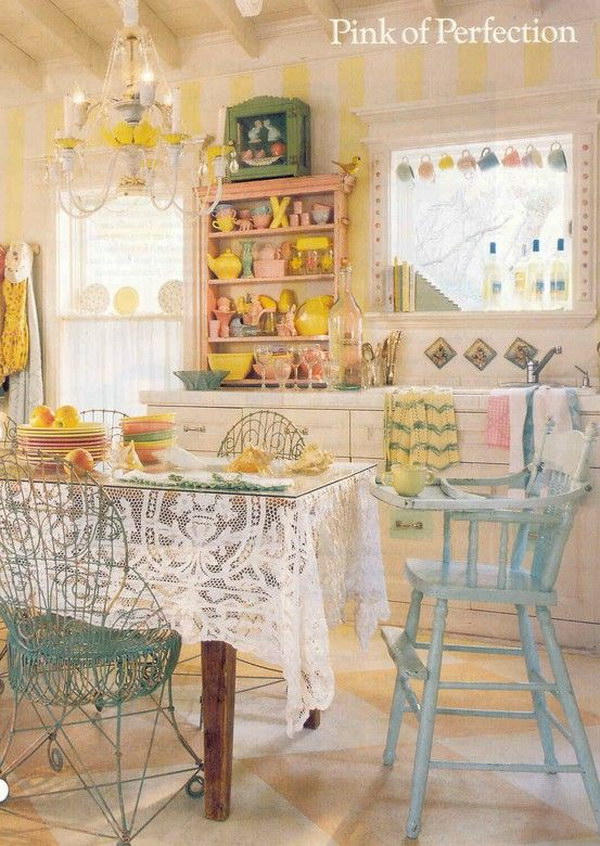 This Gorgeous Chandelier is Perfect for Your Shabby Chic Dining Room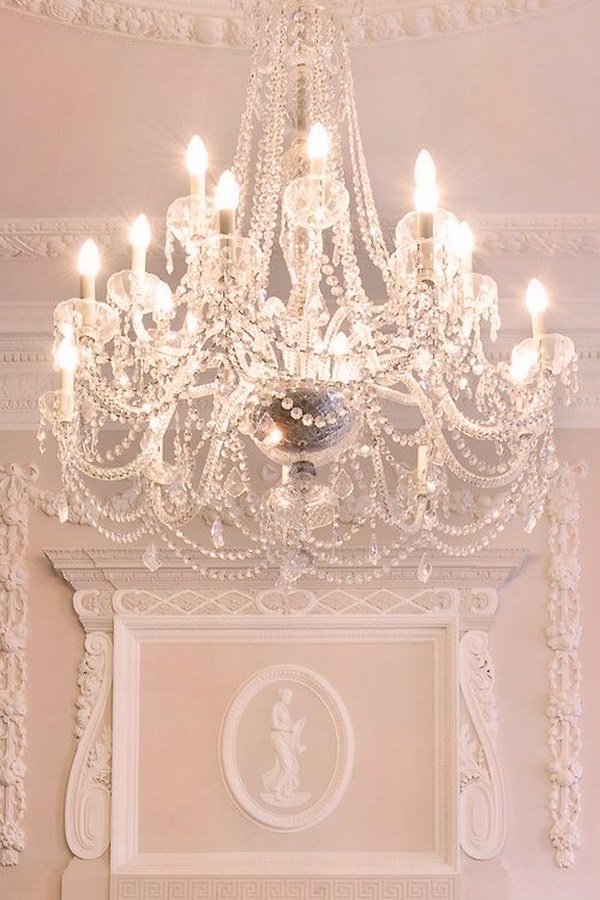 This Shabby Chic Dining Room Will Be A Very Romantic And Cozy Place For Enjoying Dinner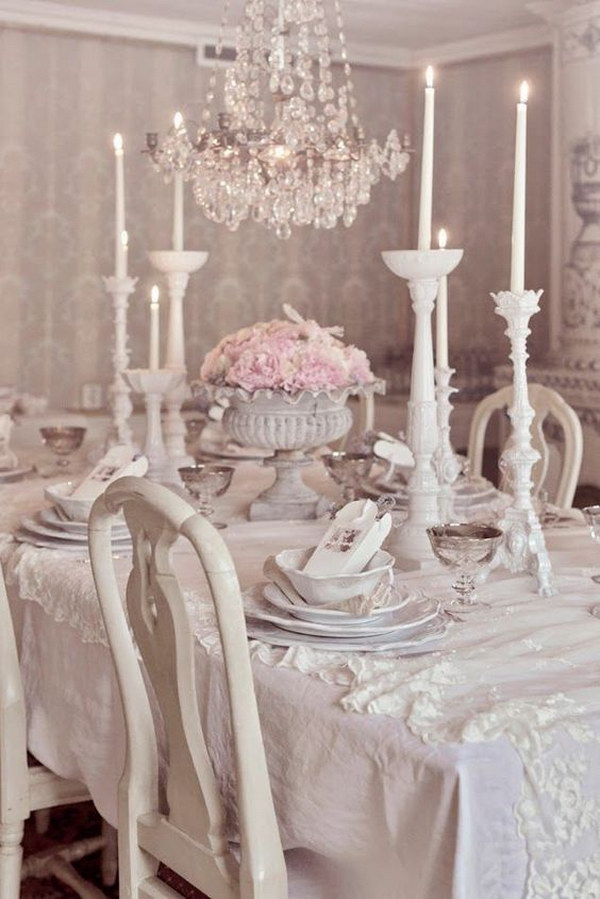 Girly and Shabby Chic Dining Room Decorations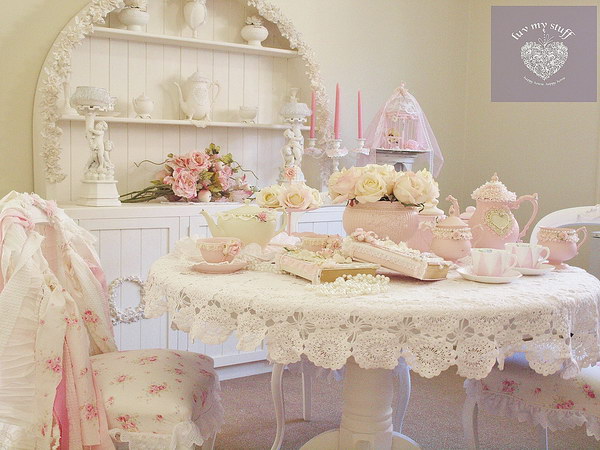 Use Bedding in an Unconventional Way For Your Shabby Chic Dining Room Decoration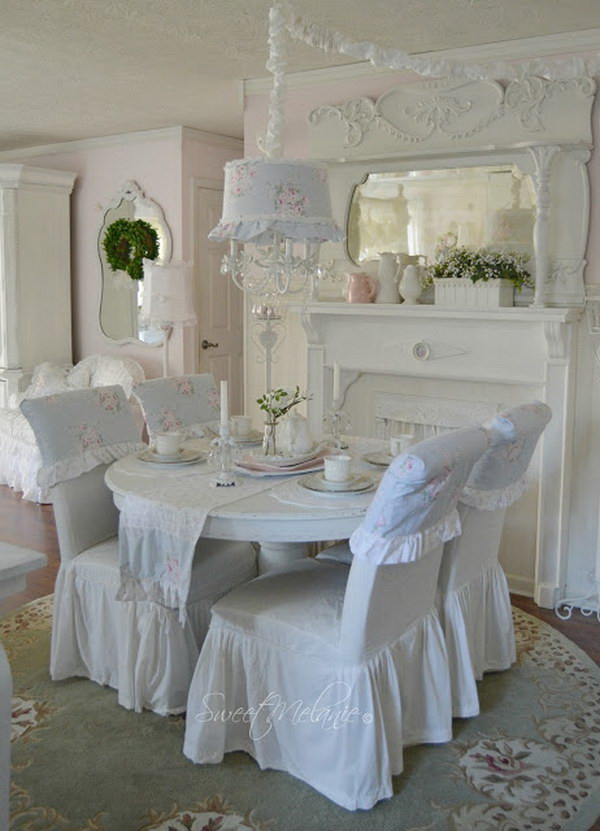 Vintage Hanging Chandelier Over The Dining Table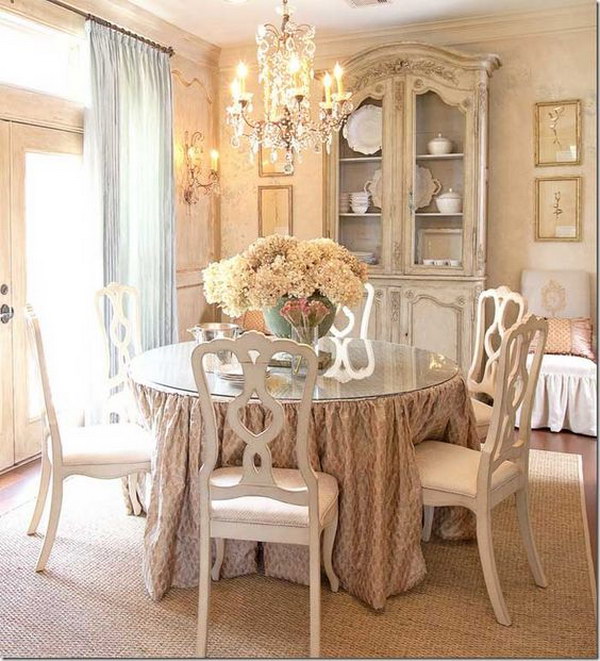 Shabby Chic Dining Room With Mason Jars, Pink Flowers and Gorgeous Chandelier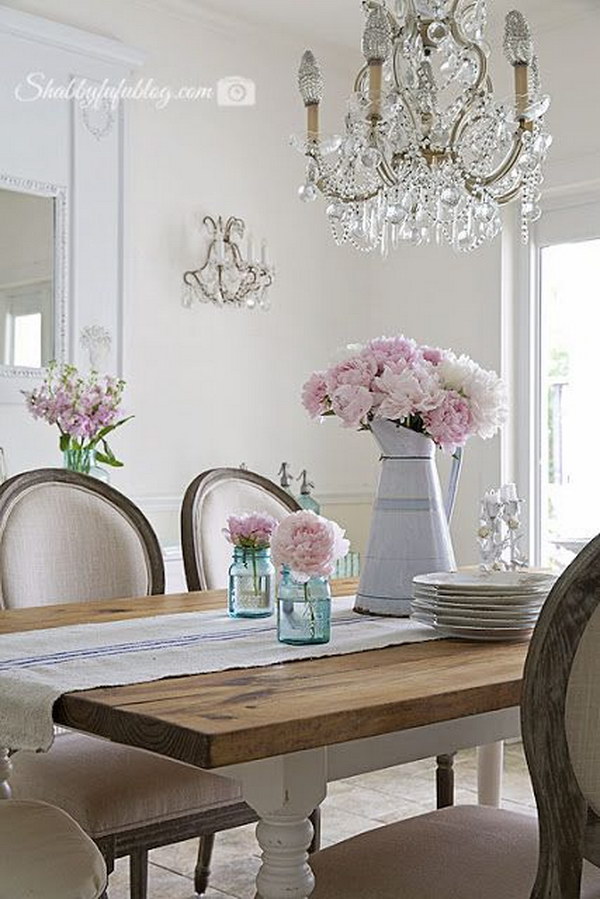 Cozy and Shabby Chic Dining Room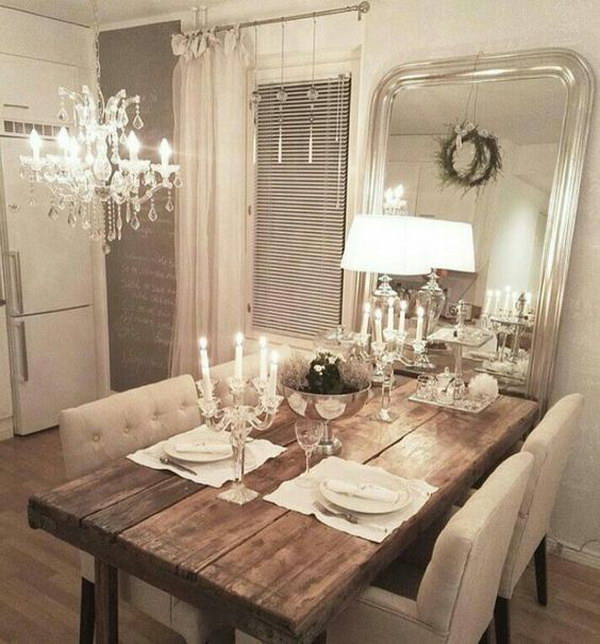 Chic Dining Room With White Chic Table Cloth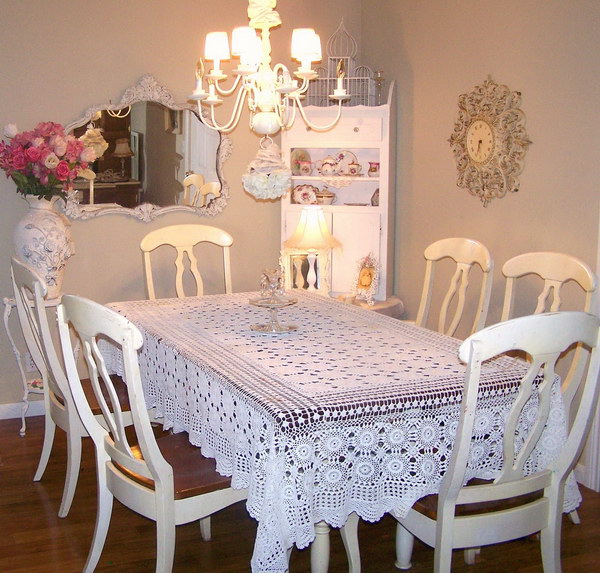 Simply And Beautiful Burlap For Shabby Chic Decoration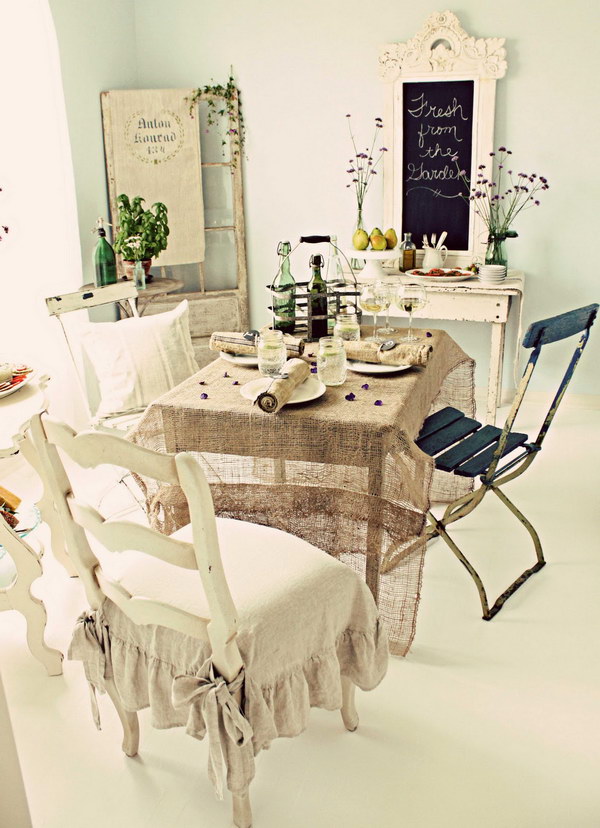 These Shabby Chic Decors Add A Wonderful Fragrance To Your Dining Room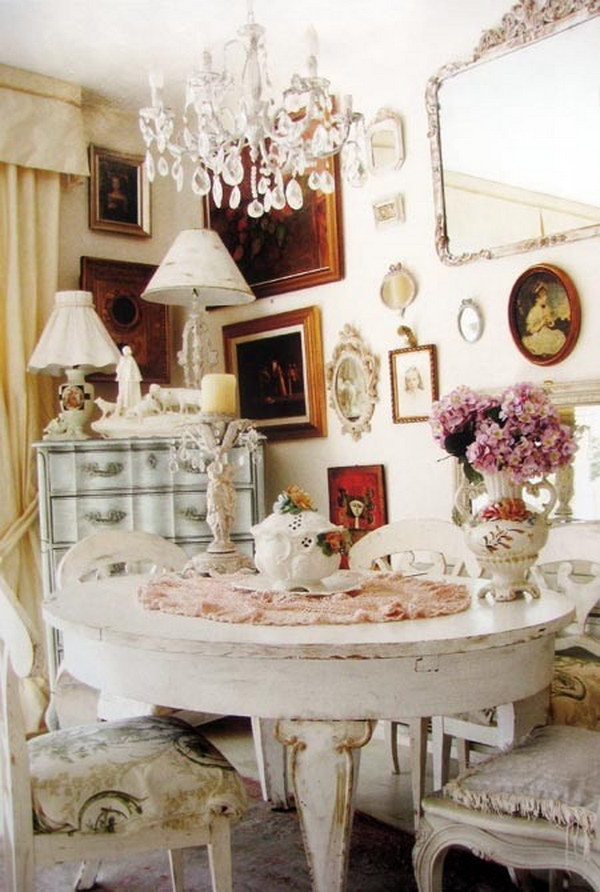 Shabby Chic Dining Room With White Curtains and Beautiful Chandeliers