Growing weary of your outdated bathroom? We've got excellent DIY bathroom ideas to inspire your renovation plans. Whether you want a cottage farmhouse bathroom makeover, budget-friendly bathroom makeover, bathroom makeover for small space, rustic chic bathroom makeover, hotel like bathroom makeover, or spa-feel bathroom makeover, these gorgeous before and after photos and clever bathroom renovation tips will surely help you create a stylish and functional bathroom.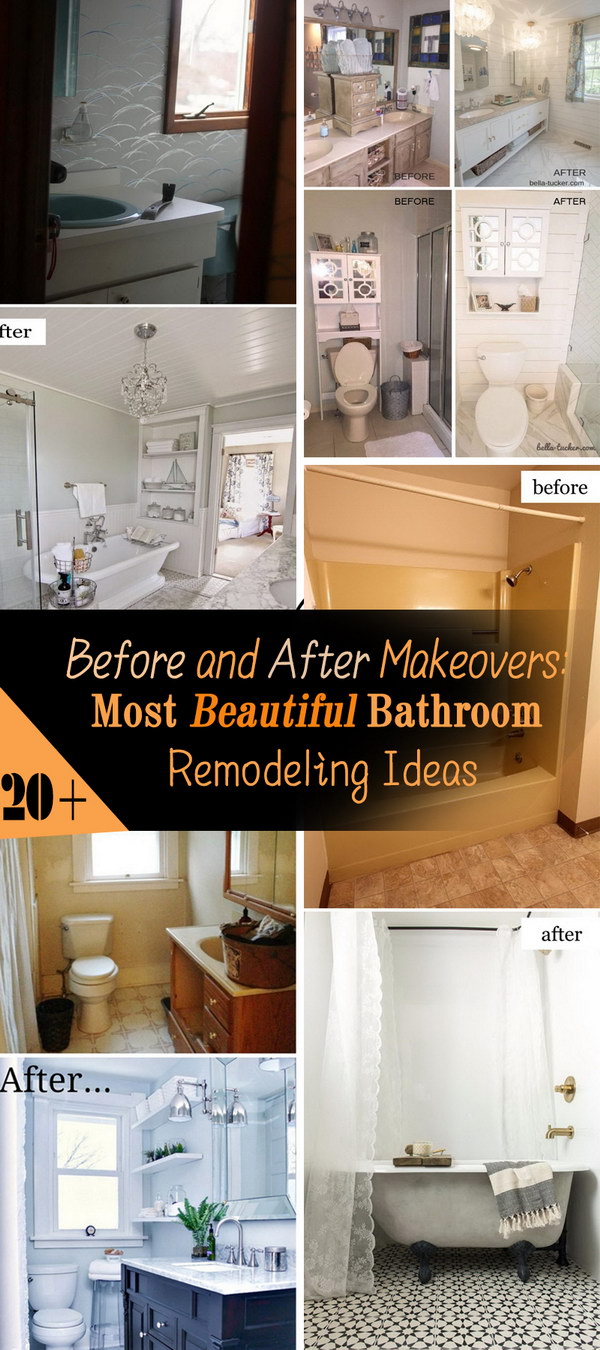 Incredible Cottage Farmhouse Bathroom Makeover


Before: Untouched and Ignored. The flat wall paint and lack of accessory lend an air of neglect to this bathroom.
After: Spacious and Interesting. A classic white and grey palette helps this tiny bathroom look and feel more spacious. The Moroccan-shaped tiles almost read like a beautiful rug.
A Master Bath's Unexpected Makeover Using White Glass and Subway Tile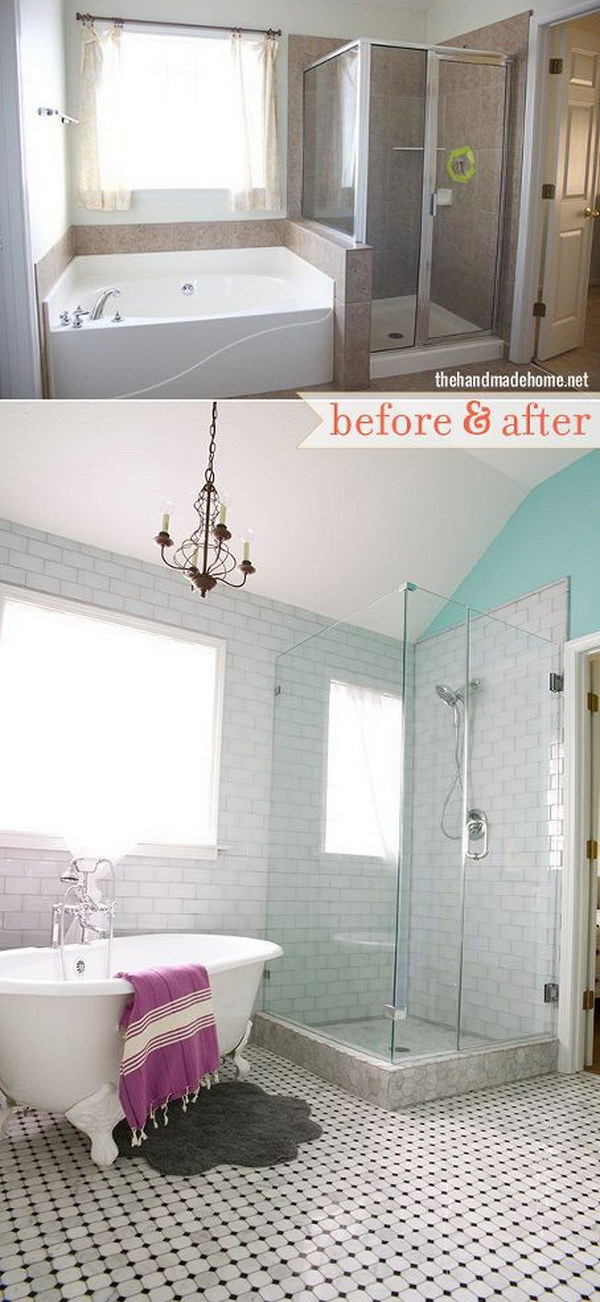 Before: Boring Bathroom. Although the planning and design were remarkable, this bathroom could use more flair.
After: Luxurious Bathroom. Drawing inspiration from famous luxury hotels, the bathroom was transformed into a relaxing space with clean lines and contemporary styling.
Before and After Wainscoting and Makeover

Before: Full of Potential. Although the built-in storage and marble top are charming, a host of other things overshadows this bath's high points.
After: Simply Fabulous. Using the black carpeting as a backdrop, the walls were dressed up in sophisticated tones of grey with a simple wainscoting installed into the lower walls. Notice how the new pedestal toilet and sink reflect a vintage charm while lending functionality.
A Budget-Friendly Bathroom Makeover Using Paint

Before: Functional but Dated. An old toilet and an old vanity mixed with pink walls made this bathroom a prime make-over candidate.
After: Interesting yet Classy. Although the room's layout was maintained, notice the bright white paint on the walls and ceilings that make the previous pink paint a distant memory. The new accessories and art also add depth.
You'll Never Believe This Isn't Stacked Stone Bathroom Makeover

Before: Cramped and Boring. This drab bathroom needed a dramatic makeover.
After: A fake stacked stone accent wall gives this bathroom a definite focal point. Love that they use reclaimed pine made from used pallets to get the look of a stacked stone accent wall. In place of windows, a pair of skylights bathes the space with flattering light.
Bathroom Remodel on a Budget Love The Marble Hexagon Accent Tile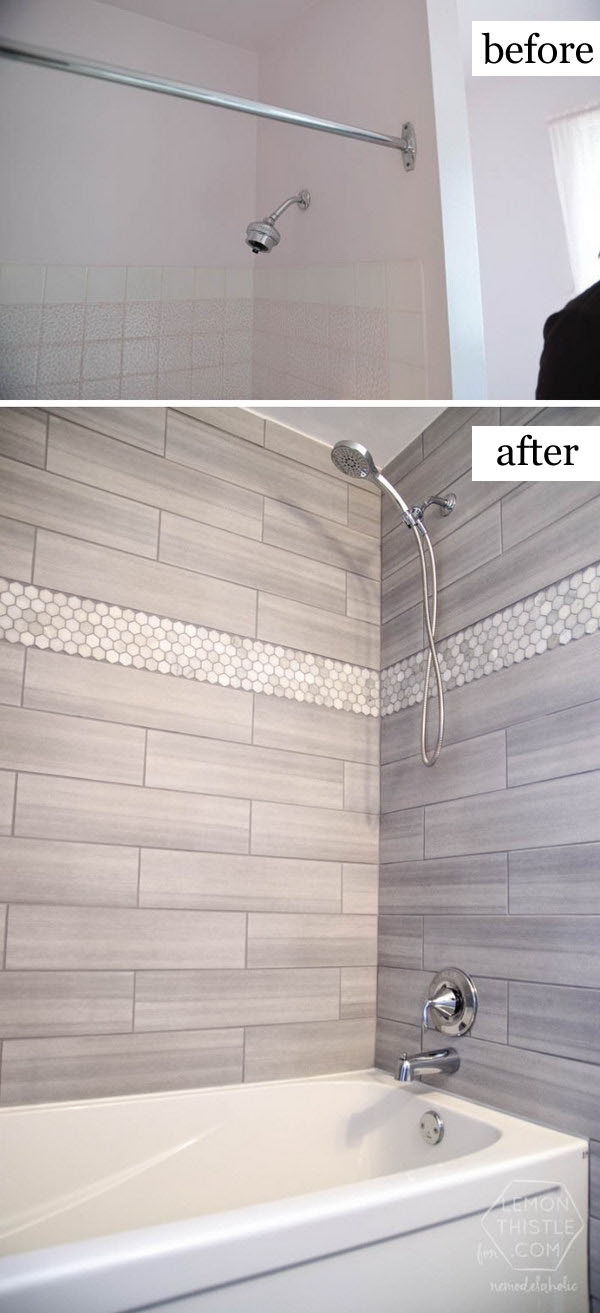 Before: Functional but Tasteless. This bathroom looks the same way it looked in 1998- when it was built.
After: Luxurious Shower. The renovation led to the creation of a luxurious bathroom featuring marble Hexagonal accent tiles adding just the right amount of drama.
$459,00 Bathroom Remodeling

Before: Dull and Understated. The entire space lacks style, plus the paint colors are begging to be put out of their misery.
After: Elegance and Style. Soft grey walls and polished nickel highlight the lovely livid hues featured on the cabinet and the shower curtains.
DIY Tiny Bath Makeover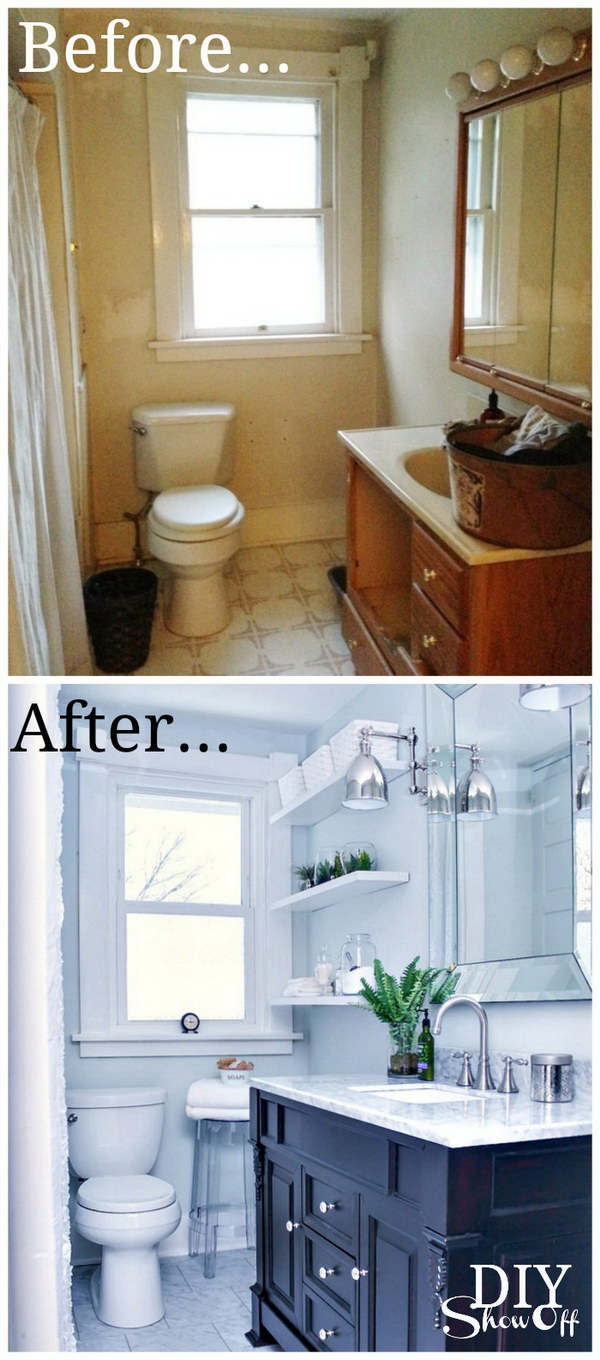 Before: Peeling paint and laminate countertops were just the tips of the iceberg for this bathroom makeover.
After: Touch of Class. In place of the old door-less vanity, notice the black 48-inch vanity designed with doors that look like drawers and topped with marble. The square basin adds even more style and functionality.
Rustic Chic Bathroom Makeover

Before: Dated Color Palette. The bathroom looked dull and small.
After: Contemporary Classic. The stunning flower vase with faux flowers acts as this room's focal point. A Palladian blue wall paint is used to accentuate the rustic vibe.
Tiny Bathroom Cheap Makeover

Before: Builder Grade Quality. Although this bathroom's layout is functional, it is in need of a modern touch.
After: Cutting Edge From outdated to stylish on a tight budget. Although some of the nods from the old bathroom have been incorporated into the new bathroom, the vintage-looking fixtures and faucets lend them a classy look.
A Confined Bathroom Gets A Refreshing Beautiful Look

Before: Dated bathroom. Feels tight and confined probably because it lacks proper lighting.
After: Larger and Luxurious. A free standing tub helps the bathroom appear more spacious while a Calacatta marble softens the room. The dark bronze fixtures effortlessly add interest.
Add Molding to a Boring Bathroom Mirror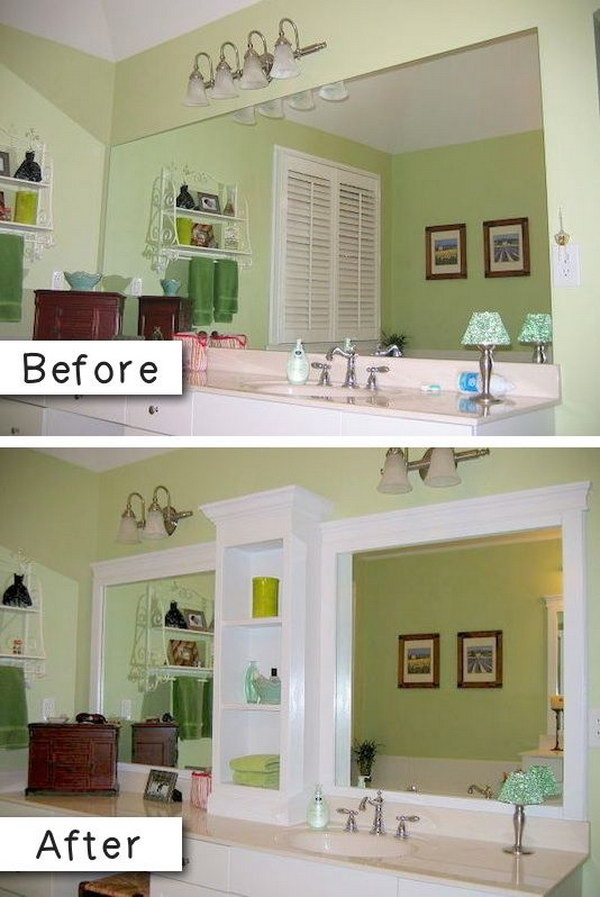 Before: Plain and Lacks Character. Although this bathroom's layout and functionality are top-notch, the mirror needed a makeover.
After: Stylish and Functional. Some shelves and trims were added to dress up the mirror to create space and add a little edge to the whole room.
Hallway Bathroom Remodel: Before & After

Before: Uninspired Bathroom. The bathroom was dated and incredibly inefficient.
After: Glamorous and Relaxing. A bigger vanity with usable counter space and lots of storage has transformed the dated bathroom into a calm oasis.
Cost Breakdown: DIY Outdated Oak Vanity Makeover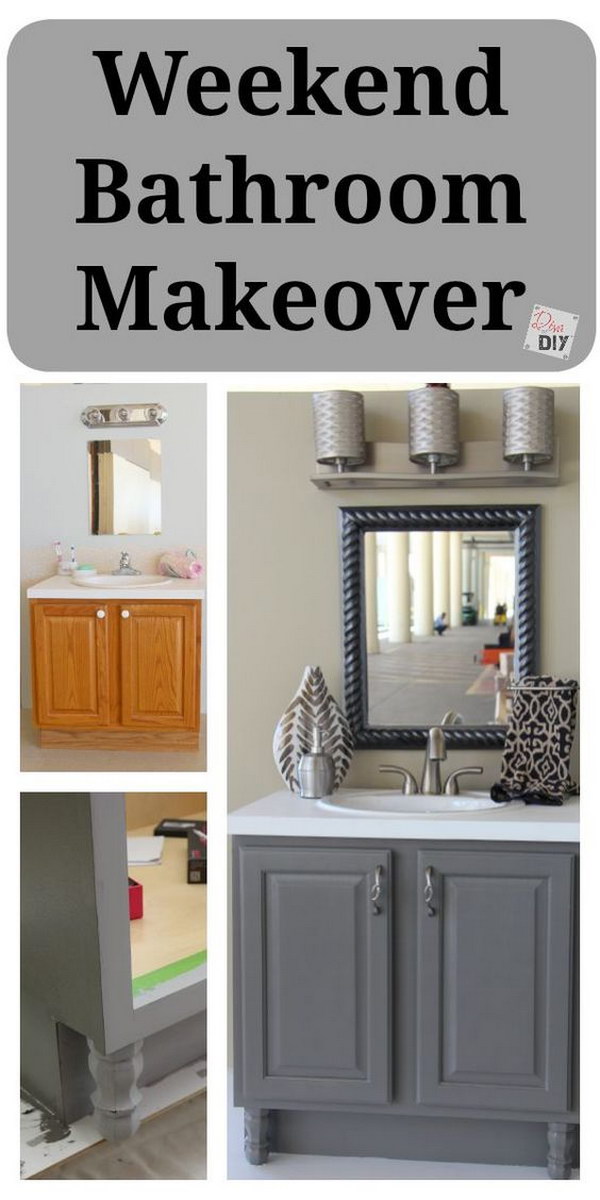 Before: Outdated Space without Flair. A dated vanity golden oak has no place in today's bathroom décor.
After: Transformed into a Classy Vanity. Put some feet on your vanity, a new coat of paint, and update the lighting fixture. It's the small things that make an enormous impact.
Amazing Transformation for Under $100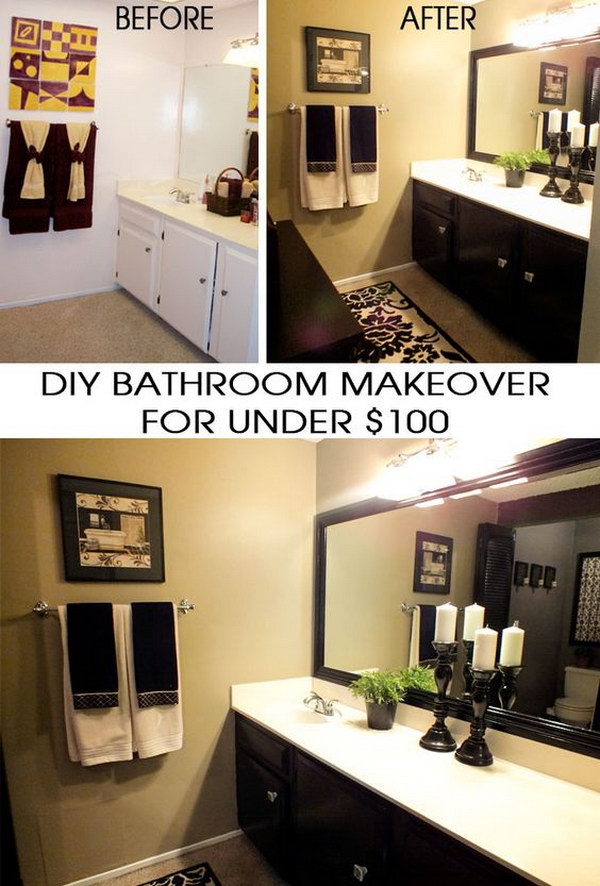 Before: Builder's Grade Bathroom. Needless to say, this bathroom was in great need of a makeover.
After: Lovely and Freshened up. A more relaxing atmosphere is created with strategic lighting that bathes the room. Also, a brilliant combination of dark and light hues adds depth to the décor.
Nautical Bathroom Makeover

Before: The Place needed paint and Character. This old bathroom needed attention to detail.
After: Colorful yet Stylish. Vibrant yet serene colors were added to create a fresh, interesting look. Needless to say, the anchor adds just the right touch of flair.
Sexy Hotel Like Master Bathroom Makeover

Before: Drab Little Bathroom. This sad vanilla bathroom was begging for attention.
After: A personality-Filled Retreat. The vanity and the wall were repainted with Urbane Bronze to add a little drama and sexiness to this master bedroom. Shelving décor and an amazing art canvas were also added to liven up space.
7000$ Elegant Bathroom Makeover Reveal

Before: Dark Disaster. The bathroom seemed small and had an awkward layout. It also had an 80's décor going on.
After: Spacious and Luxurious. Drawing inspiration from the adjacent room, the bathroom's walls were dressed up in soft tones of white and grey. A wall was also knocked down and a door relocated to create a spacious layout.
1920's Bathroom Remodel

Before: Dated and Overused. Small and uninteresting, this bathroom was a prime candidate for a makeover.
After: New and Interesting. The old vanity has been removed to create space. A shower with a classic white subway tile has been installed, and the hexagon-shaped tiles on the floor also lend a hint of luxury.
A Stunning Upgrade with Minimal Remodel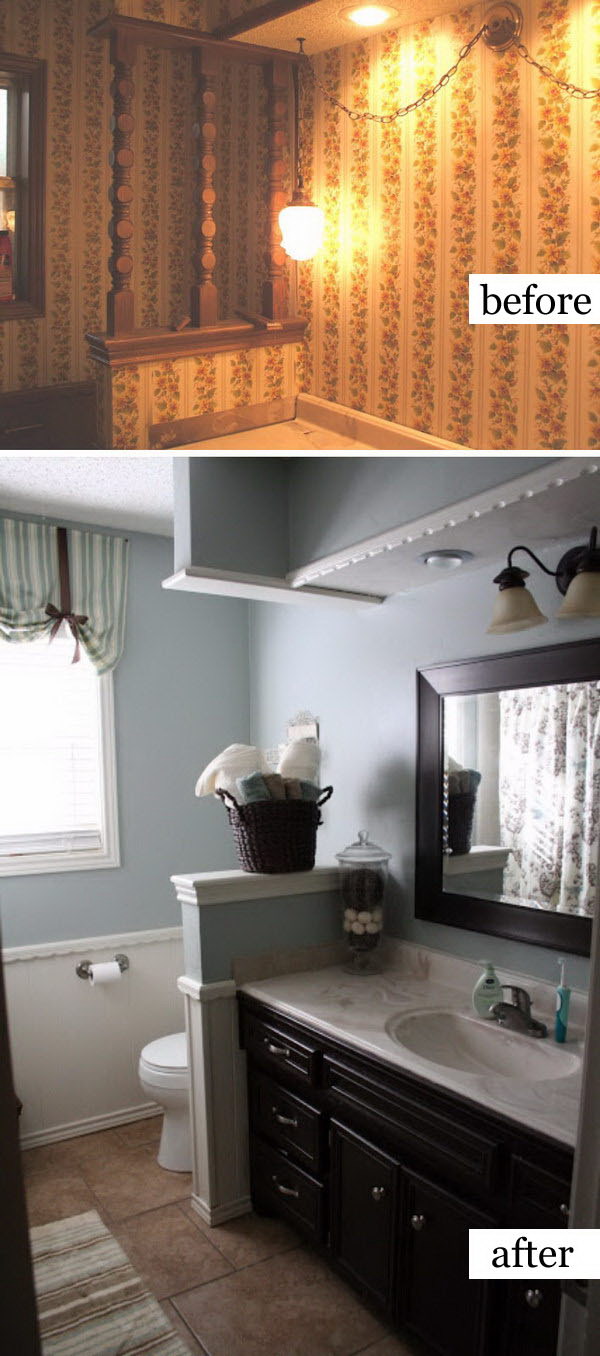 Before: In Critical Need of a Revamp. The situation of this bathroom is just begging for attention. The wallpaper and lighting are only the tips.
After: Modern and Sophisticated. The banister was opened up, and the walls painted livid to get rid of the 70's look. The vanity also got a much-needed coat of paint in a dark espresso color that further enhances the subtle white palette.
Big Reveal: Spa-feel Bath

Before: Spacious but Not Functional. This master bathroom needed to function better, it's impossible to ignore its unique layout.
After: Beautiful and comfortable. The vanity area is now the focal point of the room featuring a counter-to-ceiling wall, mixing glass tiles and stones. The room also looks taller thanks to the floral element on the vanity.
Bathroom Remodeling on a Budget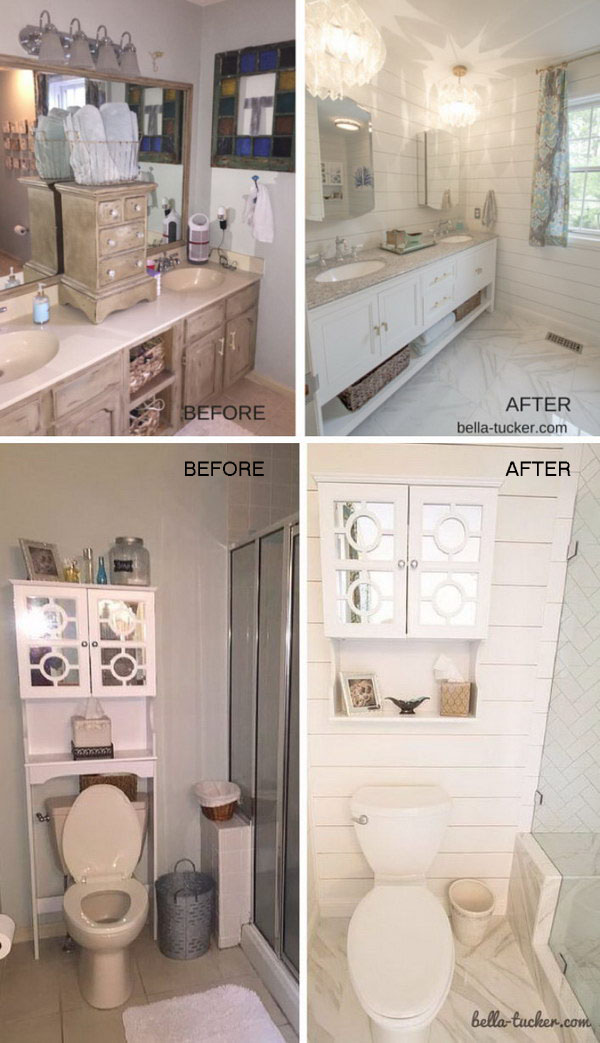 Before: Small and Dull. The mission here was simple; transform the small space into a relaxing and interesting bathroom.
After: Simple and Bright. It's amazing what expertly installed subway tiles can do to your bathroom; this coupled with the white color palette and the chrome faucet makes for a chic bathroom.
$950 Guest Bath Reveal

Before: Builder's Grade. There's no doubt that this bathroom had a functional layout, but it clearly lacks personality and looks dated.
After: Simple with a Modern Twist. The crisp white palette mixed with dark and light hues of brown create clean lines of symmetry that are pleasing and relaxing. The lighting further enhances the stunning beauty of the art and accessories.